Florida Museum of Natural History
FLORIDA MUSEUM OF NATURAL HISTORY

The main facilities of the Florida Museum of Natural History are on the University of Florida campus in Gainesville, Florida.
The museum is located in the University of Florida Cultural Plaza along with the Harn Museum of Art and the University of Florida Performing Arts Center.
The main public exhibit facility focuses on exhibits showing the biological diversity and cultural heritage of our diverse world.
It has one of the largest collections of natural history items in the United States.  Kids love it as well as adults.
They are fascinated by the 14 foot tall skeleton of a mammoth, a prehistoric Jumbo.
Native American Display
One of the most popular features of the museum is the Beverly and Jon Thompson Discovery Zone.  Children have fun here exploring and playing.

The zone incudes information about the natural world in a way that kids can enjoy and understand.
The museum has become one of the most popular Florida tourist attractions even though Gainesville is away from the most populated areas of the State of Florida.
FLORIDA MUSEUM OF NATURAL HISTORY
BAT CAVE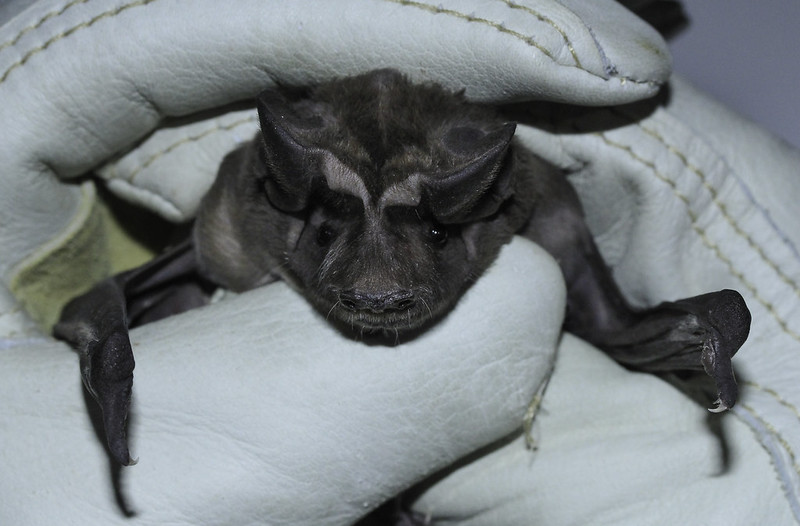 Florida Bonnetted Bat
Flickr/Florida Fish and Wildlife Conservation Commission
Visitors also love the Florida limestone cave that has been constructed in the museum. It is one of many permanent exhibits and temporary exhibits you will enjoy.
You'll love the bats in there.  Don't worry about them getting in your hair - they are not alive.
Or as Count Dracula might say, they are not undead.

FLORIDA MUSEUM OF NATURAL HISTORY
BUTTERFLY RAINFOREST
A Florida Butterfly
Flickr/Judy Gallagher
The Butterfly Rainforest in the museum charges an admission fee, but it is well worth it.  It is amazing having these beautiful little gentle creatures flying all around you.
The museum has the world's largest lepidoptera collection with thousands of butterflies and even luna moths.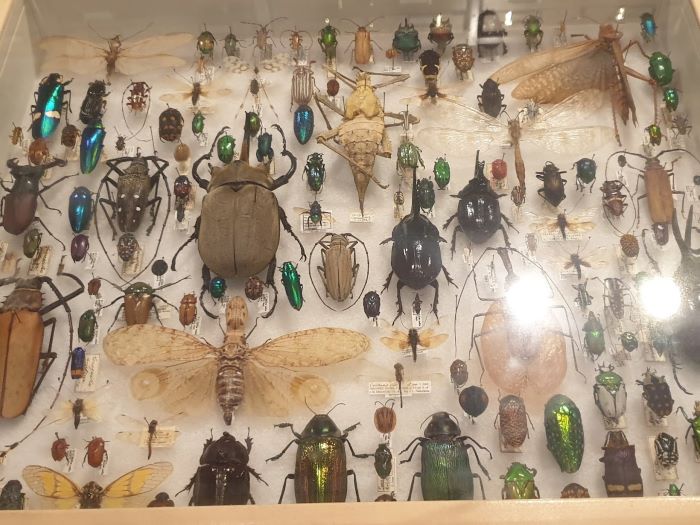 Insect Diplay
Other large collections of interest include birds, fish, plants, insects, and thousands of images. These collections show the biological richness of our state and beyond.
The original location of the museum was at Dickinson Hall on the campus of the University of Florida.  It now has collections and items that support its role as a main research facility.
The facility is mainly used by scientists, academics, and college students working on various projects.
The  Florida Museum of Natural History can occupy your time for days or weeks and you'll still find something new every time.
It definitely belongs on any list of major Florida tourist attractions.
ADMISSION FEES
Admission to the museum is free!
There is a cover charge for special exhibits and the Butterfly Rainforest, and a small fee for reserved parking for museum visitors. 
The reserved parking area is immediately east and north of the Harn Museum of Art in the UF Cultural Plaza. Please see attendant in the gated booth.
Parking is free on weekends and State holidays. Designated parking spaces are available for visitors with disabilities.
HOURS
Monday-Saturday:  10 a.m. - 5 p.m.
Sunday:  1 p.m - 5 p.m.
The museum is open all year-round, seven days a week except for Thanksgiving and Christmas. Last tickets for the day are sold no less than 30 minutes prior to closing.

More information about special exhibits, current displays and guided tours is available at the website of The Florida Museum of Natural History.
---
FLORIDA MUSEUM OF NATURAL HISTORY LOCATION MAP
---
---
DIRECTIONS
From Interstate 75: Take exit 384 and travel 1 mile east on State Road 24 (Archer Road). Turn north (left) on State Road 121 (SW 34th Street). Travel 3/4 mile to the third traffic signal. Turn east (right) on Hull Rd. The entrance to the University of Florida Cultural Plaza is on the south (right) side of Hull Road.

---
---

Our Facebook page has more than 128,577 followers who love off the beaten path Florida: towns, tourist attractions, maps, lodging, food, festivals, scenic road trips, day trips, history, culture, nostalgia, and more.  We post articles every day.  Please check it out and if you like it, we would appreciate a "like" from you.
---
By Mike Miller, Copyright 2009-2023
Florida-Back-Roads-Travel.com
Florida Back Roads Travel is not affiliated with or endorsed by Backroads, a California-based tour operator which arranges and conducts travel programs throughout the world.