HENSCRATCH FARMS

980 Henscratch Road
Lake Placid, FL 33852
863-699-2060
By  Mike Miller Upsated September 8, 2023

Henscratch Farms Vineyards and Winery, as the name implies, offers a fine selection of wine. 
It also has a 10 acre vineyard.  But it is a unique place among Florida wineries. It's an actual small working farm.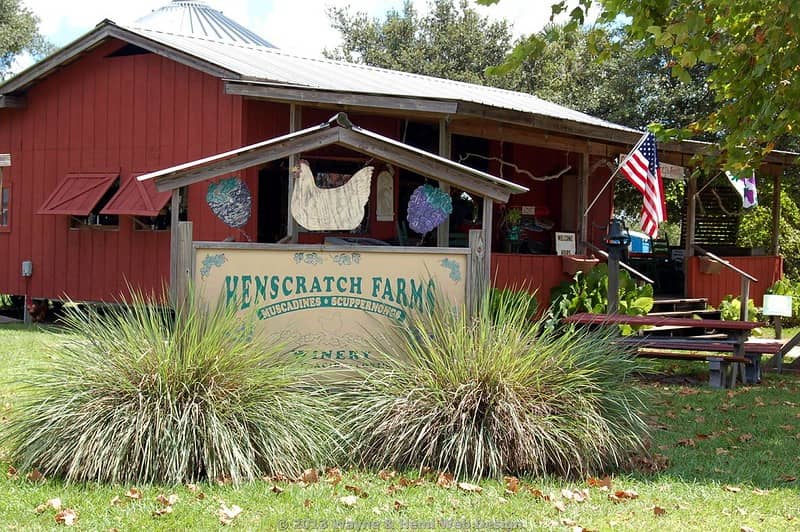 Henscratch Farms Country Store
Flickr/Wayne Jones
"Green Eggs and Ham" is a best-selling and critically acclaimed book by Dr. Seuss, first published in 1960. It is one of the best selling children's books in history.

Like many parents of the time, I read the book to my kids. Frankly, I hated the doggerel poems in the book, but the kids loved the words and begged for more.
Henscratch Farms Hens
Flickr/Wayne Jones
The vineyards were planted in 1999, almost four decades after Dr. Seuss wrote the book. They also have large acreage in the Panhandle and get grapes from other growers in the Southeast.
The tie-in to Dr. Seuss's book (at least in my mind) is the 200 hens that free range under the canopy of the vineyard. These are American breed laying hens.
Rhode Island Reds, Plymouth Barred Rocks and Aracaunas wander the property.
The Aracuanas lay large green eggs. See the connection to Dr. Seuss?
The property boasts 10 acres of native southern muscadine and scuppernong grape varieties, a hydroponics growing system for strawberry production, and a high bush blueberry patch.
The centerpiece of this small working farm is the country store. It is built in the old fashioned Florida Cracker style.The building sits above the ground with a crawl space beneath. This is how almost all Florida buildings were constructed a century ago or less.

The entrance is through sliding barn doors and a large open breezeway. Inside you will find many types of wine, homemade jams and jellies, sauces and syrups. Many gift baskets are also available.

Products in the store vary with the harvest season. Strawberry preserves, blueberry dressing, and jams and jellies are displayed on the tasting counter so you can try a sample. They even have eggs for sale, and raw honey from their own hives.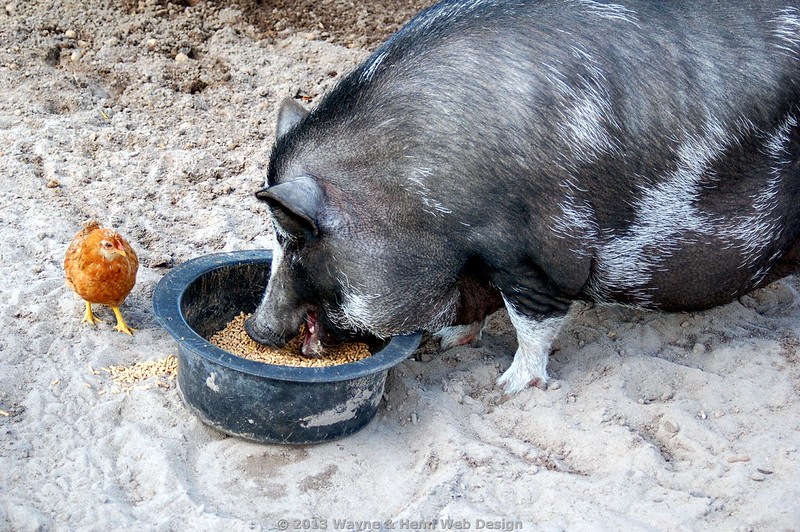 Henscratch Farms Hog and Hen
Flickr/Wayne Jones
It's fun to browse the well stocked store.  It's also fun just to sit on the wide shady Florida Cracker porch and take in the sights.
Henscratch Farms offers a self guided farm tour, and even gives you some Cheerios to feed the friendly hens as you wander around the property.
There are plenty of other things to do at Henscratch. You can pick your own strawberries from December through March. You can also attend grape stomping events. Private labels are available for your personally stomped wines.
There are also musical events from time to time. For example, during May blueberry season, they have a "Blueberry Bluegrass Festival". For family reunions or larger events, Henscratch Farms has a nice open air pavilion with a kitchen.

A visit to Henscratch can also be coupled with a trip to Lake Placid to see the fantastic downtown murals and find the schedule for the latest Caladium festival.
HOURS OF OPERATION
Henscratch Farms has a schedule that varies due to the harvest seasons, and you should check in with them before visiting.
April-December
Tuesday – Saturday: 10:00 am - 4:00 pm
Sunday: 12:00 pm - 4:00 pm
Closed Mondays
Check the HENSCRATCH WEBSITE  for special events & other info.
DIRECTIONS
From Sebring and North
US Route 27 South to Hwy 66 West, 2 3/4 miles to Left on Orange Blossom to Left on Josephine Drive
From Lake Placid and South
US. Rte. 27 North to Left on Lake June Road to Left on Miller Avenue to Right on Henscratch Road
For more information regarding special events call 863-699-2060.
---
---

Our Facebook page has more than 129,275 followers who love off the beaten path Florida: towns, tourist attractions, maps, lodging, food, festivals, scenic road trips, day trips, history, culture, nostalgia, and more.  We post articles every day.  Please check it out and if you like it, we would appreciate a "like" from you.
---
By Mike Miller, Copyright 2009-2023
Florida-Back-Roads-Travel.com
Florida Back Roads Travel is not affiliated with or endorsed by Backroads, a California-based tour operator which arranges and conducts travel programs throughout the world.