Gamble Rogers State Rec Area
GAMBLE ROGERS MEMORIAL STATE RECREATION AREA AT FLAGLER BEACH

3100 South A1A
Flagler Beach, Florida 32136
386-517-2086
Gamble Rogers Memorial State Recreation Area at Flagler Beach is the location of a tragedy:  the drowning death of Florida folksinger Gamble Rogers in 1991.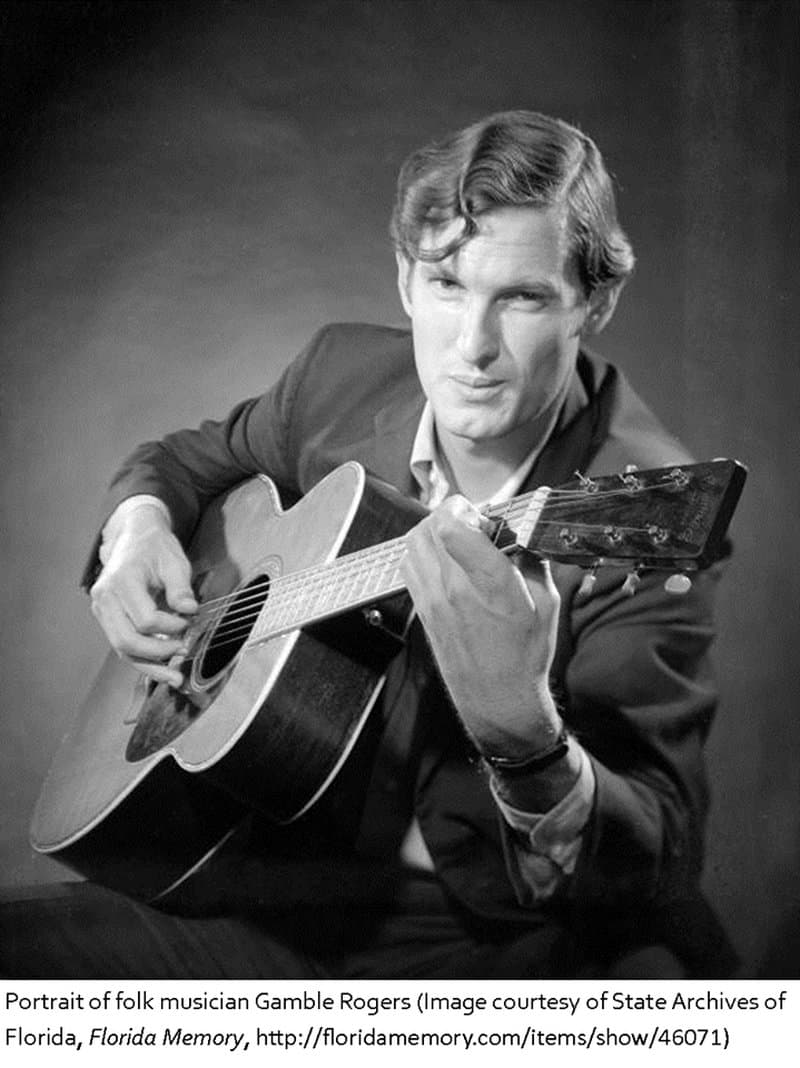 Gamble Rogers was born in Winter Park, Florida in 1937 as James Gamble Rogers IV.
His father and great uncle were very well known architects: James Gamble Rogers II and James Gamble Rogers.
Many well known Winter Park homes and buildings were designed by Gamble Roger's father.
Gamble, as he was called, briefly considered a career in the family business - architecture - but fell in love with music.
He became a very well known folk singer and story teller.  His stories talked about characters and places in a fictional Florida county.
He died in the Atlantic surf trying to save a drowning victim in 1991.  In 1998 he was inducted in the Florida Artists Hall of Fame.
The park sits on the barrier island straddling State Road A1A from the Atlantic Ocean to the Intracoastal Waterway.  Most people come to the park to enjoy its wonderful beach.

The beach is enjoyed for its swimming opportunities, sunbathing or just taking a nice walk along the sandy shore. 
If you are there in the summer, you will see evidence of sea turtle nests marked off in the sand up near the dune line.
If you want to get away from the beach for awhile, you can go to the shady picnic pavilions across the road on the Intracoastal Waterway. 
You will also find some hiking trails through the shady coastal forest.
There is also a boat launching area on the Waterway, and a full service campground on the ocean side of the park.
This park offers a chance to camp right on the ocean;  there aren't too many campgrounds in Florida that offer that opportunity.
For information about Gamble Rogers State Park, call 386-517-2086.
Reservations can be made through at Florida State Parks. 
Recommended Restaurant near Gamble Rogers State Park
HIGH TIDES AT SNACK JACK

2805 S. Oceanshore Blvd. (AIA)
Flagler Beach, Florida 32136
Tel:  386-439-3344

Snack Jack has been at this same beachfront location since 1947; that qualifies it as an Old Florida eating establishment. 
It is directly on the ocean and just about every booth or table has a view of the ocean.
There is also outside dining. It's pretty hard to get closer to the ocean while dining unless you pack a picnic basket and go sit in the surf.
Gamble Rogers Interactive Google Map
---
---

Our Facebook page has more than 128,577 followers who love off the beaten path Florida: towns, tourist attractions, maps, lodging, food, festivals, scenic road trips, day trips, history, culture, nostalgia, and more.  We post articles every day.  Please check it out and if you like it, we would appreciate a "like" from you.
---
By Mike Miller, Copyright 2009-2023
Florida-Back-Roads-Travel.com
Florida Back Roads Travel is not affiliated with or endorsed by Backroads, a California-based tour operator which arranges and conducts travel programs throughout the world.