FLAGLER BEACH, FLORIDA
Flagler Beach, Florida Things To Do, Lodging, Dining, & Real Estate At End Of Article
Flagler Beach is a small town on the ocean between St. Augustine Beach and Ormond Beach. 
It is located along the Intracoastal Waterway on State Road A1A and has a population of about 5,000.
HISTORY OF FLAGLER BEACH, FLORIDA
Unlike many cities on Florida's east coast, Henry Flagler's railroad did not go through what is now Flagler Beach.
The modern history of Flagler Beach began when the Bunnell Development Company was founded in 1909.
The owners of the company were Isaac I. Moody and J. F. Lambert. They began selling lots, some of them by using the mail order method.
Moody homesteaded 169 acres and named it "Ocean City Beach."
He planned to develop it into an oceanfront resort.  He built the first house in 1914, and then built a casino.
The casino was very popular and did a great business.
As the community grew, they applied for a United States post office and were told there was already an Ocean City, New Jersey. 

They had to come up with a new name, and they incorporated in 1925 as Flagler Beach.

The Flagler Beach Hotel and pier were built soon after this, and the town began to grow into a laid back tourist destination.

This beach town and Flagler County are both named for Henry Flagler, the entrepreneur who extended the railroad down Florida's coast from St. Augustine and eventually all the way to Key West.
The train never went through Flagler Beach, and that is one reason why it is still small and more typical of Old Florida than most of the beach towns in the state.

---
FLAGLER BEACH, FLORIDA TODAY
One of the best things about Flagler Beach is that it has a clean sandy beach that is almost completely uncluttered by the high rise condos and hotels that loom over most Florida beaches.
Flagler Beach Pier on Windy Day
Shutterstock,Paul Brennan
The iconic pier in the photo above was badly damaged by Hurricane Ian in September 2022 and is currently not in use according to the City of Flagler Beach website (6/3/2023). 
We hope it will be rebuilt because it has been an important part of Flagler Beach for many years.

This fortunate condition has resulted because Highway A1A is so close to the Atlantic Ocean that there is no room for buildings on the ocean side of the highway.

One downside to this is that parts of the road frequently wash away during severe storms.  They always seem to fix the washouts quickly, howver.
Guest lodging, condos, and restaurants are all on the west side of the highway, but still have a nice view of the ocean and offer a quick walk across the highway to enjoy the beach.
Along the ocean you'll find a mix of waterfront restaurants, from upscale to very casual.
If you care to, you can take your food and eat at one of the many picnic tables located on the beach side of the highway.
Every year from May 1 through October 31, sea turtles nest on the Flagler beaches. 
There are patrols that monitor the nests to protect the turtles and keep track of successful hatchings and crawls along the entire Flagler Beach area.
For outdoor enthusiasts and fun things to do for the whole family, Moody Boat Launch is conveniently located.
It provides a boat ramp so you can head into the water for boating, kayaking, and fishing.
The ramp is near the Betty Steflik Preserve which protects over 200 acres of mangrove marsh, mud flats, and coastal uplands.
The preserve offers a large network of boardwalks for excellent bird watching on a scenic walking trail.
There are also many natural parks with miles of trails throughout the area including state parks.  
Gamble Rogers Memorial State Recreation Area is located south of Flagler beach on State Road A1A. 
This area features campsites along the barrier island beach and is named for the late Gamble Rogers, a well know Florida folk singer.
Bulow Plantation Ruins Historic State Park is a former sugar cane plantation located across from Flagler Beach on the west side of the Intracoastal Waterway.
One of the nicest parks is located a few miles north of Flagler Beach:  Washington Oaks Gardens State Park.  It is beloved for its natural setting and formal gardens.
The ocean fishing pier shown on the postcard still stands in Flagler Beach and hasn't changed much over the years.

It is one of the few structures on the ocean side for many miles in both directions.
The Funky Pelican is a popular restaurant at the landside end of the pier.
The pier is open every day from 6:00 am until midnight, and offers very reasonable rates for fishing. It also has a snack bar and souvenir shop.
It will set you back $1.50 to walk out on the pier, and $6.00 if you want to fish for a day. It's a reasonable price for the pleasures of a day breathing in the fresh sea air.
Many oldtimers alive today remember the old Flagler Beach Hotel. 
It was made of coquina rock and stood on the corner of State Roads A1A and 100 across from the pier.  All rooms had a view of the ocean.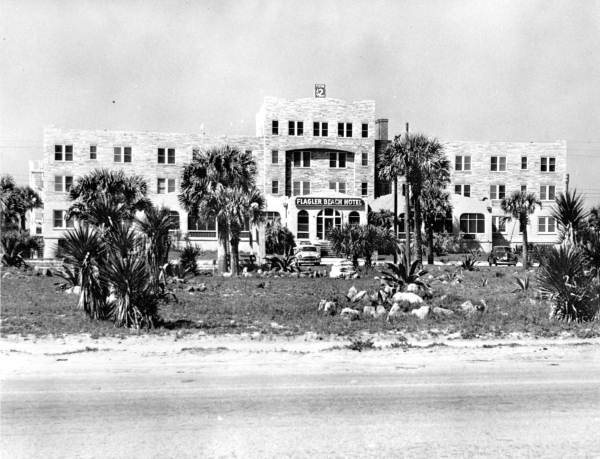 Flagler Beach Hotel in 1925
Although the hotel was demolished many years ago, the pier is still going strong as a popular local attraction.
Flagler Beachfront Winery
Another of our favorite places to linger on the ocean is the Flagler Beachfront Winery.  This place is something very different from the majority of Florida wineries you find in the inland part of the state.
The winery is located directly on State Road A1A in Flagler Beach and enjoys an unobstructed view of the Atlantic Ocean. 
The winery opened in March 2013 and has already won silver medals at the Florida International Wine Competition.
The Tarsitano family owns the establishment. 
They came to Florida from Ohio where they own Tarsitano Vineyards and Winery in Conneaut, the heart of that state's grape growing country.
Read more at Flagler Beachfront Winery.
Recommended Flagler Beach Restaurant
HIGH TIDES AT SNACK JACK

2805 S. Oceanshore Blvd. (AIA)
Flagler Beach, Florida 32136
Tel:  386-439-3344

Snack Jack has been at this same beachfront location since 1947; that qualifies it as an Old Florida eating establishment. 
It is directly on the ocean and just about every booth or table has a view of the ocean.  It has become a popular destination for locals and tourists alike.
There is also outside dining. It's pretty hard to get closer to the ocean while dining unless you pack a picnic basket and go sit in the surf.
The menu is what you'd expect of a seaside place; lots of seafood dishes, conch fritters, beer, wine, salads and a large assortment of meal options ranging from sandwiches to complete "surf side dinners".
Read more about High Tides at Snack Jack.
---
---
ALL ABOUT FLAGLER BEACH, FLORIDA
---
---

Our Facebook page has more than 128,577 followers who love off the beaten path Florida: towns, tourist attractions, maps, lodging, food, festivals, scenic road trips, day trips, history, culture, nostalgia, and more.  We post articles every day.  Please check it out and if you like it, we would appreciate a "like" from you.
---
By Mike Miller, Copyright 2009-2023
Florida-Back-Roads-Travel.com
Florida Back Roads Travel is not affiliated with or endorsed by Backroads, a California-based tour operator which arranges and conducts travel programs throughout the world.