FLAGLER BEACH, FLORIDA
Flagler Beach is a small town on the ocean between St. Augustine Beach and Ormond Beach.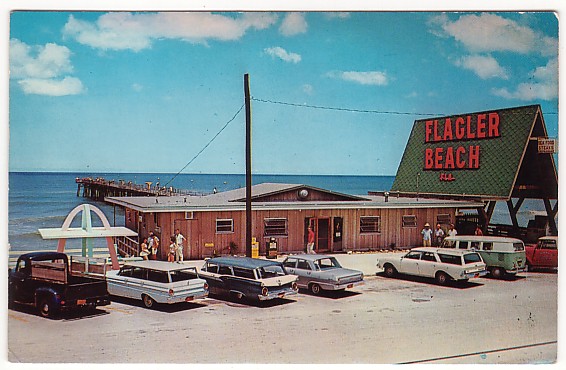 Flagler Beach Ocean Pier
It has a clean sandy beach that is almost completely uncluttered by the high rise condos and hotels that loom over most Florida beaches.
This fortunate condition has resulted because Highway A1A is so close to the Atlantic Ocean that there is no room for buildings on the ocean side of the highway. Guest lodging and condos are all on the west side of the highway, but still have a nice view of the ocean and offer a quick walk across the highway to enjoy the beach.
This beach town and Flagler County are both named for Henry Flagler, the entrepreneur who extended the railroad down Florida's coast from St. Augustine and eventually all the way to Key West.
The train never went through Flagler Beach, and that is one reason why it is still small and more typical of Old Florida than most of the beach towns in the state.
The ocean fishing pier shown on the postcard still stands in Flagler Beach and hasn't changed much over the years. It is one of the few structures on the ocean side for many miles in both directions.
The pier is open every day from 6:00 am until midnight, and offers very reasonable rates for fishing. It also has a snack bar and souvenir shop. It will set you back $1.50 to walk out on the pier, and $6.00 if you want to fish for a day.
It's a reasonable price for the pleasures of a day breathing in the fresh sea air.
One of our favorite places to linger is the Flagler Beachfront Winery.
RECOMMENDED RESTAURANT
HIGH TIDES AT SNACK JACK

2805 S. Oceanshore Blvd. (AIA)
Flagler Beach, Florida 32136
Tel:  386-439-3344

Snack Jack has been at this same beachfront location since 1947; that qualifies it as an Old Florida eating establishment. 
It is directly on the ocean and just about every booth or table has a view of the ocean.
There is also outside dining. It's pretty hard to get closer to the ocean while dining unless you pack a picnic basket and go sit in the surf.
The menu is what you'd expect of a seaside place; lots of seafood dishes, conch fritters, beer, wine, salads and a large assortment of meal options ranging from sandwiches to complete "surf side dinners".
The kitchen knows how to steam, grill, blacken and prepare all kinds of food the way you like including the good old frying method. They also have good salads.
Although this place has always been known as Snack Jack, the most recent owners wanted to change the name to High Tides. Their sense of history prevailed, and they came up with the compromised name of High Tides At Snack Jack. They did not compromise, however, on the original charm that has made Snack Jack such a favorite.
The minute you walk inside the rambling rustic building, you will feel like you've been transported to a surfing museum. The walls and ceilings are festooned with all kinds of interesting objects including surf boards. It's a very pleasant visual experience. The main dining room also has a small bar that is inviting to the diner who likes to eat at the bar or just have a drink.
Snack Jack is a very popular place, especially on weekends. If you want to park on the restaurant property, you will have to use valet parking. There is also parking along the side streets on the west side of Highway A1A.
Don't dress up to go to Snack Jacks. Tee shirt, shorts and flip flops are always in style here.
---
---
---
---
Our Facebook page has more than 77,450  followers who love off the beaten path Florida: towns, tourist attractions, back road maps, lodging, festivals, highway maps, scenic road trips, day trips, history, culture, nostalgia, and more.
Take a look. If you enjoy what you see, please give us a like.
---
---
---
SUBSCRIBE TO OUR FREE MONTHLY EZINE
FLORIDA HERITAGE TRAVEL
The latest updates to our website and stories about people, places, and events.
20180912