Goodrich Seafood Restaurant

GOODRICH SEAFOOD RESTAURANT
and Oyster House
253 River Road
Oak Hill, Florida 32759
Tel: 386-345-3397

By  Mike Miller March 16, 2023

Goodrich's has been around since 1971. I remember it being a far more rustic place in those early days than the modern place it has become.
I recently visited on a Wednesday and purposely didn't show up until 100pm, hoping to avoid the lunch crowd. It didn't work: the place was jammed.
Having said that, the service was still cheerful and prompt considering the large number of happy people being fed.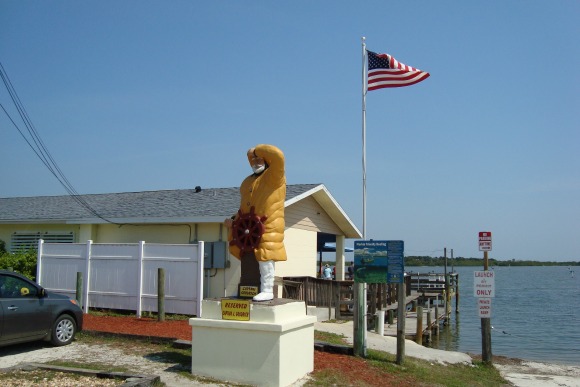 Goodrich Seafood Restaurant and Oyster House
It was a sunny day and about half of the patrons were sitting outside on the deck. I chose to stay in the shade and dine in the cozy interior.
The menu is a delight to read; it makes you hungry just to see some of the items on the menu. I love mullet and wanted to have it as an appetizer. Darn it! They were out of mullet.
The waitress told me they usually have it but for some reason they were out right now. There were plenty of other things on the menu, so I didn't whine.
Entrees include a lot of fried seafood baskets, crab cakes, clam strips, swai, shrimp, catches of the day and oysters, lots of oysters.
I don't like oysters but would like to attend one of their oyster roasts anyway. That's how they got to be famous locally. They have oyster roast parties on the deck for groups of twenty or more.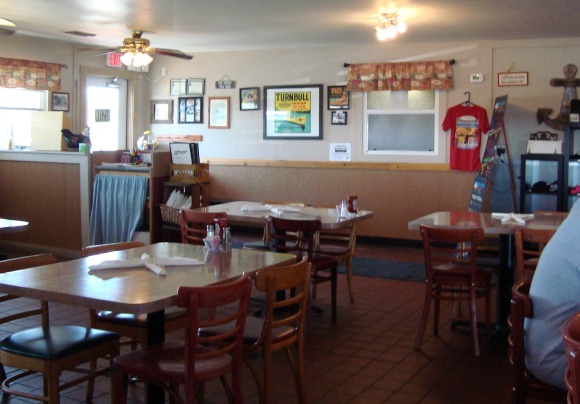 Goodrich Inside Dining Room
I ordered fish chowder and blackened grilled shrimp. While the food was being prepared I enjoyed watching numerous kayaks in the waters of the Halifax River.
Several large sailboats and trawlers cruised by on their slow way north from winters in the southern regions.
The chowder wasn't bad, but it had too many potatoes and not enough fish.
The grilled shrimp, on the other hand, were delicious. A dozen of them was just right!. The hush puppies were among the best I've ever had. The cole slaw was crunchy and delicious.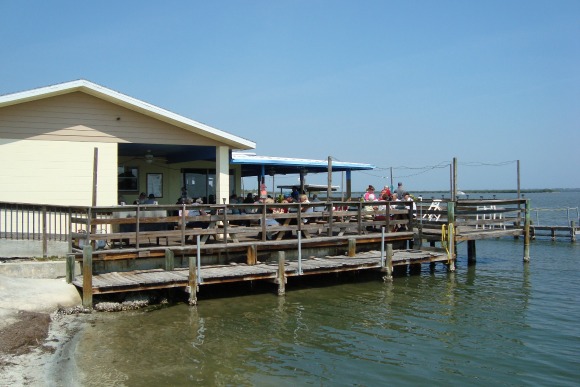 Goodrich Outside Dining
I was on a diet on this visit, so I didn't have any fried stuff other than a couple of hush puppies.
Customers I talked to said the fried fish, shrimp and oysters are great. Lightly battered and not greasy. Maybe next time I'll be down to my fighting weight and can try some fried goodies.
Goodrich's is also famous locally for their great breakfasts and packs them in from the local fish camps and RV parks.
Beer and wine is served here, but since it was lunch and I'm on a diet, I didn't try any.
Larry Csonka (L) and Friends at Goodrich
Larry Csonka Facebook
It's not too well known that Goodrich's property and building is owned by former Miami Dolphin football Hall of Famer Larry Csonka. Go Fins!
Goodrich's is open Tuesday, Wednesday, Friday, and Saturday from 11am to 9pm, Thursday 11am to 8pm, and Sunday from 7am to 5pm.  Closed on Mondays.
---

Our Facebook page has more than 128,577 followers who love off the beaten path Florida: towns, tourist attractions, maps, lodging, food, festivals, scenic road trips, day trips, history, culture, nostalgia, and more.  We post articles every day.  Please check it out and if you like it, we would appreciate a "like" from you.
---
By Mike Miller, Copyright 2009-2023
Florida-Back-Roads-Travel.com
Florida Back Roads Travel is not affiliated with or endorsed by Backroads, a California-based tour operator which arranges and conducts travel programs throughout the world.