GULFPORT, FLORIDA
Gulfport, Florida Things To Do, Lodging, Dining, & Real Estate At End Of Article
Gulfport is a small incorporated city in the heart of the Tampa-St. Petersburg-Clearwater metropolitan area.  Its southern border fronts on Boca Ciega bay.
It is surprising to find a piece of Old Florida right in the middle of this busy urban environment. 

This small town of 12,000 is nestled along Boca Ciega Bay not far from where you take the impressive Sunshine Skyway across Tampa Bay down into the Bradenton and Sarasota region.

HISTORY OF GULPORT, FLORIDA
The town is actually a tad older than St. Pete because a railroad man named Peter Demens built his Orange Belt Railway from Central Florida to this location.
It was originally named Disston City in 1884 after Hamilton Disston, an early northern businessman who had purchased millions of acres of Florida land.
Demens pushed the railroad on south and in 1888 named the end of the line St. Petersburg after his home town in Russia.
Disston City was renamed Bonifacio, then Veteran City, and finally in 1910 it settled on the name Gulfport.
In 1930 the citizens built the Gulfport Casino as a community center and entertainment venue.
Gulfport has an "Old Florida" feel to it, especially around its waterfront district.
Many of the original old cottages still remain, and the neighborhood is sprinkled with charming little shops and restaurants.
The streets are lined with ancient oak trees and some of the residential areas still have brick streets.

It's not surprising that Gulfport attracts a lot of artists and craftspeople who are fascinated by its charm and tropical ambience.
Locals and tourists crowd the streets on the first Friday and third Saturday of each month for a celebration called "Art Walk".
The center of community activity is the old Gulfport Casino Ballroom located on the waterfront at the base of the city pier.
The Casino dates back to the early days of the city and hosts various dance events five days a week on its 1930s era dance floor.
These events are well attended by fun lovers from St Pete, Tampa, Clearwater and the entire Tampa Bay area.
Gulfport is also famous for its many good restaurants. Several travel magazines have voted the town as one of the best food cities in Florida.
---
Recommended Gulfport Restaurant
BACKFIN BLUE CAFE

2913 Beach Blvd South
Gulfport, Florida 33707
Tel: 727-343-2583
Backfin Blue is located in a quaint old converted cottage on the north side of the Waterfront District. It is not open for lunch, only dinner.
The building has been recently renovated. The restaurant specializes in seafood offerings, and is one of the best in Gulfport.
The first thing you notice when you go inside is the nice bar right up front. It's a great place to have a beer or wine while you wait to be seated.
They also have outside dining on the patio, and it's just as clean and casual as the interior dining room.
May is a great time to sit outside because it's still cool enough to enjoy.
The menu features some imaginative seafood items. The appetizers include puree of corn and crab chowder, Maryland style jumbo lump crab cakes, lobster ravioli, shrimp scampi and crab martini.
They also have some meal-sized salads.
A favorite is Backfin Salad that is made of jumbo lump crab, shrimp, orzo, mandarin oranges, spring greens and bruschetta tossed with a lemon papaya balsamic vinaigrette.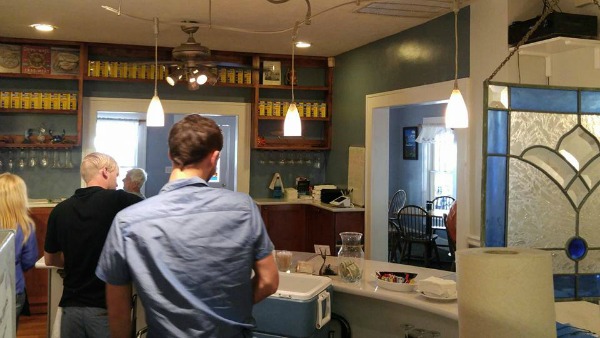 The seafood entrees are what Backfin is noted for.
A favorite of many diners is the Backfin Blue Jumbo Lump Crabcakes, seasoned Maryland style and basted with garlic infused olive oil.
The fresh catch changes from day to day and is backed with a crunchy Macadamia nut crust or you can have it prepared any way you like.
Interestingly enough, the Backfin is also famous for their Prime Rib and home made meatloaf. The meatloaf includes a layer of Gorgonzola cheese, and the prime rib comes in 10, 12 and 16 ounce servings.
They also have quite a few flatbread specialties. The restaurant also has an extensive wine and beer list.
Backfin Blue Cafe is open every day of the week except Tuesday from 4:00pm to 10:00pm but closes early on Sunday: 9:00 pm.
They also are closed on Thanksgiving, Christmas, New Year's Day, Super Bowl and Easter. This charming place has its priorities set right!
---
 ALL ABOUT GULPORT, FLORIDA
---
INTERACTIVE MAP OF GULFPORT, FLORIDA
---
---
We post articles each day on our Facebook page which has more than 121,250 followers. 

 Please check it out and if you like it, we would appreciate a "like".

---
By Mike Miller, Copyright 2009-2022
Florida-Back-Roads-Travel.com
Florida Back Roads Travel is not affiliated with or endorsed by Backroads, a California-based tour operator which arranges and conducts travel programs throughout the world.