HEMINGWAY HOME

The Ernest Hemingway home at 907 Whitehead Street in Key West has become a popular tourist attraction.  
The famous author and his wife Pauline lived there with their many cats and their sons Patrick and Gregory from 1931 until 1940.

Hemingway and Pauline first came to Key West as visitors in 1928 and again the following year. 
During their 3 week 1928 stay, Ernest finished his famous World War One novel "A Farewell To Arms". 

The couple liked Key West and decided to stay.  They were lucky that Pauline had a rich uncle, Gus.  He bought the house for them in 1931.
The house was originally built in 1851 in the Spanish Colonial style of architecture popular in Key West in those days. 
It was built of native limestone rock from the homesite, and hewn into sturdy building blocks.  The lot was one of the highest in Key West. 
The original builder dug a 14 foot deep hole to get the limestone used in construction.  He then partially filled the hole so that the home has a 9 foot tall basement.
Ernest Hemingway and Wife Pauline
The house first got electricity in 1899 and modern plumbing in 1944.  Before that, homes in the Florida Keys all collected rainwater in cisterns. 
The Hemingway home had two cisterns.  Water was finally piped in to the city from the mainland to serve the military installations during World War Two.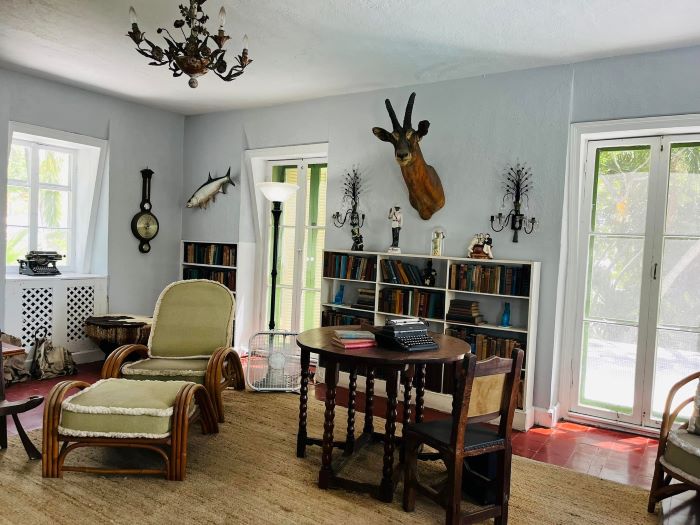 Hemingway Writing Studio
The house was in pretty bad shape in 1931, so Ernest and Pauline did extensive restoration that still stands the test of time today.
Hemingway Home and the Last Penny
One of the most unusual features of the home is the large swimming pool.  It was completed in 1938 at a cost of $20,000, which was a lot of money in those days. 
It was the first in-ground swimming pool in Key West.  As a metaphor for the expense of the pool, Hemingway took a penny and stuck it into the wet concrete of the patio surrounding the pool.
He said jokingly, "Here, take the last penny I have". 
Visitors still have fun looking for the penny that is visible between the stones at the north end of the pool.
It feels like the Hemingways still live there because a lot of the furnishings belonged to them. 
There are many European antiques purchased during their travels.  There are also trophies and animal skins from Hemingway's many safaris and hunting trips.
The studio where he worked gives you a sense of the man and his working conditions.  He produced some of his best known writing in this studio. 
Cat Ready to Help with Typing
Ernest loved cats and always had many of them around his various homes.

You will also get to see the descendants of Hemingway's cats.  Hemingway had a six toed cat, and many of the cats on the property also have six toes.
Hemingway and Cat Enjoying Drinks
If you want to impress your friends, you can tell them six toed cats are also known as polydactyl cats.
Ernest and Pauline got divorced in 1940, and Ernest moved to Havana, Cuba with his third wife, Martha Gellhorn. 
Pauline continued to live in the house with her sons until her death in 1951.
Hemingway continued to visit Key West up until shortly before his death in 1961 in far off Idaho.
Read more about the career of Ernest Hemingway.
The Hemingway Home is open 365 days a year from 9 am to 5 pm.

---
---

Our Facebook page has more than 128,577 followers who love off the beaten path Florida: towns, tourist attractions, maps, lodging, food, festivals, scenic road trips, day trips, history, culture, nostalgia, and more.  We post articles every day.  Please check it out and if you like it, we would appreciate a "like" from you.
---
By Mike Miller, Copyright 2009-2023
Florida-Back-Roads-Travel.com
Florida Back Roads Travel is not affiliated with or endorsed by Backroads, a California-based tour operator which arranges and conducts travel programs throughout the world.