HIGH SPRINGS, FLORIDA
High Springs is about 21 miles northwest of the University of Florida campus in Gainesville. 

When I attended the university many years ago, High Springs was a quiet little town with a sleepy two block downtown business section.
It was about as typical a small Florida town as you would find in those days.
The town today is still small - about 5,000 people - and quiet, but the downtown area has been spruced up and is now home to several antique shops and nice restaurants.

In contrast, just a couple of blocks from downtown many of the streets are still unpaved and are home to weather beaten old houses drowsing under the ancient oaks draped with Spanish moss.
One of the features of this little town that puts it on the map is its crossroads location in north central Florida.

In the late 1800s, it was an important rail center for several main lines of the Atlantic Coast Line Railroad. The town had major railroad service facilities and a large train yard. The trains are gone, but today two major highways intersect in High Springs.
In the not so old days before the interstates, this made High Springs a logical place for the weary traveler to stop for the night. Those highways - US-441 and US-27 - are still pleasant and less crowded today than the superhighways if you are traveling this part of the state.

As the name of the town implies, High Springs is in "spring" country. It is close to the spring fed Santa Fe and Ichetucknee Rivers along with many other small springs such as Poe Springs and Blue Springs. Ginnie Springs Outdoor Recreation area is just 6.5 miles west of town. Just a few miles further west is Ichetucknee Springs State Park and its famous inner tube float trips down the river.
High Springs is a good place to stage a visit to these popular attractions. There are at least two bed and breakfast inns and a handful of motels in town.
A favorite restaurant in High Springs is the Great Outdoors Restaurant.
---
---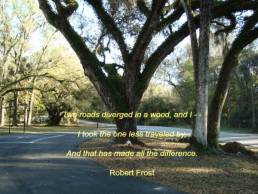 Over 65,000 followers can't be wrong. Learn about off the beaten path Old Florida, historic towns, attractions,  festivals, scenic drives and more.
Like Us On Facebook
Return to Florida Backroads Travel Home