HIGHLAND PARK, FLORIDA
December 23, 2018.  We don't know the current status of the resort and golf club in this community.  The article was written in 2012, and is presented here for general information about the history of the place. 
If your interest is in playing golf, staying at the resort, or eating in the restaurant you may be out of luck.  Please check it out.
Highland Park, Florida is located on Scenic Highway 17 in rural eastern Polk County, Florida, near Babson Park.  The population numbers in the low hundreds, but it is an incorporated community, an actual chartered town.
Highland Park was founded in 1927, and has always been a recreation focused community.
Lekarica Hills Golf Course
Highland Park, Florida Has an Historic Golf Course
The village is surrounded by an 18-hole golf course designed and built by the well known firm of Stiles & Van Kleek in 1927.  It is known today as Lekarica Hills Golf Course.
A Lake Wales businessman, B.K. Bullard, bought 3,000 acres in 1919 that included what is now Highland Park.
Bullard hired Irwin A. Yarnell to promote the community and sell lots. Yarnell produced many ads and brochures that are classics of Florida promotion.
Yarnell built a 25 room mansion in 1923 on a hilltop in Highland Park. It is still there today, and presents a great photo opportunity if you can find a place to stand and take the snapshot either from Scenic Highway 17 or the entrance into Highland Park.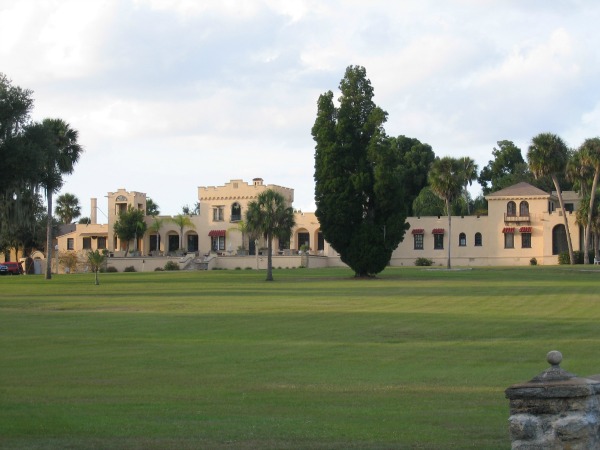 La Casa de Josephina, Highland Park, Florida
"La Casa de Josephina" was a gift to his wife, Josephine, and it overlooks the entire community. It's architecture is typical of the Florida Boom era of the 1920's, Moorish looking like a Spanish or Italian palace.
The picture above of the Casa was taken in 2007. On a recent visit in January 2012, I observed that the Casa had been painted a dark brown chocolate color.
Different strokes for different folks.
The Village of Highland Park is on the shores of Lake Easy. The lake used to be a favorite destination of weekend sea plane buffs who would fly in and have brunch at Lekarica resort.
Many of the early Highland Park residents were Quakers. They lived in a dormitory, separated into male and female wings.
The dormitory still stands, and is part of the Lekarica Golf and Country Club Resort. The restaurant was not open when I visited on a recent Monday (January 2012), but the original golf course is still played daily by residents and visitors.
Lekarica Resort Buildings
The hurricanes in 2004 did a lot of damage to Lekarica, but my recent visit showed that the damage has been repaired. There are plenty of fine vacation cottages on the property and the entire resort is for sale.
Step back in time and enjoy this part of Old Florida. It is a magical feeling to wander around Highland Park.
IF YOU KNOW SOMETHING ABOUT THE CURRENT STATUS OF HIGHLAND PARK & ITS RESORT & GOLF COURSE, PLEASE TELL US ABOUT IT USING THE FORM BELOW.
Know About a Town We Don't Have on our Website?
Do you know something about a town that isn't on our website? Write about it and share it with our visitors.

I will create a web page that features your story along with a URL you can give your friends or use as a link on your own or other websites. Your page will be a permanent part of Florida Backroads Travel.

We's like your article to be at least 300 words long and no longer than 1,000 words. Photos should be no bigger than 1.5 MG and 800x600 in size.

20181223
---
IF YOU DIDN'T FIND IT ON THIS PAGE, SEARCH OUR ENTIRE WEBSITE