HISTORY OF BROOKSVILLE, FLORIDA
The history of Brooksville, Florida is controversial and deserves its own page on our website.
As in most Florida places it began with the Native Americans who were here back when Hernando deSoto visited the area in the 1500s.
After that, Chocochattee Town, near Brooksville, was the de facto seat of government for the Seminole nation for almost 70 years going back to 1767.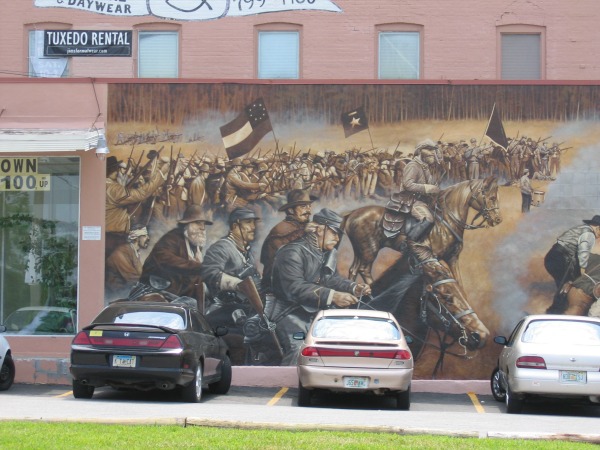 Fort DeSoto was built on the north side of what is now Brooksville during the Seminole Wars in the 1840s. 
There was no well water available at the fort because of the underlying limestone formation, so the fort moved to an area with freshwater springs that were on the site of the future Brooksville.
The fort became a regular stop on the stage coach line that ran from Palatka to Tampa.
Settlers began arriving in the late 1840s and created two new communities,  Pierceville and Melendez. 
Many of these early settlers were from southern states and some owned black slaves.
These two communities merged in 1856 and became known as Brooksville, named for Congressman Preston Brooks of South Carolina. 
History is sometimes ugly, but should never be forgotten.  Good or bad, it teaches us valuable lessons.
Charles Sumner was a United States Senator from Massachusetts in the years before the American Civil War.
He was an outspoken opponent of slavery, and known for his fiery speeches on the subject.
Preston Brooks was a congressman from South Carolina, and an equally outspoken advocate of slavery.

One day in 1856, Sumner gave a speech in the Senate that was especially insulting to the South.  Brooks savagely attacked Sumner on the Senate floor and nearly beat him to death with a cane.
Sumner missed the next 3 years of service in the Senate, and needed extensive therapy to survive his injuries.
His attack on the hated Yankee senator made him a hero in the South, and Brooksville was very much a southern city in the years during and after the civil war.
After the civil war ended in 1865, many Confederate sympathizers moved into the area.  Brooksville had a far more southern heritage than most other places in central west Florida.
The City of Brooksville was incorporated in 1880.  The early economy of Brooksville was based on agriculture - including cotton - and several large plantations were in the area.
The area was the scene of many violent racial incidents in the years after the Civil War and on into the 1930s.
Read an excellent article on the history of Hernando County.
We post articles each day on our Facebook page which has more than 121,509 followers. 

 Please check it out and if you like it, we would appreciate a "like".

---
By Mike Miller, Copyright 2009-2022
Florida-Back-Roads-Travel.com
Florida Back Roads Travel is not affiliated with or endorsed by Backroads, a California-based tour operator which arranges and conducts travel programs throughout the world.