HOMESTEAD, FLORIDA

Homestead, Florida has a special place in my heart. I first moved to the Miami area in 1992, a few weeks after Hurricane Andrew came to town.
Homestead is located about 35 miles southwest of Miami, and is in the middle of an agricultural area. The Everglades begins just west of the city. Key Largo is 25 miles south on U.S. Highway 1. It is home to about 30,000 people.
The name came about when the Florida East Coast Railway was being extended from Miami to Key West.  The railroad passed through the area around the Redlands that had recently been opened up for homesteading.
Since the construction camp at the end of the railroad had no real name, materials were delivered to "Homestead Country".  That got shortened to Homestead, and the name stuck.
My firm had a branch office at the corner of Krome Avenue and Mowry Drive in downtown Homestead. It was one of the few buildings in Homestead that was still habitable after the Category 5 hurricane raged through south Florida.
Homestead Florida and Hurricane Andrew
The building became one of the offices for the "We Will Rebuild" team that was assembled to help direct the redevelopment of south Miami-Dade County. The team was comprised of powerful community leaders assembled in part by the late Alvah Chapman, former president of the Miami Herald.
Homestead had thousands of mobile homes, most inhabited by Hispanic farm workers, that were destroyed by the hurricane. Many thousands of people were homeless, and temporary camps were built all around the area by FEMA.
Many of the old Homestead buildings were gone forever, and a lot of people actually thought that the town would cease to exist. The town seemed destined to disappear into the dustbin of history.
The town was first incorporated in 1913, and is the second oldest city in Miami-Dade County after the City of Miami.
Homestead, Florida grew slowly after 1913, primarily as a supply town for the surrounding farms. It was never fancy, but since Andrew's visit the town has been rediscovered.
The nearby Villages of Homestead is a large residential development that has seen tremendous growth since 1992. Many other developments have sprouted up in the area because of the scarcity of land nearer to Miami.
Downtown Homestead has a nice gentrified feel to it. There are plenty of good restaurants in the area. Some of the best Mexican food in Florida can be found in Homestead.
Those of us who saw Homestead in the immediate days after Hurricane Andrew are still amazed at the miraculous rebirth of this little city.
---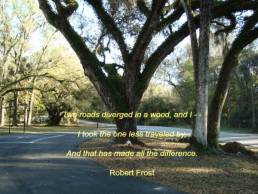 Over 65,000 followers can't be wrong. Learn about off the beaten path Old Florida, historic towns, attractions,  festivals, scenic drives and more.
Like Us On Facebook
Return From Homestead Florida To Florida Towns

Return To Free Florida Travel Guide Southeast Florida

Return To Florida Backroads Travel Home