INDIANTOWN, FLORIDA
Indiantown, Florida Things To Do, Lodging, Dining, & Real Estate At End Of Article
Indiantown, Florida is one of the newest villages in the state, being established in 2017.
It has a population of about 7,000 and is 24 miles southwest of Stuart and 14 miles east of Lake Okeechobee's Port Mayaca. 
Its status as a village may be new, but the community known as Indiantown has been there for many years. 

Indiantown is located on the north bank of the St. Lucie Canal, one of the main links of the well known Okeechobee Waterway.
The waterway is the passage across Florida from Stuart on the Atlantic Coast to Fort Myers on the Gulf of Mexico.
The main highways entering Indiantown are State Road 710 that connects Okeechobee City to  West Palm Beach, and State Road 76 connecting Stuart to Port Mayaca.
INDIANTOWN, FLORIDA HISTORY
The Seminoles established a trading post on this site in the 1800s. They chose this land because it was higher than the surrounding swamps and a good place to catch fish and hunt food.
White settlers began to move into the area in the 1890s, but the town didn't take off until the 1920s, spurred by the Florida Land Boom of the 1920s.
The biggest thing to happen was when the Seaboard Air Line Railroad came down to Indiantown from Coleman in west Central Florida. 
The head of the railroad was S. Davies Warfield, and his railroad passed through Indiantown on its way to West Palm Beach.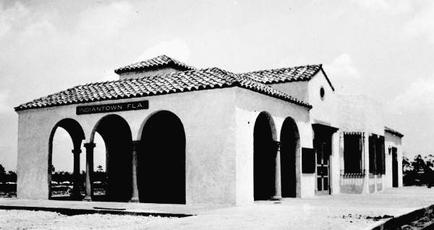 Indiantown Seaboard Airline Railway Station 1926
Warfield wanted to make Indiantown the southern hub of his railroad, and planned a modern city with paved streets, schools, housing, and a railroad station. 
The railroad station was built and so was a hotel, the Seminole Inn. 
Mr. Warfield's niece, Wallis Warfield, worked for him in the hotel.  She became famous years later as Wallis Warfield Simpson who married British King Edward VIII. 
The king gave up his crown to marry, in his words, "the woman I love", and they became the Duke and Duchess of Windsor and lived happily ever after in comfortable wealth in castles and villas all over the world.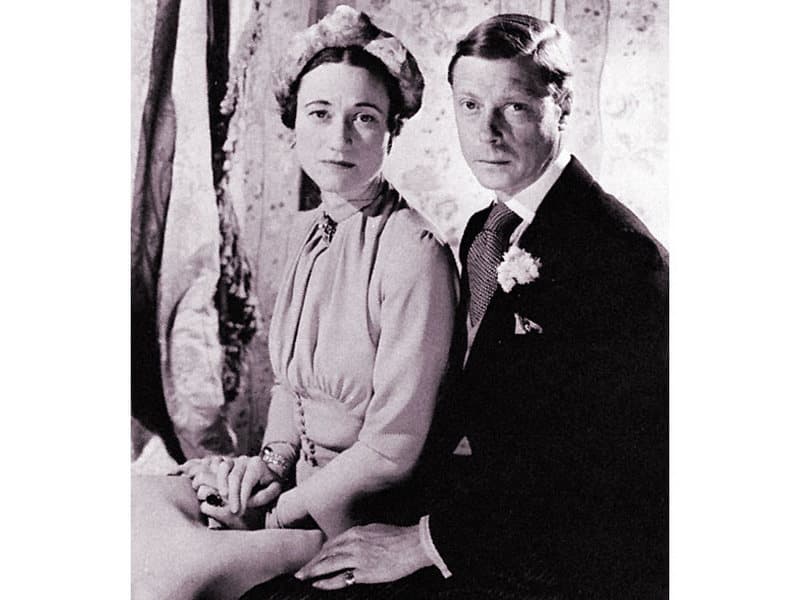 Duke and Duchess of Windsor
The Florida Land Boom began to fizzle out big time in 1926 and S. Davies Warfield died in 1927.  The worst was yet to come when the 1928 Okeechobee Hurricane nearly wiped out the area.
The glory days of Indiantown died before they had a fair chance to get off the ground.
INDIANTOWN, FLORIDA TODAY
Indiantown is not a fancy or pretentious town.  It has many modest homes in simple neighborhoods that reflect the working class nature of many of the people who live here. 
There is also a scattering of upscale homes living side by side with their plainer neighbors. 
A popular modern neighborhood is the Indianwood Golf and Country Club on the north side of town.
The town is self sufficient with a middle school, and a downtown area along SR-710, known as Warfield Boulevard, with many stores, shops and restaurants.
You will see a Dunkin's Donuts (important!), an auto parts store, a Little Caesars Pizza, Cracker's Cafe, a medical center, and a post office among many other enterprises. 
There is at least one great Mexican restaurant in Indiantown.
The Seminole Inn is still operating and is on the National Register of Historic Places.  It is a popular place to dine and enjoy some authentic Old Florida lodging. 
This historic place enjoys a high Tripadvisor rating for both food and lodging.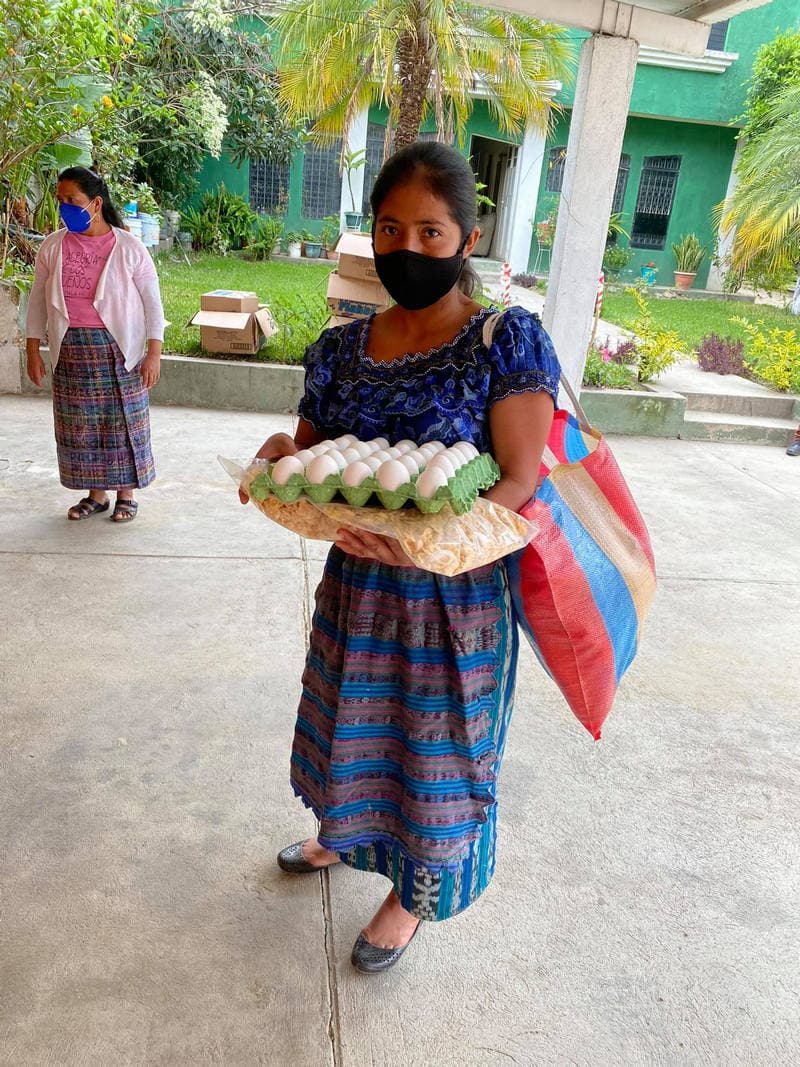 Young Lady With Eggs at Holy Cross Catholic Church
Holy Cross Catholic Church is an important center of community worship and activities. 
The young lady in the photo above is presenting some of the many agricultural products grown in the rich soils of the area.
INDIANTOWN, FLORIDA MARINE SERVICES
Because of its strategic location on the Okeechobee Waterway, Indiantown has developed a thriving marine service industry.
The Indiantown Marina is a popular stop for boats and yachts crossing the waterway. 
It is also a natural hurricane hole for boaters all over the state looking for a haven when those nasty storms are on their way.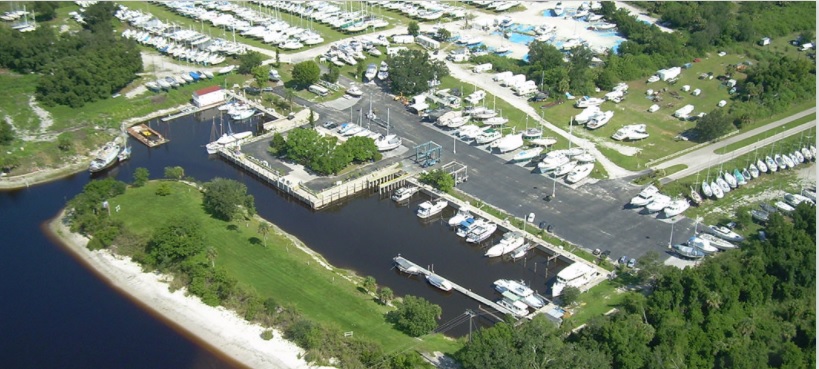 Indiantown Marina
The marina has a full service boat yard, but also allows boat owners to work on their boats themselves.

In addition to full service boat slips, the marina has one of the largest dry storage facilities I've ever seen. 
I could easily spend a day walking among the boats stored up on the trailers or cradles awaiting their owners to come for them some day.
Another interesting place in Indiantown is the Payson Park Thoroughbred Training Center, which since 1957 has been a top thoroughbred winter horse racing training facility. 
The park is currently being refurbished and modernized by a new owner.
INFORMATION ABOUT INDIANTOWN, FLORIDA
---
INDIANTOWN, FLORIDA INTERACTIVE GOOGLE MAP
---
---

Our Facebook page has more than 128,577 followers who love off the beaten path Florida: towns, tourist attractions, maps, lodging, food, festivals, scenic road trips, day trips, history, culture, nostalgia, and more.  We post articles every day.  Please check it out and if you like it, we would appreciate a "like" from you.
---
By Mike Miller, Copyright 2009-2023
Florida-Back-Roads-Travel.com
Florida Back Roads Travel is not affiliated with or endorsed by Backroads, a California-based tour operator which arranges and conducts travel programs throughout the world.