Jungle Queen Riverboat Cruise
The Jungle Queen is berthed at Bahia Mar Yachting Center in Fort Lauderdale.
Those of you who remember the fictional Travis McGee will know he lived at Bahia Mar Slip F-18 aboard his houseboat, The Busted Flush.
This floating Florida attraction has been around as long as I have.
Sometimes it's a great trip; other times you swear never to go back.  Having said that, I highly recommend the trip at least once.  It's a reminder of the campy old Florida tourist attractions that used to dot the state.
Another plus is that you'll learn the history and high points of a great town, Fort Lauderdale, Florida.  On future trips you can take a water taxi and be your own tour guide.
When I lived aboard my boat on the New River in Ft. Lauderdale, the passing of the Queen three times a day was a ritual to those of us at Lauderdale Marine Center.
I have probably waved at a million tourists over the years. I wonder how many home movies (or videos) I'm in, relaxing in my cockpit.
The Jungle Queen holds 550 passengers, and looks like an old paddle wheel steamer from earlier days in Florida. The boat is in safe condition, but don't expect a bristol clean yacht.
The best part of the 3 hour cruise is the knowledgeable Captains. They know their stuff, and point out the historic and interesting places along the river and canals.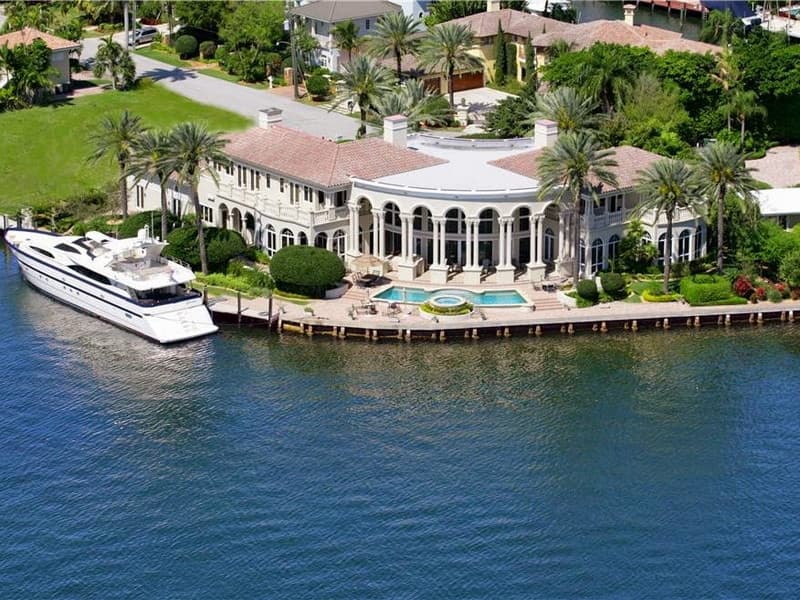 The houses are fantastic, and the Captain tells you what famous people lived or live in which house. I remember one mansion with colonial architecture and big white columns.
The Captain said that Andy Griffith used to own it. If true, I wonder if Barney Fife and Goober ever came to visit along with Aunt Bea.
The boat stops at a little island on the New River west of I-95. They call it the Jungle Queen Indian Village. There are some sad looking little monkeys and birds in cages.
There are gators napping in very shallow ponds. A guy who must be desperate for a job wakes the gator and wrestles him or her. This fellow doesn't look like an Indian to me.
This little place kind of looks like Gilligan's Island, but not as cute. I keep expecting Gilligan and the Skipper to come out of the bushes, or Mary Ann and the Professor.
Jungle Queen Features An Evening Dinner Buffet
The riverboat features a dinner buffet in the evening, sometimes served at the island. The food is just average. Emeril need not worry about the competition.
I prefer to take the day cruises and eat dinner somewhere else.
The big heavy vessel gives you a nice steady ride. I've never seen a single case of sea sickness on my several trips.

ADMISSION FEES and HOURS (Website of Jungle Queen)
DIRECTIONS
From I-95, take Exit 29A and follow Sunrise Boulvard east to the Atlantic Ocean.
From the Florida Turnpike (Ronald Reagan Turnpike), take Exit 58 and follow Sunrise Boulevard east to the Atlantic Ocean.
In both cases, turn right at the ocean and follow Atlantic Boulevard south to Bahia Mar.
---
---

Our Facebook page has more than 129,275 followers who love off the beaten path Florida: towns, tourist attractions, maps, lodging, food, festivals, scenic road trips, day trips, history, culture, nostalgia, and more.  We post articles every day.  Please check it out and if you like it, we would appreciate a "like" from you.
---
By Mike Miller, Copyright 2009-2023
Florida-Back-Roads-Travel.com
Florida Back Roads Travel is not affiliated with or endorsed by Backroads, a California-based tour operator which arranges and conducts travel programs throughout the world.