MAROOSH MEDITERRANEAN RESTAURANT
223 Valencia Avenue
Coral Gables, FL 33134
Tel: 305-476-9800
Maroosh is my favorite Mediterranean restaurant in the Miami area.
Many years ago, before I lived in Florida, I joined the Navy to see the world.
I saw a lot of it from the deck of a pitching and rolling destroyer, but once in awhile we'd go ashore and I'd get to look around and enjoy the local culture, food and beverages. 
Among those shore-side visits were stops in Greece, Turkey, Egypt and Lebanon. I've had a fondness for good Mediterranean food since those Navy days of long ago.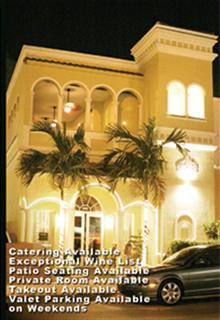 Maroosh has captured the authentic flavors of Mediterranean food right in the heart of Coral Gables.  This cozy place with comfortable ambiance and middle eastern decor is great for lunch or dinner.
It is owned by Samir al Barq.  Samir was educated as a computer scientist, but gave it up many years ago to open this restaurant. It has been a big success from its very beginning.
The food is all great, with all of my Lebanese favorites like baba ghannouj, falafel, couscous, anoush, kefta kabob and other shish kabobs, grape leaves, hummus, chicken wings and fried or baked kibbe.
For meats they have chicken, fish, lamb and beef.They also have lots of good soups and salads, including Tabouleh and Greek Salad.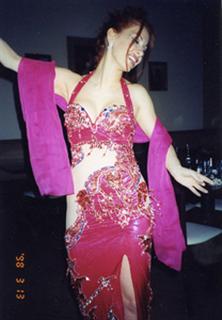 I love their Jerusalem Salad with chopped cucumber, green pepper, tomato, parsley and a lemon tahini dressing.
Although I am not a dessert person, I sometimes cheat and have one of the great ones at this restaurant. I especially like their baklava - thin sheets of filo filled with walnuts. I have a friend who really likes their cassata al cioccolato - classic Sicilian chocolate and vanilla gelato with fruit candies.
Prices are reasonable, especially when compared to other upscale dining establishments in Coral Gables. They don't serve hard liquor, but their wine list is extensive and good. They also have a good selection of domestic and imported beer.
An extra feature on Friday and Saturday nights is the entertainment of the belly dancers. These dancers ply their traditional craft in good taste. It gives those who are so inclined the chance to see beautiful women in colorful costumes and excellent physical condition moving with seductive grace to Mideastern music.
Samir has a wonderful memory, and after your first visit will remember you and what you like to eat and drink. You will enjoy your visit to Maroosh and will go back for more whenever you visit Coral Gables.
Maroosh is open every day except Monday.  Friday, Saturday and Sunday their hours are noon to 11:00 pm.  Tuesday, Wednesday and Thursday they are open from 11:30 am to 10:00 pm.
---
---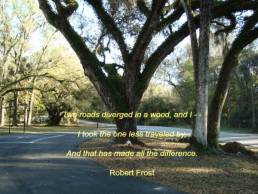 Over 65,000 followers can't be wrong. Learn about off the beaten path Old Florida, historic towns, attractions,  festivals, scenic drives and more.
Like Us On Facebook
Return to Coral Gables, Florida
Return to Florida Backroads Travel Home