MELBOURNE BEACH, FLORIDA
Melbourne Beach, Florida Things To Do, Lodging, Dining, & Real Estate At End Of Article
Melbourne Beach is a quiet bedroom community of about 3,227 people on the barrier island across the Indian River Lagoon from the larger cities of Melbourne and Palm Bay.  
It is Brevard County's oldest beach community and is a great place to access some of the most beautiful beaches on Florida's Space Coast.

HISTORY OF MELBOURNE BEACH, FLORIDA
Most histories place the founding of the village as 1883 when a Civil War Union veteran, Major Cyrus E. Graves, began buying land for $1.25 per acre and started raising pineapples.

Melbourne Beach Pier in 1938 re Florida State Archives
In the early days, Melbourne Beach was the only access to the Atlantic Ocean beach for many miles north and south. 
The barrier island was virtually a jungle back then with a natural habitat of sea grapes, sea oats, and palmettos.   

A ferry brought passengers over from Melbourne where they landed at the Melbourne Beach Pier.  A narrow gauge railroad with a push car took passengers from the pier down Ocean Avenue to the ocean. 
There was a bathhouse near where the current day Sand on the Beach Restaurant stands.
Melbourne Beach Pier in 2014
A causeway was built across the Indian River Lagoon in 1921.  It connected Melbourne Beach to Melbourne by way of the town of Indialantic. 

Ferry traffic began to decline, but the town began to grow slowly as a result of the better connection to the mainland. 

One of the first buildings erected in the town was the Community Chapel.  Built in 1892, it still stands and conducts church services, weddings and other events.
Many local couples consider it to be the perfect location for a wedding ceremony in a traditional church setting.
Another original old building, the Villa Marine, still stands at the corner of Ocean Avenue and Riverside Drive.  It was built in 1912 as a hotel and is used today as a dentist's office.

Melbourne Beach Community Chapel
The space program at Cape Canaveral and Banana River Naval Air Station (now Patrick Space Force Base) to the north contributed to the residential development in Melbourne Beach. 

MELBOURNE BEACH, FLORIDA TODAY
Today the village is largely residential with a few businesses along Ocean Avenue and State Road A1A. It is truly a walkable little town that takes great pride in its history. 
Almost all of the motel and hotel rooms are in low rise buildings on the ocean.  These are some of the best places to not only enjoy the beach, but to observe sea turtles during nesting season.
The Melbourne Beach Pier was placed on the National Register of Historic Places in 1984.  The town has also preserved many of its original old houses and buildings.

Replica of Original Melbourne Beach Post Office
The Melbourne Beach Community Center in Ryckman Park is adjacent to the pier.  It has several shady gazebos for relaxing or picnicking, a playground, town hall, and historic buildings.
The village has numerous access points to the beautiful sand beaches not only in town but for miles south. 
The Barrier Island Sanctuary south of Melbourne Beach is an educational center that teaches about the ecosystems of the beaches as well as the Indian River Lagoon
Melbourne Beach is also the main access point for the long stretch of beach along State Road A1A all the way down to Sebastian Inlet State Park. 

The barrier island has many parks and beach access points between Melbourne Beach and the inlet.
RECOMMENDED MELBOURNE BEACH RESTAURANT

Djon's Steak and Lobster House
522 Ocean Avenue
Melbourne Beach, Florida 32951
Tel: 321-722-2737
djons.com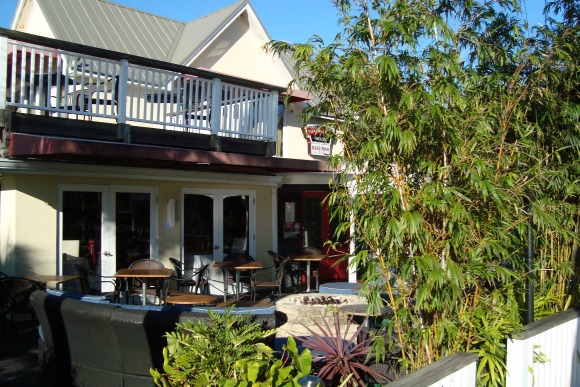 Dijon's Steak and Lobster House, Melbourne Beach
Djon's is a fine dining establishment named after its owner, Djon Papej.
It is not your typical beach establishment;  you will be okay wearing slacks or shorts and a polo shirt, but leave your flip-flops and tee shirt at home. 

This place warrants your dressing up a bit;  you won't be disappointed.  I lived for many years near this restaurant. 
---
THINGS TO DO IN MELBOURNE BEACH
Sebastian Inlet State Park - 9700 S Highway A1A: Located on a barrier island, this state park offers pristine beaches, excellent fishing spots, nature trails, and a wide range of recreational activities, making it a perfect destination for outdoor enthusiasts and beach lovers.
Ryckman Park - 509 Ocean Ave: Nestled along the Indian River Lagoon, this scenic park features a beautiful sandy beach, picnic areas, a fishing pier, and a playground, providing a relaxing atmosphere and breathtaking views for visitors of all ages to enjoy.
Archie Carr National Wildlife Refuge - W Mulberry Blvd: Protecting one of the most important sea turtle nesting habitats in the United States, this wildlife refuge offers guided turtle walks during nesting season and educational programs that highlight the conservation efforts for these magnificent creatures.
Barrier Island Center - 8385 S Highway A1A: Located within the Archie Carr National Wildlife Refuge, this educational facility provides interactive exhibits, nature trails, and informative programs that showcase the unique ecosystems of the barrier island and promote environmental awareness.
Honest John's Fish Camp - 750 Old Florida Trail: Embrace the charm of Old Florida at this historic fish camp, offering boat rentals, kayak tours, and a peaceful setting for fishing and wildlife spotting along the Indian River Lagoon.
Melbourne Beach Pier - Ocean Ave: Take a leisurely stroll or go fishing on the Melbourne Beach Pier, offering stunning views of the Atlantic Ocean and a chance to spot dolphins and seabirds while enjoying the coastal breeze.
Long Point Park - 700 Long Point Rd: Situated on the Indian River Lagoon, this waterfront park features picnic areas, nature trails, a boat ramp, and a designated swimming area, providing a serene setting for outdoor activities and waterfront recreation.
Andretti Thrill Park - 3960 S Babcock St: Just a short drive from Melbourne Beach, this family-friendly amusement park offers go-kart racing, miniature golf, arcade games, laser tag, and other thrilling attractions, ensuring a fun-filled day for visitors of all ages.
Barrier Island Sanctuary - 8385 S Highway A1A: Explore the natural beauty and diverse ecosystems of the barrier island through interactive exhibits, guided hikes, and educational programs at this sanctuary, which also offers breathtaking views of the Atlantic Ocean.
Melbourne Beach Market - 539 Ocean Ave: Held every Saturday, this local market offers a variety of fresh produce, artisanal crafts, baked goods, and more, providing a chance to support local vendors and experience the community spirit of Melbourne Beach.
---
 ALL ABOUT MELBOURNE BEACH, FLORIDA
---
Use the Google Map below to plan your route to Melbourne Beach.  Bring your beach clothes and a semi-dressy outfit to enjoy the restaurant we recommended.

MELBOURNE BEACH, FLORIDA GOOGLE MAP
---
---
---

Our Facebook page has more than 128,577 followers who love off the beaten path Florida: towns, tourist attractions, maps, lodging, food, festivals, scenic road trips, day trips, history, culture, nostalgia, and more.  We post articles every day.  Please check it out and if you like it, we would appreciate a "like" from you.
---
By Mike Miller, Copyright 2009-2023
Florida-Back-Roads-Travel.com
Florida Back Roads Travel is not affiliated with or endorsed by Backroads, a California-based tour operator which arranges and conducts travel programs throughout the world.