MELBOURNE FLORIDA
Melbourne Florida is a small city of about 80,000 people in southern Brevard County on Florida's Space Coast about one hour east of Orlando.
The "new" Melbourne of today has two distinct "old" and renovated downtown areas: historic downtown Melbourne and Olde Eau Gallie, each with lots of restaurants and shops.
The old Melbourne Hotel shown on the postcard below still stands on US-1 and is used today as an office building.
The Melbourne city limits take in a large area of beach along the Atlantic Ocean and miles of shoreline on the Indian River Lagoon.  Other towns in the Melbourne area are Palm Bay, Melbourne Beach, Indialantic, Satellite Beach, and Indian Harbor Beach.
The large residential development communities of Suntree and Viera are in the north region of Melbourne.
The entire area has abundant shopping, dining, drinking, and recreational resources.
MELBOURNE, FLORIDA RESOURCES
Melbourne Government
Melbourne City Hall,
900 E. Strawbridge Ave, Melbourne, FL 32901
321-608-7000
West Melbourne City Hall,
2240 Minton Rd, West Melbourne, FL 32904
321-727-7700
Melbourne Police
Melbourne Police Department,
900 E. Strawbridge Ave., Melbourne, FL 32901
321-608-6731
West Melbourne Police Department
2240 Minton Road, West Melbourne, FL 32904
321-723-9673
Melbourne Chamber of Commerce
Melbourne Regional Chamber of Commerce
1005 E. Strawbridge Ave, Melbourne, FL 32901
321-724-5400
Melbourne Restaurants
Pineda Crossing
2515 Roberts Road, Melbourne
321-259-7760
The Dove III
836 E New Haven Ave, Melbourne
321-725-3683

Meg O'Malleys Restaurant & Irish Pub
812 E. New Haven Ave, Melbourne
321-952-5510

Hemingway's Tavern
1800 W Hibiscus Blvd, #115, Melbourne
321-802-9648

Coasters Pub & Biergarten
971 E Eau Gallie Blvd, Ste A, Melbourne
321-779-2739

El Ambia Cubano
950 E. Melbourne Ave, Melbourne
321-327-8389

Grills Riverside Seafood Deck & Tiki Bar
6075 N Highway 1, Melbourne
321-242-8999

Chart House Restaurant
2250 Front St, Melbourne
321-729-6558

Ocean 302 Bar and Grill
302 Ocean Ave, Melbourne Beach
321-802-5728

The Mansion
1128 E. New Haven Ave, Melbourne
321-345-5800

Squid Lips Overwater Grill
1477 Pineapple Ave, Melbourne
321-259-3101

Cheddar's
2130 W New Haven Ave, Melbourne
321-409-0711
Skewers Mediterranean Grill
144 5th Avenue, Indialantic
321-727-8944

The Nomad Cafe
2002 S Harbor City Blvd, Melbourne
321-327-2996
Melbourne Hotels and Motels
La Quinta Inn & Suites
4510 W New Haven Ave, Melbourne
915-888-3953
Doubletree Suites by Hilton
1665 N. State Road A1A, Melbourne
855-605-0318
Radisson Suite Hotel Oceanfront
3101 N Highway A1A, Melbourne
844-669-4317

Crowne Plaza Melbourne Oceanfront
2605 N. Highway A1A, Melbourne
877-859-5095
Hilton Melbourne Rialto Place
200 Rialto Place, Melbourne
855-605-0316
Melbourne Attractions
Brevard Zoo
8225 N. Wickham Rd, Melbourne
321-254-9453

Honest John's Fish Camp
750 Old Florida Trail, Melbourne Beach
321-727-2923
Communities Near Melbourne
Indialantic
Indian Harbor Beach
Melbourne Beach
Palm Bay
Satellite Beach
History of Melbourne, Florida
The city gets its name from Melbourne, Australia. The area began to be called Melbourne eight years before the town was officially established.
A name was needed because a post office was being established to serve families in the area.
The first postmaster, Cornthwaite John Hector, was an Englishman who spent much of his life in Melbourne, Australia, before opening a general store at Crane Creek. A local pioneer, Mrs. R. W. Goode, suggested the post office be named Melbourne.
The area began to thrive in the late 1800's because of its advantageous location on the Indian River Lagoon. Farmers in the area had easy access to a good port and economic transport of their produce to profitable markets.
An interesting local character was Peter Wright, a black freedman (a slave freed during the Civil War) who became known as the "Sailing Mailman". Wright sailed a regular schedule from Titusville to Malabar to deliver mail to the numerous riverside settlements.
Melbourne prospered along Crane Creek where it empties into the Indian River, and its fortunes were linked to Eau Gallie, another small town north of Melbourne with a nice port on the Indian River.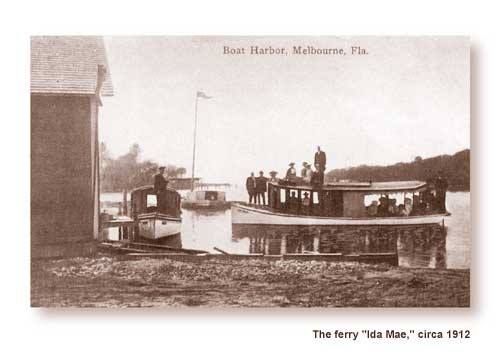 One of the interesting buildings still standing in Melbourne from the early days is the ice plant.  It was originally a power generating plant that also produced ice.  It is on US Highway 1 near downtown Melbourne, and is on the National Register of Historic Places.

Eau Gallie was settled by William Gleason and his friends. Gleason had earlier done a lot of development in the Miami area, and was prominent in state and national politics.
The railroad came to Eau Gallie and Melbourne in 1893, and the focus of commerce moved from the Indian River to the tracks on the higher land to the west.
In 1969, local voters consolidated Melbourne and Eau Gallie into one city and picked the name Melbourne for the new venture. Some wanted it to be named Eau Gallie; others wanted Melbogallie and any other variety of compromise names.
We are all grateful that the name Melbourne won out.
The old Melbourne Hotel shown on the postcard below still stands on US-1 and is used today as an office building.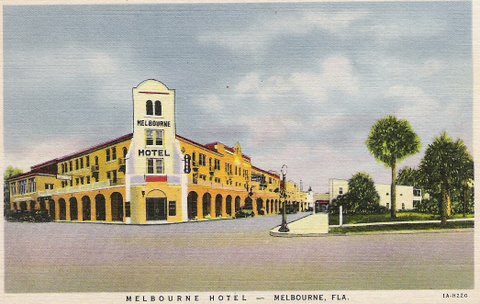 The edge of historic downtown Melbourne Florida near the Indian River was the location of the "Trysting Stairs, a wooden stairway leading up a bluff at the north end of Front Street.
The stairs provided a convenient way to reach residences on the higher ground above and became an informal meeting place which was especially popular among young lovers at the time.
Melbourne Historical Sites
Community Chapel of Melbourne Beach
Downtown Melbourne Association
Indian River Lagoon Scenic Highway
Liberty Bell Memorial Museum
Melbourne Beach Pier
Melbourne Ice Plant
Trysting Stairs
View Larger Map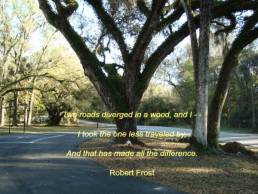 Over 65,000 followers can't be wrong. Learn about off the beaten path Old Florida, historic towns, attractions,  festivals, scenic drives and more.
Like Us On Facebook
Return From Melbourne Florida To Florida Towns

Return To Free Florida Travel Guide Central East Florida

Return To Florida Backroads Travel Home