MICHAEL GANNON
By  Mike Miller 

Michael Gannon is unique among Florida authors. He was born in 1928 and passed away on April 10, 2017.  He wrote many great books about Florida and other subjects.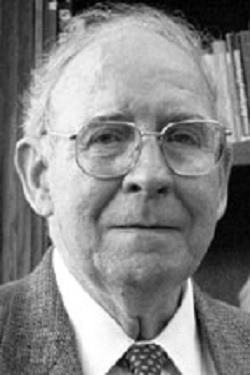 During World War II, Gannon was a member of the American Field Service. After the war he wrote books and articles on European military topics.  He was also a war correspondent in Vietnam.
When I was a student at the University of Florida in the 1960's, Dr. Gannon was known as Father Gannon, a catholic priest.
I believe he gave up the priesthood voluntarily and with honor, but I don't know the details.
Dr. Gannon is considered by many historians and Florida lovers to be the preeminent scholar of Florida history. He is an expert scholar in the field of Spanish colonial history. He has received many awards and honors.
He was made a Knight Commander of the Order of Isabel la Católica from King Juan Carlos I of Spain.
He received his PhD. from the University of Florida, and he is still the distinguished service professor emeritus of history at the University.
He is the author or editor of nine books, making him one of the most productive of Florida authors.
Even though he is an academic, he is a hands on historian. I recently read an interview of him talking about the racial strife in St. Augustine in the 1960's.
He clearly knows the Minorcan community well, and is one of the few people around who still remembers Hoss Manucy and the Ancient City Gun Club.
His books are easy to read and read again.
I'm afraid I will overlook some of Dr. Gannon's works, but here is what I am aware of that he wrote about Florida and Florida history:
(1990) Operation Drumbeat: The Dramatic True Story of Germany's First U-boat Attacks Along the American Coast in World War II


(1996) The New History of Florida


(2003) Florida: A Short History, Revised Edition


(2007) History of Florida in Forty Minutes


(2013) The History of Florida
I just finished his "Forty Minutes" book and it is great. I wish it were mandatory reading in Florida public schools.
Dr. Gannon has also written several well received fiction books.
Read about his life at the Gainesville Sun.
---

Our Facebook page has more than 128,577 followers who love off the beaten path Florida: towns, tourist attractions, maps, lodging, food, festivals, scenic road trips, day trips, history, culture, nostalgia, and more.  We post articles every day.  Please check it out and if you like it, we would appreciate a "like" from you.
---
By Mike Miller, Copyright 2009-2023
Florida-Back-Roads-Travel.com
Florida Back Roads Travel is not affiliated with or endorsed by Backroads, a California-based tour operator which arranges and conducts travel programs throughout the world.