MILL CREEK FARM
RETIREMENT HOME FOR HORSES
20307 NW County Road 235-A
Alachua, Florida 32616
386-462-1001

Mill Creek Farm is a blessing for old horses, abused horses and the people that love them.  The Retirement Home for Horses gives lifetime care to horses that have special needs.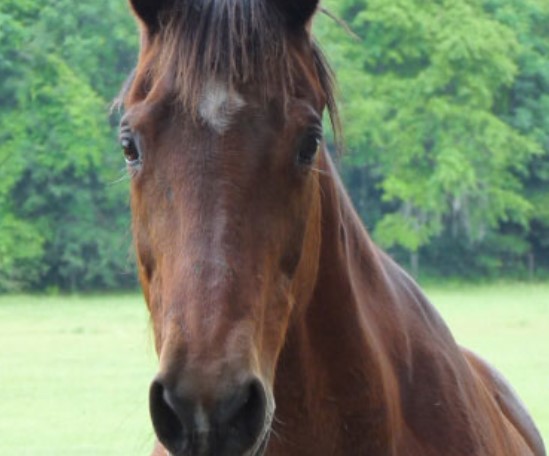 Laura at Mill Creek Farm, born 1986
Horse people are generally very loving folks.

I have friends who are "horse people". If reincarnation really exists, coming back as a horse owned by one of these horse lovers would be a blessing.
The horses who live at this farm include abused animals seized by law enforcement people, and horses rescued by the SPCA or Humane Societies.

There are also old horses retired from government service such as police mounted patrol, parks, horses used by handicapped riding programs and circus horses.
They don't accept horses from private owners, hoping that these horses are already provided for.
Horse retirement is not a subject that most of us spend much time thinking about.  Lucky for old horses, that is not true for all people.

Mary and Peter Gregory created this safe sanctuary for old and abused horses in 1984. 
Mill Creek Farm has more than three hundred acres of peaceful rolling pastures allowing horses to wander around at will. 
There are also plenty of trees on the farm that offer shade to the horses.
Although Peter passed away in 2014, his son Paul continues the legacy and lives at the farm.

These horses are retired, and will never work or be ridden again.  They live the rest of their lives in peace and dignity.  There are now more than 100 horses at the farm. 
These animals receive loving individual attention with feeding, grooming and veterinary care.
They have many horses you can visit, and ask for them by name.  An example of their retirees is Cinderella, a mixed breed who was one of ten horses rescued by SPCA in a field.
The animals had no food or water, and the field also contained the bodies of six dead horses.  Cinderella was hundreds of pounds underweight when she was rescued.  
The Retirement Home For Horses, Inc. is a not-for-profit organization. They rely on the contributions of horse-loving individuals.
Even though admission for visitors is very reasonable - two carrots - I'm sure they'd welcome your check as well.
ADMISSION TO MILL CREEK FARM IS TWO CARROTS
The fee to visit Mill Creek is the most reasonable of all Florida tourist attractions.  Two Carrots. No kidding.  You can be generous and bring a five pound bag and the horses will be even happier.
HOURS
Open on Saturdays only from 11:00 am to 3:00 pm. Covid has affected these hours, so call 386-462-1001 to make sure they are open before you visit.
DIRECTIONS
Alachua is in North Central Florida, just a few miles north of Gainesville, home of the University of Florida.
---
MILL CREEK FARM INTERACTIVE GOOGLE MAP
---
Take I-75 to Exit 399.
Travel west on US 441 to County Road 235A (immediately after Santa Fe High School).  Turn right at red light onto 235A.  Travel about 3 miles to the farm sign. The sign is on your right, just beyond the I-75 overpass. Turn right, follow the driveway and park under the trees near the picnic tables.
---
Since you probably came to this web page because you are a horse lover, you will enjoy this article about
More information about the equine retirement home is at the

---
---

Our Facebook page has more than 127,538 followers who love off the beaten path Florida: towns, tourist attractions, maps, lodging, food, festivals, scenic road trips, day trips, history, culture, nostalgia, and more.  We post articles every day.  Please check it out and if you like it, we would appreciate a "like" from you.
---
By Mike Miller, Copyright 2009-2023
Florida-Back-Roads-Travel.com
Florida Back Roads Travel is not affiliated with or endorsed by Backroads, a California-based tour operator which arranges and conducts travel programs throughout the world.