PALM BEACH, FLORIDA
Palm Beach, Florida Things To Do, Lodging, Dining, & Real Estate At End Of Article
Palm Beach, Florida is on the east coast barrier island across from West Palm Beach.  It is a separate town considered by many sources the richest town of its size in the state.
Palm Beach has a population of about 9,000 and is very different from its larger neighbor, West Palm Beach.
Even though I can't afford to live there, I still love to visit and see how the so called one percent live.  It's a great place for sight seeing and ogling.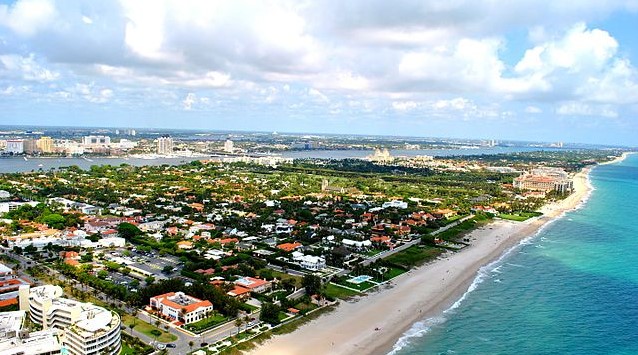 Aerial Photograph of Town of Palm Beach
Spring 2011 Photo Courtesy of the Palm Beach Proper and Michael Kagdis
PALM BEACH, FLORIDA HISTORY
The Jaega were a tribe of Native Americans who lived on the island that is now Palm Beach at least 3,000 years ago.
Like other original Florida tribes, they disappeared from the area after the long ownership of Florida by Spain and England.
The first white settlers began moving to the island in 1872.  The sparsely populated island saw its first exciting event in 1878. 
That the year a ship, the Providencia, was wrecked off the coast with a cargo of 20,000 Trinidadian coconuts. 
The settlers  salvaged them.  After eating a bunch of them they planted the others all along the coast.

The coconut palms are not native Florida palm trees, but they thrived along this coast, and still do today.
Read More About the History of Palm Beach
PALM BEACH, FLORIDA TODAY
Palm Beach is a very wealthy community with a median home price in 2021 of almost $1.8 million.
The town boundaries are the Atlantic Ocean on the east, the Intracoastal Waterway (known locally as Lake Worth) on the west, Lake Worth Inlet on the north, and the city of Lake Worth in the south.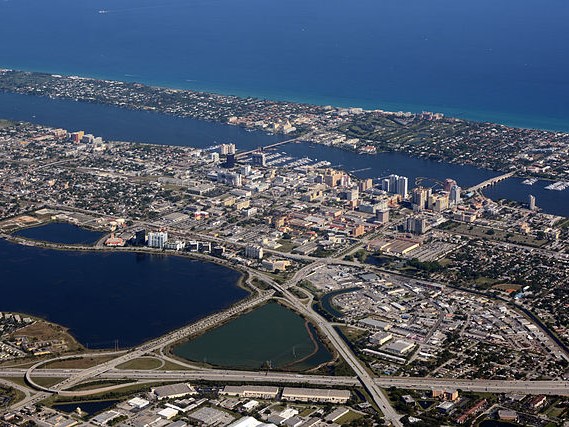 West Palm Beach and Palm Beach
Photograph by D Ramey Logan, CC BY 4.0 , via Wikimedia Commons
There are four bridges from West Palm Beach across Lake Worth to Palm Beach:
Flagler Memorial Bridge, the north bridge, connects North Quadrille Boulevard in West Palm Beach to Royal Poinciana Way in Palm Beach, which is part of State Road A1A.
Royal Park Bridge, the middle bridge, connects Okeechobee Boulevard in West Palm Beach to Royal Palm Way in Palm Beach.
Bingham Island Bridge, the southern bridge, connects Southern Boulevard (aka US-98) in West Palm Beach to Southern Boulevard in Palm Beach.  This route forms the southern boundary of the Mar-a-Lago Club property.
Lake Avenue Bridge is near the town's southern boundary which is an extension from Lake Avenue in the city of Lake Worth.
The Breakers Hotel is as elegant as ever and still the scene of many balls, conventions, weddings, and other events.
Today Worth Avenue is a world class shopping district with some of the priciest shops in the world.
Tourists enjoy wandering around the beautiful streets looking at the mansions of the rich and famous and enjoying the splendid architecture of Addison Mizner.

Palm Beach is also a great place to park your car and ride your bike.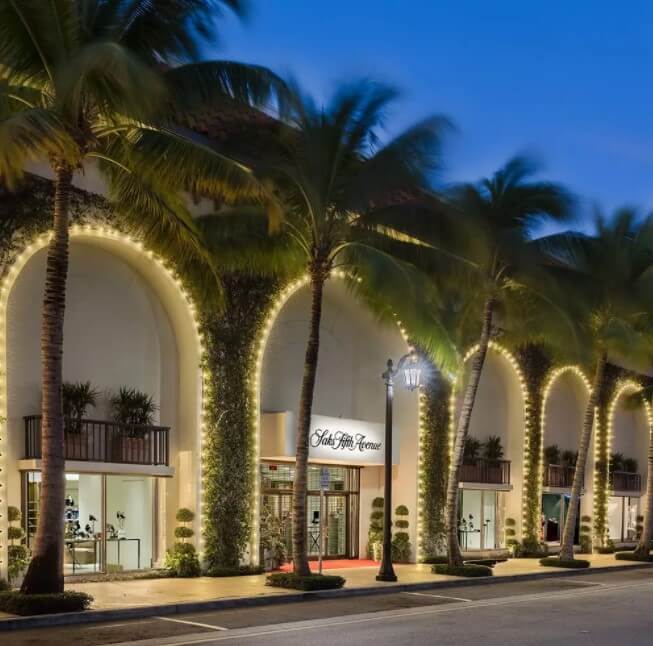 The architectural styles of Addison Mizner are prominent in Palm Beach, including the Via Mizner section of Worth Avenue.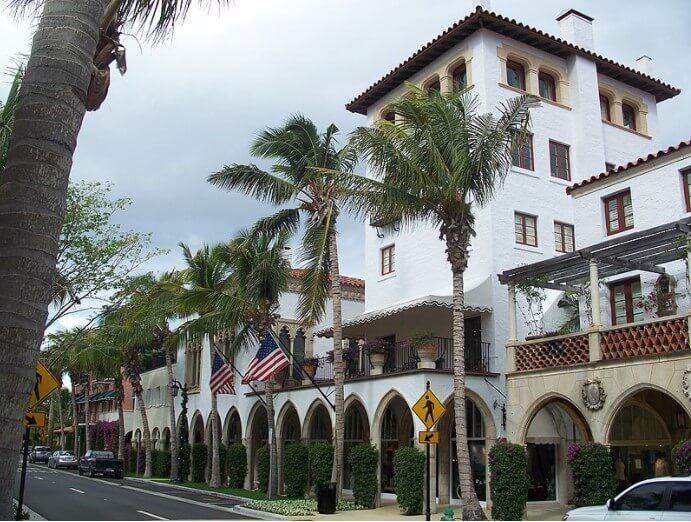 Palm Beach Via Mizner
By Ebyabe - Own work, CC BY-SA 3.0, https://commons.wikimedia.org/w/index.php?curid=12230662
You can access information about Worth Avenue shops, restaurants, lodging at more at the link below.
Today the "old money" represented by the tycoons, financiers, and heirs of the gilded age still have homes in Palm Beach.

They have been joined by more recent self made wealthy people such as the late Rush Limbaugh, former President Donald Trump, and former Canadian President Brian Mulroney.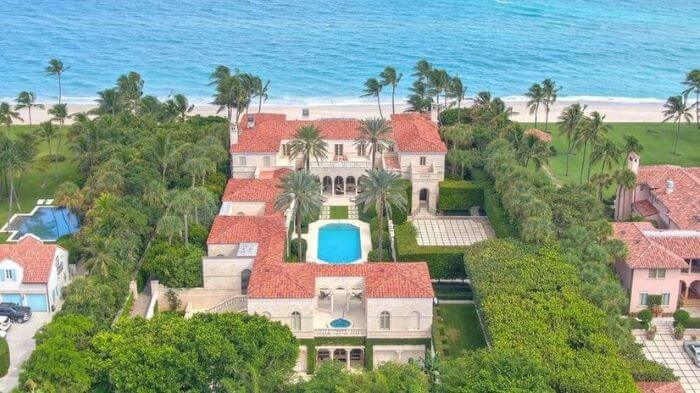 Realtor.com $110 Million
I don't know who owns this home, but it is currently (2021) for sale and is the most expensive home currently on the market in Palm Beach.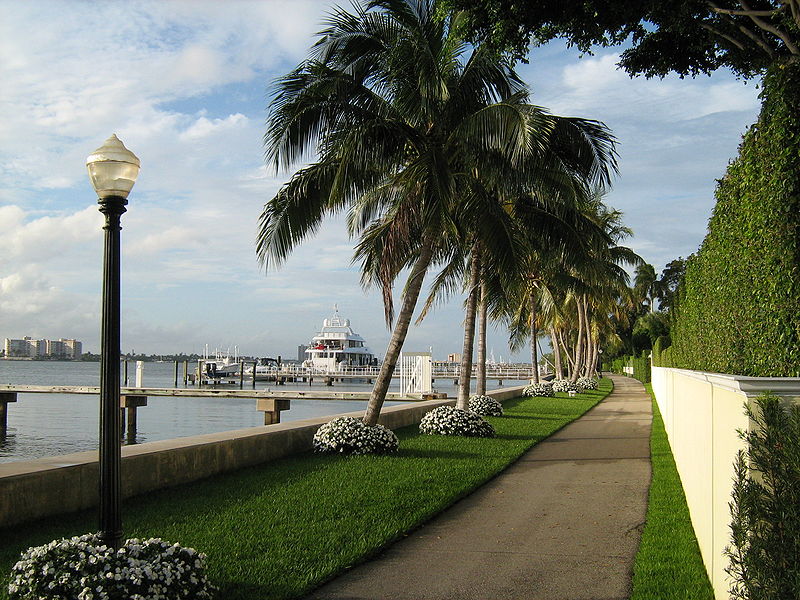 Palm Beach Lake Trail
By CZmarlin — Christopher Ziemnowicz, Wikipedia
One of the favorite things this poor boy loves to do is walk or bike along the Palm Beach Lake Trail. 
This public path hugs the shoreline of Lake Worth and you get to see the yards and other details of all the fantastic homes along the way.
The path extends north from Royal Palm Way all the way to Whitehall and the Henry Morrison Flagler Museum. 
It then continues a short distance north at Royal Poinciana Way and keeps going almost all the way to Lake Worth Inlet. 
---
If you want to have some fun, you can learn about the many famous people who were born in Palm Beach, have lived here, or live here now.  
Wikipedia List of People from Palm Beach, Florida
---
INFORMATION ABOUT PALM BEACH, FLORIDA
---
PALM BEACH, FLORIDA INTERACTIVE GOOGLE MAP
---
---
---

Our Facebook page has more than 129,275 followers who love off the beaten path Florida: towns, tourist attractions, maps, lodging, food, festivals, scenic road trips, day trips, history, culture, nostalgia, and more.  We post articles every day.  Please check it out and if you like it, we would appreciate a "like" from you.
---
By Mike Miller, Copyright 2009-2023
Florida-Back-Roads-Travel.com
Florida Back Roads Travel is not affiliated with or endorsed by Backroads, a California-based tour operator which arranges and conducts travel programs throughout the world.