PALMDALE,  FLORIDA

Palmdale is an unincorporated community in Glades County, Florida.
This lonely place is on high ground that marks the approximate southern part of the great sand ridge that forms the backbone of the Florida peninsula.

It is where you jump off that ridge and drive west for many miles across prairies, palmetto scrub and ranch lands to the low lying Gulf of Mexico coast at Punta Gorda.

Palmdale is located on US 27 just north of where SR-29 forks off goes south towards LaBelle and CR 74 heads west over to Punta Gorda.
There may be no town or place in Florida that is further from the interstate highways than Palmdale Florida.  
It is in the middle of the huge agricultural land holdings of Lykes Brothers, one of Florida's oldest family dynasties.
It is also located near the point where Big Fisheating Creek flows under US-27 on its way to Lake Okeechobee.
In the 1940's through most of the 1960's, US-27 was a heavily traveled 4 lane superhighway that funneled northern tourists down the center of the state.
There were no interstate highways back then, or Florida Turnpike.
If you travel the highway today, especially south of Lake Placid and all the way down to Alligator Alley, you will see a few old abandoned businesses.  
You will also see even fewer still hanging on even though traffic is only a small shadow of what it was in its heyday.
Palmdale is where The Tom Gaskins Cypress Knee Museum used to entertain tourists on both sides of US 27.
The museum was on one side of the highway and the swamp catwalk and gift shop on the other.  The museum displayed the bizarrely twisted "knees" that grow out of the roots of cypress trees.
The twisted cypress knees were made into signs to attract tourists and were nailed to trees and fence posts along US-27 for a couple of miles on both sides of the museum.
Tom Gaskins died in 1998.  The signs and the museum are missed by all who loved them.
There are still a few people who live in Palmdale, and there are signs along US-27 of busier times. Like this old building that offered rest rooms and liquor for travelers in the old days.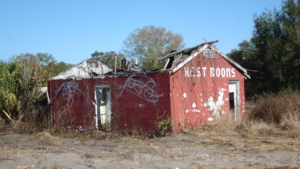 You can't get any liquor or use the restrooms these days, but the Baptist Church is still serving local people down the road.
Palmdale may be in the middle of nowhere, but in this stressful busy age we live in that may not be all bad.
The sky at night in this part of Florida seems to have more stars than the skies over the big cities along the coast.  The silence is so quiet you can almost hear it.
A couple of things to do in Palmdale include:
Fisheating Creek Campground and Outpost
The Fisheating Creek Campground is in the Fisheating Creek Wildlife Management Area.  The camp has 120 sites, including RV sites, tent sites and primitive camp sites.
It's a good place to kayak and nature watch.
Gatorama Alligator & Crocodile Adventure
A couple of miles south of Palmdale on US-27 you will come to Gatorama, one of the oldest tourist attractions in this part of the state.
It is a glimpse of Old Florida, and is still an appealing attraction that gets a fair share of visitors for a place so far off the beaten path.
You can even order Gator meat if you are so inclined.  I personally do not think it tastes like chicken.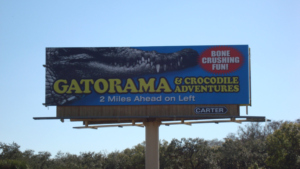 Read About More Places to See Alligators in Florida.
Sabal Palm RV Resort & Campground

This privately owned small resort offers very reasonable rates for both full hookup and dry sites. They also have frequent music jam sessions. They have a swimming pool and other amenities as well.
Wikipedia has an interesting article on the history of Palmdale.
Palmdale Interactive Map
---
---

Our Facebook page has more than 129,275 followers who love off the beaten path Florida: towns, tourist attractions, maps, lodging, food, festivals, scenic road trips, day trips, history, culture, nostalgia, and more.  We post articles every day.  Please check it out and if you like it, we would appreciate a "like" from you.
---
By Mike Miller, Copyright 2009-2023
Florida-Back-Roads-Travel.com
Florida Back Roads Travel is not affiliated with or endorsed by Backroads, a California-based tour operator which arranges and conducts travel programs throughout the world.