PORT ST LUCIE, FLORIDA
Port St. Lucie Florida things to do, lodging, dining, real estate at end of article
Port St Lucie, Florida is in Central East Florida.  Its population in 2021 was 215,922.  This makes it the 7th largest city in Florida. It is about one hour north of West Palm Beach by car.
The city is in the Port St. Lucie metro area with a population of 533,000.  This area includes both St. Lucie County and Martin County, locations along what is known as Florida's Treasure Coast.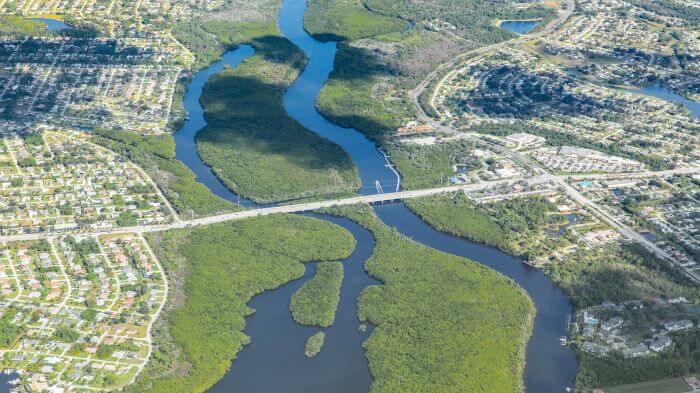 City of Port St. Lucie Aerial Photo
View to North Across SE Port St Lucie Blvd - Courtesy City of Port St. Lucie
The oldest part of the community is on the west side of US Highway 1 in the neighborhood of River Park.
At the time of Port St. Lucie's creation, that highway was the busiest north-south route in Florida.
In the years since, the Florida Turnpike bisected the city and not long after, I-95 made its appearance near the western limits of the city.
There are interchanges and intersections on all three of these major highways that take you into Port St. Lucie.
PORT ST LUCIE FLORIDA HISTORY
As a Florida old timer I have memories of the country road that US-1 was between Fort Pierce and Stuart.  I don't believe there was a single traffic light along the way in the 1960s.
There were a few fruit and produce stands along that 18 mile stretch of highway and a souvenir shell shop.  The giant shell in front of the shop was a landmark in the area.
The rural surroundings were mainly cattle ranches and wooded undeveloped land.
THEN RIVER PARK CAME TO PORT ST. LUCIE
Gardner Cowles was the owner and publisher of Look,  which was a popular American magazine from 1937 to 1971.  
In the early 1950s Cowles and his investors bought large acreage between Fort Pierce and Stuart, and in 1953 recorded the plat for a new subdivision, River Park.
He and his team began an intensive advertising campaign throughout the country.  He used his own magazine and others and took our many newspaper ads.
His target market were people who were ready to retire.
The first new home was built in 1956 and by 1958 the development had a population of 42 families. 
They needed to travel north to the nearest shopping center in Fort Pierce or south to Stuart to get their groceries and other goods.
These families were the true pioneers of Port St. Lucie although they never lived in the actual city.
PORT ST. LUCIE GENERAL DEVELOPMENT CORPORATION
General Development Corporation (GDC) purchased 5,500 acres from the Cowles group in 1958.  This purchase was the beginning of the modern area of Port St. Lucie, Florida.
The acreage included the entire River Park subdivision.  GDC acquired additional land, and eventually owned 36,500 acres. 
They began buying up other land in the area to create what would become one of the largest planned developments in Florida history.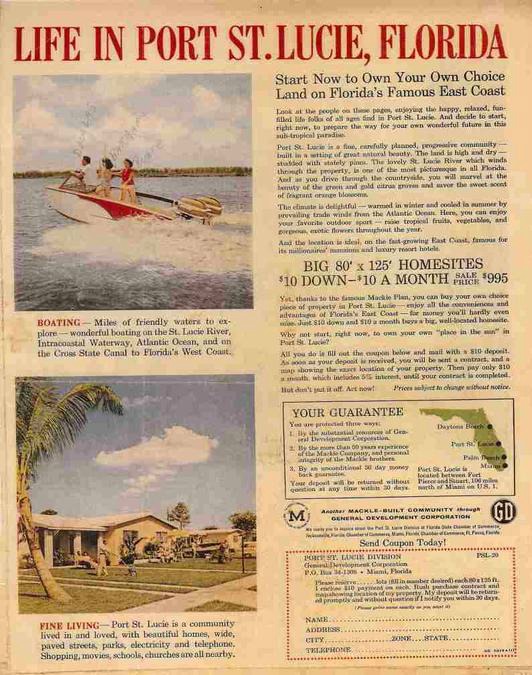 They named their new development Port St. Lucie, but couldn't come to terms with the residents and lot owners of River Park.
The new City of Port St. Lucie was therefore chartered without including River Park.
River Park today is an established neighborhood that looks and feels like it's in Port St. Lucie, but is actually in unincorporated St. Lucie County.
One of the main entrance roads into the City of Port St. Lucie from US-1 is Prima Vista Boulevard.
It actually travels for some distance through River Park before you reach the city limits of Port St. Lucie.
DESCRIPTION OF PORT ST. LUCIE IN 1960 GDC ANNUAL REPORT
"Port St. Lucie ... encompasses 36,500 acres between Fort Pierce and Stuart on Florida's east coast. It reaches from the Indian river on the east to four miles beyond the Sunshine State parkway on the west. Besides its 14 miles of Turnpike frontage the tract has about seven miles frontage on U.S. Highway 1, busiest traffic artery of Florida's east coast.
The area has more than 15 miles of natural waterfront along the meandering St. Lucie River.
General Development started its Port St. Lucie development in late 1958 when some 6,000 acres were purchased. Subsequently, more than 30,000 adjacent acres were added and the entire area was laid out...
The community, planned as a city of one-third of a million persons is located in a part of Florida for which major growth has been predicted during the coming decade.
The beautiful Port St. Lucie vicinity, with its winding rivers and varied tropical trees and shrubs, was a likely spot for General Development Corporation to launch Port St. Lucie Country Club, its new resort-investment program.

One of the first major areas to be developed by GDC was the Port St. Lucie Country Club. It opened in 1961 just before the city was incorporated.
Much of the immediate area around the club was developed into 1,285 homes that were sold to investors who could use them for vacations and put them into a rental pool when they were not there.
When they were ready, the investors could move into their home or sell it.
The club included a golf course that drew top golfers of the day, including Sam Snead.  Popular singer Perry Como also made promotional appearances along with other big name celebrities.
The country club was later renamed Sandpiper Bay Resort, and it was acquired by Club Med in 1986.
PORT ST. LUCIE BECOMES WINTER HOME OF NEW YORK METS
The New York Mets major league baseball team has made Port St. Lucie their spring training center since 1988. They train and play games in a stadium that seats 7,160.
Like most stadiums these days, it's hard to keep up with the name changes.  It was first named Thomas J. White Stadium. 
Since then the name has changed several times due to sponsorship opportunities.
In 2004 the name was changed to Tradition Field.
In 2010 the name was changed to Digital Domain Park.
In 2013 it changed back again to Tradition Field. 
In 2017 the name was changed to First Data Field.
In 2020 the name was changed to Clover Park. 
As I write this in 2021, I believe it is still named Clover Park.  Stand by for further updates.
PORT ST LUCIE FLORIDA TODAY
The 117 square miles of Port St. Lucie, Florida makes it the third largest city in the state in land area. 
The city was originally platted and developed with 80,000 lots.  Many of the lots were originally bought for $995 on terms of $10 down and $10 a month.
In 2021, some of these vacant lots were selling for more than $100,000 according to listings on Realtor.com. 
THE WATERWAYS OF PORT ST. LUCIE FLORIDA
The north fork of the St. Lucie River extends on its northerly course through the center of Port St. Lucie paralleling the routes of US-1 and the Florida Turnpike.
There are residential neighborhoods along the river's marshy shores.
A major east-west waterway is Canal C-24 that is part of the drainage operations of the South Florida Water Management District.
There are many homes on both sides of the canal, some with boat docks.  The canal discharges into the St. Lucie River, but not all boats can navigate that far.
The beginning of the canal section that allows navigation into the river is located just west of the Florida Turnpike at a dam and flood gate structure that controls flows from the Florida Everglades into the river.
There is a wide variety in age and prices of homes in Port St. Lucie.  Many of the original houses were built in the late 1950s.
Each decade saw rapid growth in population, so you have homes with architectural styles that were popular in several different decades.
Realtor.com indicates the median home cost based on 2021 real estate listings was $360,000.
The largest population growth has been in the past 20 years, so most of the homes still have that new look.
Port St. Lucie is a golfer's paradise with numerous PGA ranked golf courses and public and private clubs.

PORT ST. LUCIE COMMUNITY OF ST. LUCIE WEST
St. Lucie West is a development started in the early 1990s in the western part of Port St. Lucie along the Florida Turnpike and I-95.
The plan called for 14,000 homes to be built in 20 years, but the plans were modified later to allow more shopping, business, office and entertainment sectors. 
The Clover Park stadium is located in St. Lucie West.
PORT ST. LUCIE COMMUNITY OF TRADITION
Tradition is a master planned community opened in 2003 that has been designed to create the feeling of small town Florida in the 1950s. 

Tradition Tower at Sunset
Tradition Facebook Page
This 8,300 acre "new town" is is one of several New Urbanism communities in the state.  Many people consider it to be one of the best places to live and work in the area.

The individual neighborhoods are clustered around a town center and enjoy 300 acres of parks and a number of hiking and cycling trails.
There are several neighborhoods with homes appealing to 55+ active adults as well as families.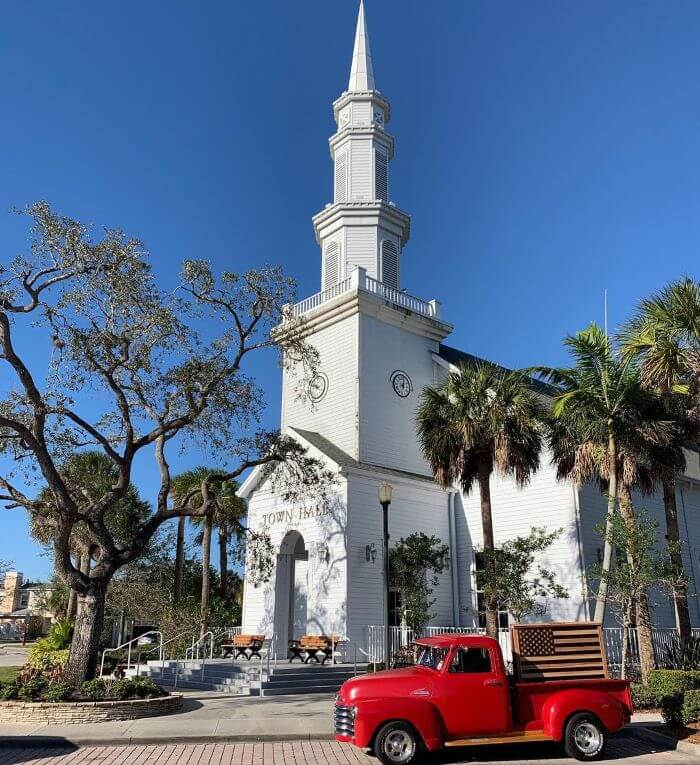 Tradition Town Hall
Tradition Facebook Page
There are two major shopping and dining venues in Tradition.
Learn more about shopping and dining in Tradition Town Center and The Landing at Tradition.
The Tradition Center for Commerce is a new development underway in the center of Port St. Lucie. 
It will accommodate 10 million square feet of office, industrial, warehouse, multi-family residential and retail space.
Both the City of Port St. Lucie and St. Lucie County have extensive park systems to meet the recreational needs of their citizens.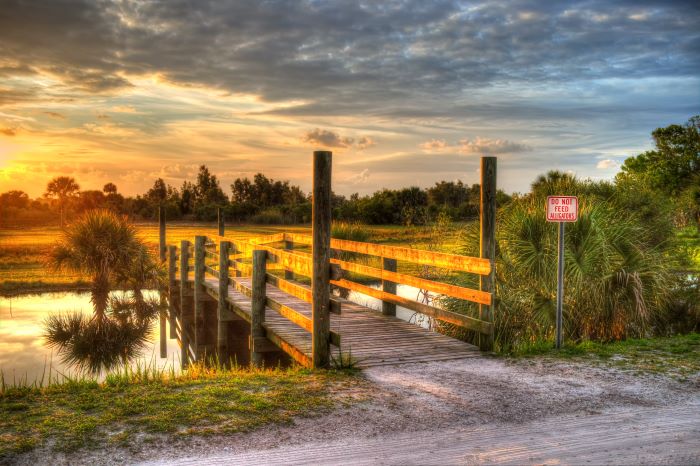 Savannas Recreation Area, Port St. Lucie
Flickr/Lawrence Pugliares
One of the nicest county parks is the Savannas Recreation Area with camping, picnic, fishing and boating facilities.
It is near another protected marsh area, Savannas Preserve State Park.
Another interesting nature attraction is Port St. Lucie Botanical Gardens.  This fairly recent addition to the city features mostly native varieties of vegetation.
Each of these parks is a perfect place to see unspoiled Florida nature.
FAVORITE SCENIC DRIVE NEAR PORT ST. LUCIE
There is a beautiful stretch of road along the Indian River east of Port St. Lucie, County Road 707. 
This historic paved road connects Fort Pierce to Stuart and keeps you away from the busy Port St. Lucie traffic.  It is a great place to see the way Old Florida used to be.
Read more about this Indian River Scenic Drive.  It is one of several short scenic drives on our website.
---
THINGS TO DO IN PORT ST. LUCIE
Port St. Lucie Botanical Gardens: 2410 SE Westmoreland Blvd, Port St. Lucie, FL 34952 - The gardens offer a serene environment for nature lovers, with numerous trails, plants, and flowers to explore.
PGA Village Golf Club: 1916 Perfect Dr, Port St. Lucie, FL 34986 - This golf course complex offers a variety of courses and challenges for golfers of all levels.
Clover Park: 531 Piazza Drive, Port St. Lucie, FL 34986 - The home of the New York Mets during Spring Training, this stadium hosts various baseball games and events throughout the year.
St. Lucie County Aquarium: 420 Seaway Dr, Fort Pierce, FL 34949 - Just a short drive from Port St. Lucie, this aquarium offers visitors a chance to learn about and see a variety of marine life native to Florida waters.
Sailfish Splash Waterpark: 931 SE Ruhnke St, Stuart, FL 34994 - With a lazy river, slides, and wave pool, this waterpark offers a fun-filled day for families and friends.
Jensen Beach: 4191 NE Ocean Blvd, Jensen Beach, FL 34957 - This nearby beach is known for its clear water and soft sand, perfect for swimming, sunbathing, and relaxing.
River Lilly Cruises: 200 NW Alice Ave, Stuart, FL 34994 - Take a guided eco-tour through the St. Lucie River and experience the natural beauty of the area's wetlands and wildlife.
Savannas Preserve State Park: 2541 Walton Rd, Port St. Lucie, FL 34952 - This park offers visitors the chance to hike, bike, and birdwatch through its beautiful wetlands and trails.
Heathcote Botanical Gardens: 210 Savannah Rd, Fort Pierce, FL 34982 - A short drive from Port St. Lucie, these gardens offer visitors a chance to see a variety of exotic plants and flowers from around the world.
Treasure Coast Model Railroad Club: 273 SW Becker Rd, Port St. Lucie, FL 34953 - Model train enthusiasts will enjoy this club's intricate displays and collections.
Clover Park: 31 Piazza Drive, Port St. Lucie, FL 34986 - This park features a playground, walking trails, and various sports fields, making it a great spot for families to spend a day outdoors.
Superplay USA: 1600 NW Courtyard Cir, Port St. Lucie, FL 34986 - This entertainment complex features bowling lanes, laser tag, arcade games, and a restaurant, making it a fun destination for all ages.
Port St. Lucie Civic Center: 9221 SE Civic Center Pl, Port St. Lucie, FL 34952 - This venue hosts a variety of events, from concerts and comedy shows to trade shows and conventions.
Veterans Memorial Park: 2100 SE Veterans Memorial Pkwy, Port St. Lucie, FL 34952 - This park pays tribute to military veterans with a variety of monuments, statues, and displays.
121 Tapas on the Water: 121 Melody Ln, Fort Pierce, FL 34950 - Located on the water in Fort Pierce, this restaurant offers delicious small plates and a scenic view.
Main Street Fort Pierce Farmers' Market: 101 Melody Ln, Fort Pierce, FL 34950 - Held on Saturdays, this market features local vendors selling fresh produce, artisanal foods, and handmade crafts.
---
 ALL ABOUT PORT ST LUCIE FLORIDA
---
PORT ST LUCIE FLORIDA INTERACTIVE GOOGLE MAP
---
---
---

Our Facebook page has more than 128,577 followers who love off the beaten path Florida: towns, tourist attractions, maps, lodging, food, festivals, scenic road trips, day trips, history, culture, nostalgia, and more.  We post articles every day.  Please check it out and if you like it, we would appreciate a "like" from you.
---
By Mike Miller, Copyright 2009-2023
Florida-Back-Roads-Travel.com
Florida Back Roads Travel is not affiliated with or endorsed by Backroads, a California-based tour operator which arranges and conducts travel programs throughout the world.