SEBASTIAN, FLORIDA
Sebastian, Florida Things To Do, Lodging, Dining, & Real Estate At End Of Article
The City of Sebastian is a small fishing village on US Highway 1 on the mainland side of east coast Florida. It is in Indian River County and has a population of 26,952.

It is just about halfway between Jacksonville and Miami, and is also about halfway between Vero Beach and Melbourne, although a tad closer to Vero.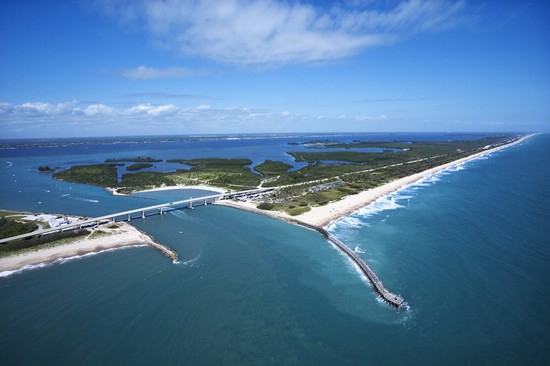 Sebastian Inlet Looking Northwest
HISTORY OF SEBASTIAN FLORIDA
The area was first noticed when the Spanish Treasure fleet sunk off the beaches during a violent storm in 1715.
Professional treasure experts believe that more than $500 million in gold was lost when the ships went down.
Sebastian grew into a small fishing village in the 1870s, and it was first named St Sebastian. Eventually the "St." was dropped from the town's name, although it was kept in the name of the St. Sebastian River.
Sebastian was incorporated as a city in 1923, and the Sebastian area has been a popular destination since.
The Sebastian residents rely heavily on tourism and with the rich history of the area, natural splendor, and proximity to Florida's east coast there are a vast array of activities and something to do for all ages and interests.
Sebastian is directly across the Indian River Lagoon from Sebastian Inlet.
This inlet to the Atlantic Ocean is loved and revered by fishermen and surfers from all over the world.
Sebastian Inlet and the entire barrier island off Sebastian are known collectively as the Treasure Coast.
Only a small amount of that reported $500 million treasure has been found.
Gold coins and other rare antiquities still wash up now and then in the sandy beaches adjacent to the inlet.
The McLarty Treasure Museum at Sebastian Inlet State Park interprets the history of the doomed fleet and is fun to visit.
The fleet is sometimes called the Spanish Plate Fleet, stemming from the Spanish word for silver, plata.
Sebastian Inlet State Park is also known for its surfing, where surfers from around the world visit to catch the "first peak", the "monster hole" and to find their favorite surfing spot.
Sebastian is known as the "Home of Pelican Island".
Pelican Island National Wildlife Refuge, located just south of Sebastian Inlet, is the first national refuge established in the United States, approved by Teddy Roosevelt in 1903. It's a perfect place for birdwatching and photography.
There is plenty to do in Sebastian in addition to fishing and birding. The inlet is nearby for surfing.

There are numerous boat rental services, both for those who want to operate the boat themselves and others who just want to take a ride.
Snorkeling, paddleboarding, pontoon and airboat tours are popular, and skydiving is also an option for those more adventurous.
St. Sebastian River Preserve State Park is just west of the city, and in addition to 60 miles of hiking trails, it offers primitive (tent) campsites including a section for equestrian camping. In addition to wildlife, the park offers protection for the pine flatwoods and cypress domes.
Wildlife viewing includes West Indian manatees from November through March, coyotes, bobcats, gopher tortoises, wild turkeys and quail, and of course a wide variety of birds.
The town of Sebastian has kept its charm, and is a nice little town for walking, sightseeing, and tiki bar hopping.
Sebastian's coast offers a clear view of the intracoastal waterway from its riverfront district, a perfect location for a leisurely stroll and a visit to one of the many shops and restaurants.
The welcome sign into Sebastian has been a fixture for as long as I can remember. It hasn't been updated in awhile.
The population of Sebastian is much bigger now, so there are probably a few more old grouches who moved down from up north since the sign was painted.
Just kidding!  It's a very friendly town, a fun place to visit, and a good place to live.
Folksinger Arlo Guthrie formerly had his Florida home in Sebastian.  It overlooks the Indian River Lagoon on the north side of town in Roseland.
He reportedly moved up the river to Micco and still loves the area.
Recommended Sebastian Restaurant
CAPTAIN HIRAM'S RESORT

1606 Indian River Drive
Sebastian, Florida 32958
Tel:  772-388-8588
Captain Hiram's is a resort directly on the Indian River Lagoon in downtown Sebastian.

It has grown from a small laid back tiki bar kind of hangout to a larger and just as laid back resort. 
Nice hotel rooms are available in addition to the Sand Bar tiki bar and riverfront restaurant.
Captain Hiram's Restaurant offers both indoor and outdoor dining.
Read more about Captain Hiram's Resort
---
 ALL ABOUT SEBASTIAN, FLORIDA
---
INTERACTIVE GOOGLE MAP SEBASTIAN, FLORIDA
---
---

Our Facebook page has more than 124,095 followers who love off the beaten path Florida: towns, tourist attractions, maps, lodging, food, festivals, scenic road trips, day trips, history, culture, nostalgia, and more.  We post articles every day.  Please check it out and if you like it, we would appreciate a "like" from you.
---
By Mike Miller, Copyright 2009-2023
Florida-Back-Roads-Travel.com
Florida Back Roads Travel is not affiliated with or endorsed by Backroads, a California-based tour operator which arranges and conducts travel programs throughout the world.