STETSON KENNEDY
At the time of his death Stetson Kennedy was one of the oldest living Florida authors. He was born on October 5, 1916 in Jacksonville, Florida, and died on August 27, 2011.  Kennedy was distantly related to the famous hat maker, John B. Stetson.

He was still active in literary events and causes in Florida until shortly before his death.
He was a Florida literary and civil rights legend, one of the most prolific award-winning Florida authors and human rights activists, a folklorist, a labor activist and environmentalist.
Kennedy was a prolific and pioneering folklore collector during the first half of the twentieth century.
While still a teenager, he began collecting white and African American folklore material while collecting accounts for his father who owned a furniture store.
He left the University of Florida in 1937 at the tender age of 21 in the heart of The Great Depression to join the WPA Florida Writers Project along with several other Florida authors.
He was soon put in charge of folklore, oral history, and ethnic studies.
Kennedy was a larger-than-life figure in the years following World War Two.
---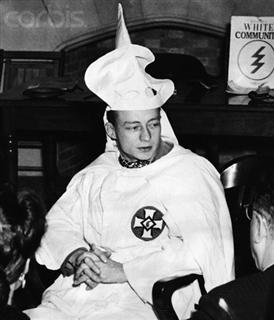 Stetson Kennedy infiltrated the Ku Klux Klan and other white supremacist groups.
While undercover in the Klan, he provided information about secret code words and details of Klan rituals to the writers of the Superman radio program.
This resulted in a series of four episodes in which Superman battled the KKK. The symbolism was powerful.
---
Kennedy was a founding member and past president of the Florida Folklore Society, and has received many awards. He was greatly respected by other Florida authors.

Among his awards are the Florida Folk Heritage Award, the Florida Governor's Heartland Award as well as an induction into the Florida Artists Hall of Fame.
He even ran for Governor of Florida in 1952.
He was friends with many famous literary figures including Zora Neale Hurston, Erskine Caldwell and Jean Paul Sartre.
His most famous novel may be "Palmetto Country", a wonderful book that deeply explores Florida folklore. It was edited by Erskine Caldwell.
The old folk singer Woody Guthrie said about "Palmetto Country:"
"It gives me a better trip and taste and look and feel for Florida than I got in the forty-seven states I've actually been in body and tramped in boot."
Nobody is doubting that Kennedy infiltrated the Ku Klux Klan, but in time honored journalistic tradition, some people believe he may have embellished some of the details to help achieve his political objectives.

He wanted to expose the KKK to as many people as possible with his writing, and use their own folklore against them. He succeeded in this.
Some of Stetson Kennedy's books include:

(1939) Mr. Homer
(1942) Palmetto Country
(1946) Southern Exposure
(1954) I Rode With The Klan
(1959) The Jim Crow Guide
(1994) South Florida Folklife
(1995) After Appomattox: How the South Won The War
---
---

Our Facebook page has more than 128,577 followers who love off the beaten path Florida: towns, tourist attractions, maps, lodging, food, festivals, scenic road trips, day trips, history, culture, nostalgia, and more.  We post articles every day.  Please check it out and if you like it, we would appreciate a "like" from you.
---
By Mike Miller, Copyright 2009-2023
Florida-Back-Roads-Travel.com
Florida Back Roads Travel is not affiliated with or endorsed by Backroads, a California-based tour operator which arranges and conducts travel programs throughout the world.