SUWANNEE, FLORIDA
HURRICANE IDALIA HAVING SERIOUS IMPACT
ON SUWANNEE.  CURRENT INFORMATION AT HTTPS://WWW.NOAA.GOV/IDALIA
Suwannee is on the Florida Gulf Coast near the mouth of the famous Suwannee River.  
The river was immortalized in Stephen Foster's classic minstrel song "Old Folks at Home", also known sometimes as "Swanee River" or "Swanee Ribber".

He wrote the song in 1851 although he had never seen the real Suwannee River.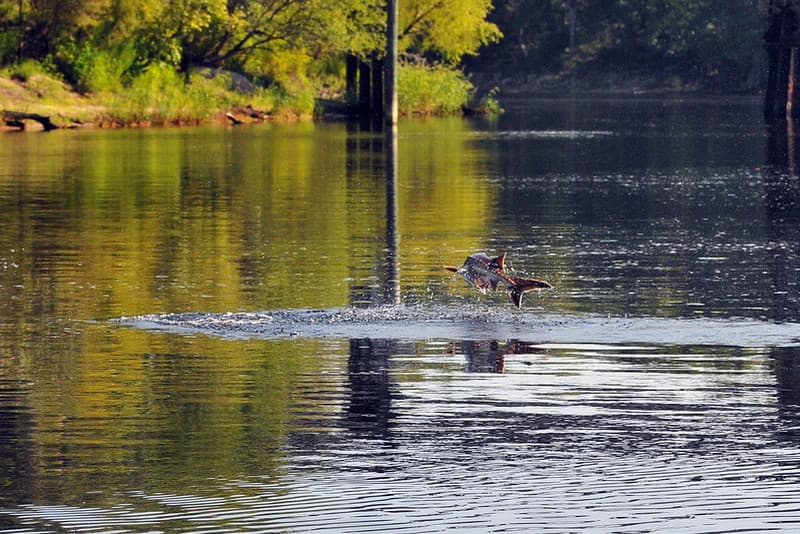 Jumping Sturgeon in the Suwannee River
Flickr/Florida Fish and Wildlife
The modern day town of Suwannee is an unincorporated place located 65 miles west of Gainesville.  It has a population of about 300.
It is at the end of SE County Road 349, a lonely two lane road that travels through the countryside and crosses through the Yellow Jacket Conservation area and the Lower Suwannee National Wildlife Refuge.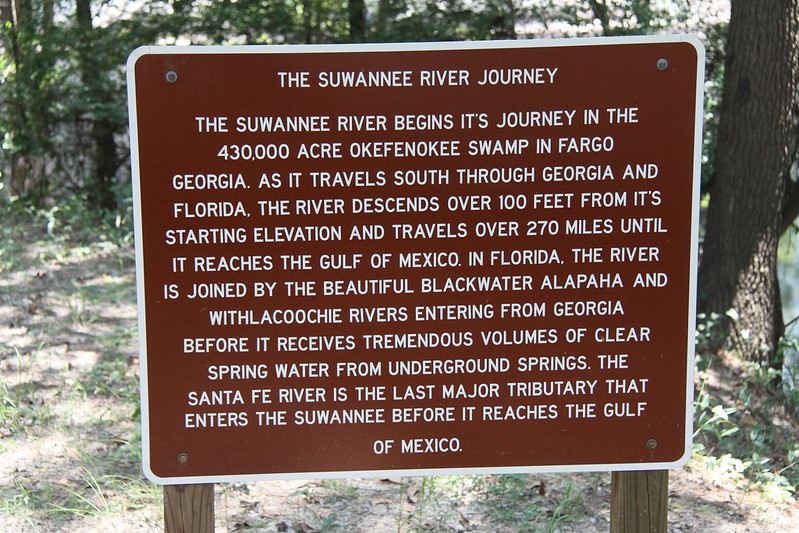 Suwannee River Journey Sign
Flickr/Florida Fish and Wildlife
Much of this land was originally heavily forested with long-leaf pine trees and dotted with wiregrass marshes.  
The native trees were cut down long ago, but reforestation efforts are under way, especially in the refuges and conservation area.
Suwannee is laced with man-made canals that tie into the Suwannee River and provide access to the excellent fishing waters in the river and the nearby Gulf of Mexico.  
There are many vacation homes along the canals and a fair number of permanent residents.
This area is very popular with kayakers.
There are two marinas in town that serve the needs of the commercial and sport fishermen that love the area.  The village also has a post office, church, motel and restaurant.
Because of the environmentally sensitive marsh land that surrounds the settlement, it stands little risk of becoming one of Florida's huge sprawling urban areas in the future.
THE STORY OF FOWLER'S BLUFF
Suwannee is not far from another interesting little village named Fowler's Bluff, located on the other side of the river. It's only about 10 miles as the crow flies so it's an easy boat trip.
By car, on the other hand, it requires a 50 mile trip up the road to Old Town and then down US-98 to Chiefland and then along County Road 345.
The area was allegedly once a stop for pirates in need of boat maintenance, and over time, this history spurred numerous legends and tales associated with these adventurous seafarers.
Fowler's Bluff Docks, 1958
Florida Memory
A notable legend emerged in the 1940s of a pirate treasure allegedly buried in the swampy surroundings of Fowler's Bluff, capturing public interest through a Saturday Evening Post article.

Over the years, Fowler's Bluff maintained its close association with the water, morphing from a pirate pit-stop to a haven for boating and fishing activities.
Nowadays, the community still caters to this tradition, with establishments like the Treasure Camp providing accommodations and amenities for fishermen and travelers.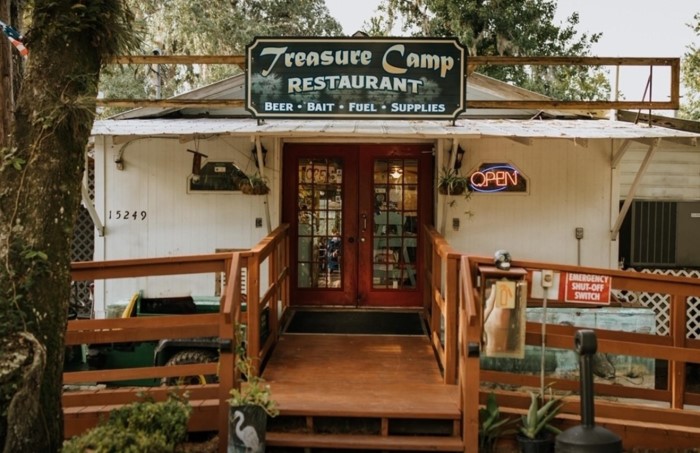 Treasure Camp at Fowler's Bluff
Treasure Camp
If you visit Suwannee and Fowler's Bluff you will be among the few Florida citizens or visitors who ever have.  
These Old Florida communities are truly on the back roads.

SUWANNEE, FLORIDA RECOMMENDED RESTAURANT
Salt Creek Restaurant & Marker 29
23440 SE County Road 349
Suwannee, Florida 32692
Tel: 352-542-7072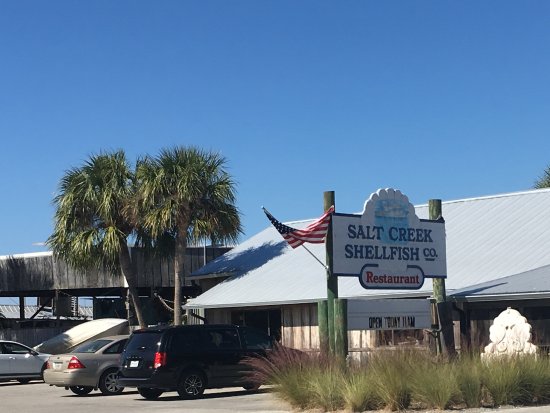 It is a pleasant surprise to find a good restaurant in such a small town as Suwannee.  The village itself is not only tiny, it is at the end of the road in a lightly populated area of Florida.
In spite of those drawbacks, plenty of people find their way here to enjoy the great seafood and ambiance. 
As you would expect from a place in a fishing village, seafood is their specialty.  Their appetizers include clam chowder and smoked mullet dip, Gulf shrimp, chicken wings, and crab fingers. 
READ MORE ABOUT SALT CREEK RESTAURANT
---
If you enjoyed learning about this small town of Suwannee, you may enjoy reading about more places on this historic river.
The Suwannee river rises in the Okeefenokee Swamp of south Georgia and meanders more than 238 miles southward through mostly rural farmlands and conservation areas. 
206 of those miles are in Florida.  Read about some of the historic places along the river.
OLD FLORIDA PLACES ON THE SUWANNEE RIVER
---
SUWANNEE FLORIDA INTERACTIVE MAP
---
---
---

Our Facebook page has more than 128,577 followers who love off the beaten path Florida: towns, tourist attractions, maps, lodging, food, festivals, scenic road trips, day trips, history, culture, nostalgia, and more.  We post articles every day.  Please check it out and if you like it, we would appreciate a "like" from you.
---
By Mike Miller, Copyright 2009-2023
Florida-Back-Roads-Travel.com
Florida Back Roads Travel is not affiliated with or endorsed by Backroads, a California-based tour operator which arranges and conducts travel programs throughout the world.