TARPON SPRINGS, FLORIDA
June 29, 2021
Tarpon Springs, Florida Things To Do, Lodging, Dining, & Real Estate At End Of Article
Tarpon Springs is a small city of about 25,000 people on Florida's west coast about 30 miles northwest of Tampa. 
It has the highest percentage of Greek-American citizens of any city in the United States.
The main north-south thoroughfare is Alternate US-19, known locally as Pinellas Avenue.
The historic sponge dock area is a popular tourist attraction located along the Anclote River west of Pinellas Avenue.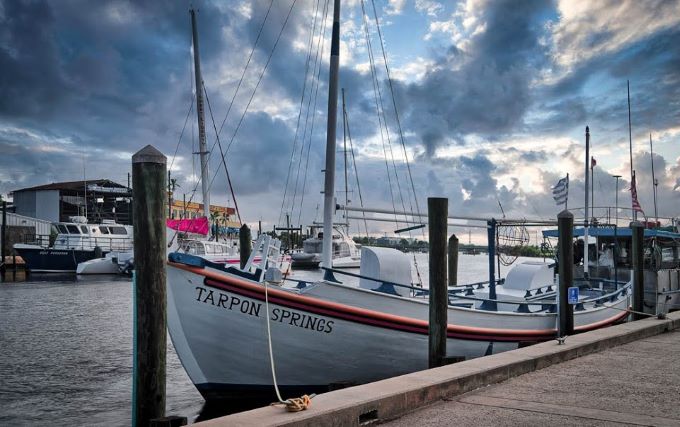 Dockside at Tarpon Springs


Bob Kyle
It is also a working waterfront that's home to the remaining sponge boats and the large fleet of shrimpers.
The area south of the river between the sponge docks and the Gulf of Mexico is bayou country.
Several arms that branch off the main river give the city its unique look and many charming waterfront neighborhoods.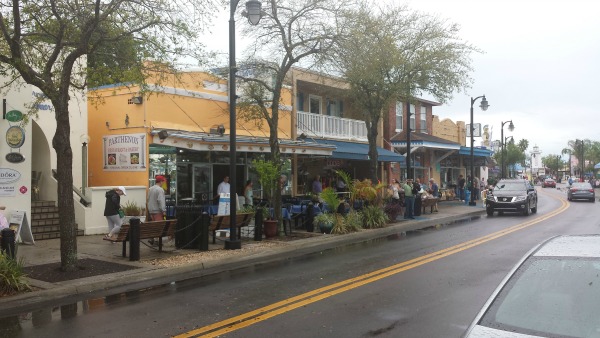 Tarpon Springs, Dodecanese Boulevard
John Cheyney founded the first sponge business in Tarpon Springs in the 1880s and it provided quite a few jobs for the local economy. 
The sponges were harvested off the bottom of the Gulf of Mexico using surface boats and long poles to bring up the sponges.
In 1905 John Cocoris came to town and introduced sponge diving to the industry.
This deep sea diving technique used a special suit and a diving helmet with air pumped in from a compressor on the boat.
He brought in divers from Greece and the sponge industry soon became one of the biggest businesses in Florida and required more and more divers.
Many of the original divers came from the Dodecanese Islands of Kalymnos, Symi and Halki.
The street that runs along the sponge docks on the river is named Dodecanese Boulevard.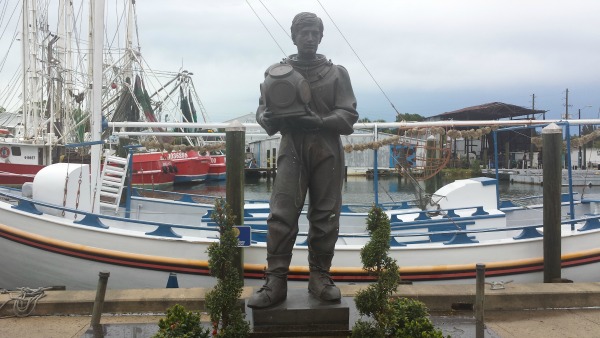 Tarpon Springs Diver Statue
The area along the sponge docks is an interesting tourist destination with hundreds of shops, bakeries, restaurants and other businesses with mostly Greek themes.
It somehow comes off as more than your average Florida tourist trap because of its sprinkling of museums, statues, plaques and other reminders of the area's unique history.
Not only that, the locals are abundant in the neighborhood and you will hear a lot of Greek being spoken.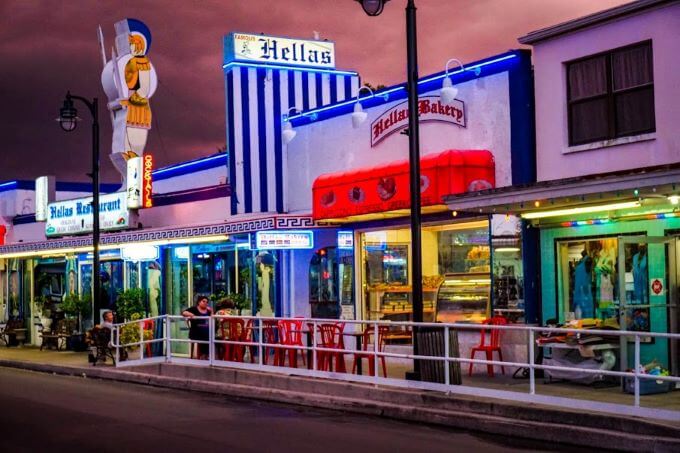 Hellas Bakery and Restaurant


Bob Kyle
It's a great place to have appetizers at one restaurant, then another appetizer at a second and an entree at a third, followed by baked goods and wine or coffee at yet another.
There is something for everyone on Dodecanese Boulevard - even an abundance of sponges.
Tarpon Springs, Annecy House
There is an entirely different world when you get a few blocks away from the sponge docks and Dodecanese Boulevard.
Tarpon Springs has done a great job of preserving many of its historic homes and institutional buildings.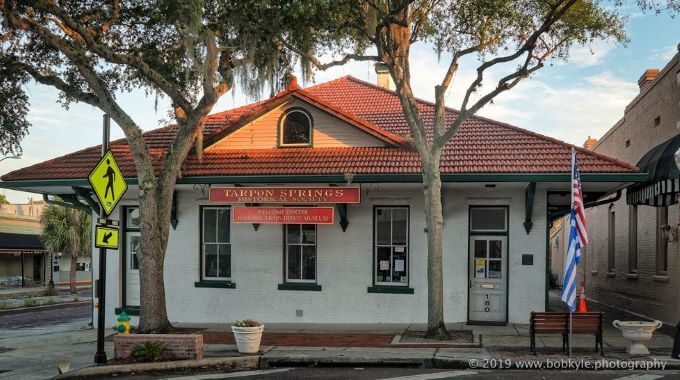 Tarpon Springs Historical Society


Bob Kyle
It's fun spending most of a day just wandering around the streets in the bayou country on the south side of the Anclote River.

An interesting stop is the beautiful St. Nicholas Greek Orthodox Cathedral at 36 North Pinellas Avenue. 
The architectural style is Neo-Byazantine, and the main building was completed in 1943 when the original wooden church built in 1907 became to small for the congregation.
The interior is beautiful with a domed ceiling featuring 23 stained glass windows.  
Although there are many new homes on the bayous, the city has established several historic districts within the city limits and you will see many well preserved old buildings.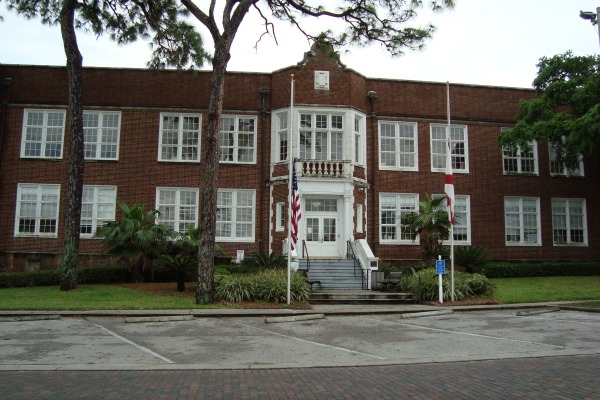 Tarpon Springs, Old High School
Several sites in Tarpon Springs are listed on the National Register of Historic Places, including the Old Tarpon Springs High School and the Old Tarpon Springs City Hall.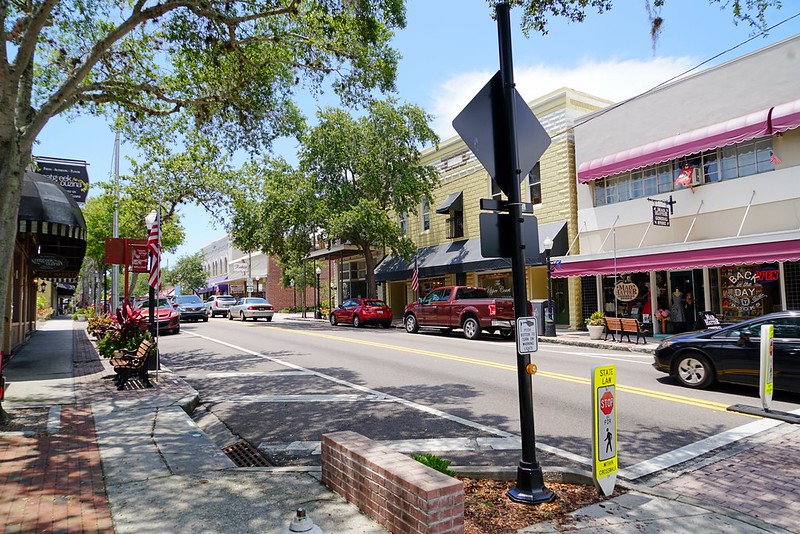 Tarpon Springs Downtown Area
Flickr/Jeff Miller
There is a vibrant downtown area several blocks south of the sponge docks along Tarpon Avenue for a few blocks east of Pinellas Avenue.

---
RECOMMENDED TARPON SPRINGS RESTAURANT
MYKONOS
628 Dodecanese Boulevard
Tarpon Springs, Florida 34689
Tel: 727-934-4306
Mykonos is a small Greek restaurant across the street from the sponge docks on Dodecanese Boulevard.
The restaurant has its own parking lot and that will save you the typical $5 parking fee that most tourists who visit the busy sponge dock area have to pay.
The restaurant is often crowded but don't let that scare you away. The wait is usually reasonably short.
The dining room is divided into two areas, one with windows and one without. The room without windows is adjacent to the partially open kitchen and you can see the cooking crew busy at work getting your meal ready.
The menu includes the items you expect to see in a Greek restaurant including gyros, stuffed grape leaf, spinach pie, cheese pie, fried calamari, mousaka, keftedes, Greek sausage and many lamb, beef, pork and chicken entrees.
If it's Greek, I'm pretty sure you'll find it on the menu.
This is not a fancy restaurant and you will not feel out of place in your tourist tee shirt, shorts and flip flops. This is not just a tourist place, however. It's obvious that the locals eat here too.
You will hear the customers speaking Greek to the wait staff and the owner. I love a Greek restaurant that Greek people also love.
I had beef on my mind when I stopped in for lunch so I ordered keftedes. These are small ground beef and lamb patties or meatballs spiced with pepper, garlic, mint, garlic and onion.
I had mine charbroiled and the patties were delicious. The small salad and fresh bread (with butter) served before the main entree were just right and very tasty and fresh.
Stuffed grape leaves (domades) are one of my favorite Greek tidbits, so I had a few of them too.  They were great.
The owner was on hand seating people and chatting with customers. I think he was speaking Greek to some of the customers. At least it was Greek to me.
Mykonos is open 7 days a week from 1100 am to 1000 pm.
NEAT MOVIE WITH TARPON SPRINGS SETTING
"Beneath the 12 Mile Reef" is a 1953 movie available on YouTube that features great scenery of Tarpon Springs and Key West during that time period. 
It stars Robert Wagner, Terri Moore, Richard Boone, Peter Graves, and others.  Not a great movie, but some interesting views of the towns.
---
---
INTERACTIVE GOOGLE MAP TARPON SPRINGS
---
---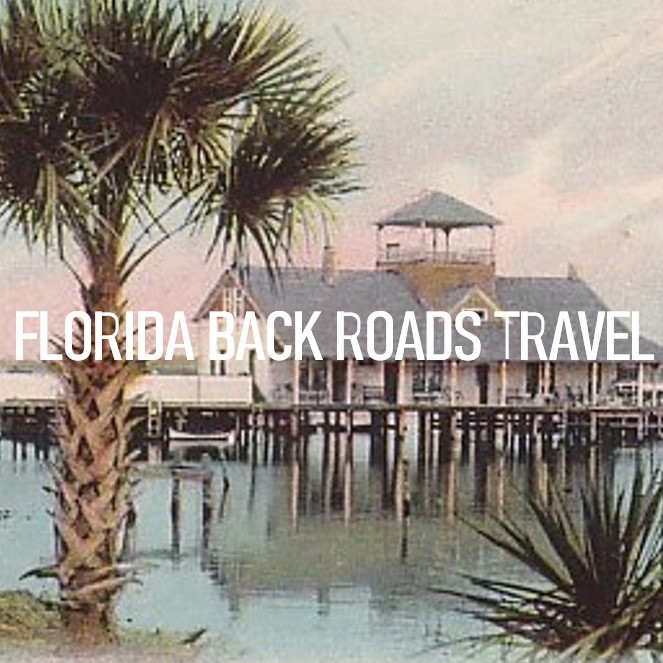 Our Facebook page has more than 108,603 followers who love off the beaten path Florida: towns, tourist attractions, maps, lodging, food, festivals, scenic road trips, day trips, history, culture, nostalgia, and more. 
Take a look. If you enjoy what you see, please give us a like.
---
---
Florida Back Roads Travel is not affiliated with or endorsed by Backroads, a California-based tour operator which arranges and conducts travel programs throughout the world.
By Mike Miller, Copyright 2009-2021 Florida-Back-Roads-Travel.com