TOTCH BROWN
Totch Brown was the name he went by.  His real name was Loren G. Brown.  He was born in Chokoloskee Bay country on March 12, 1920 and died on May 8, 1996. 

Totch Brown
He wrote only one book, but that book enshrined him among the best Florida authors.
Totch represents the Florida Cracker I've come to know and respect in the many years I've lived in Florida.
He wrote a book about his life that has become a classic. It was published by the University Press of Florida in 1993.
That book is "Totch: A Life in the Everglades".
I've given away so many copies of this book I don't even have one left in my personal library.
Totch's great-grandfather, John J. Brown, was one of the earliest settlers in the Chokoloskee Bay country of the 10,000 islands.
That would make Totch what we call a fourth generation Floridian, a true Cracker.
His grandfather was C. G. McKinney, another early settler in this part of the Everglades.  McKinney came to the area in 1886 and owned a trading post that traded with Indians.
He also wrote a small book of his life with this title:
"The Story of My Life: Early Settler on Chokoloskee among the Ten Thousand Islands of Florida Gulf Coast Tells of Experiences and Hardships of Pioneer Life in the Florida Wilds".
In spite of the long title, Mr. McKinney's book is only 14 pages long.
Totch survived in the Everglades by hunting gators, fishing, trading with Indians, and a few other things that you will read about in his book.
In Totch's own words:
At times my life in the Everglades was sustained by no more than what the Glades had to offer and the Everglades have never really let me down. Despite many hardships while bogging across the Everglades for food or hides to sell, they always gave me a warm campfire and a place to lie my tired body down. This makes the Everglades a very special and dear place to me.
Read the only book (other than a couple of spinoffs) that Totch ever wrote, and you will know more about the Everglades and this special kind of Florida Cracker than you did before.
You will see why he is highly regarded as one of our authentic Florida authors and storytellers.
You can also learn more about Totch Brown and the Everglades from the old yellowed newspaper clippings displayed on the walls of the Rod and Gun Club in Everglades City. 
There have also been other books and videos about Totch since he died in 1996.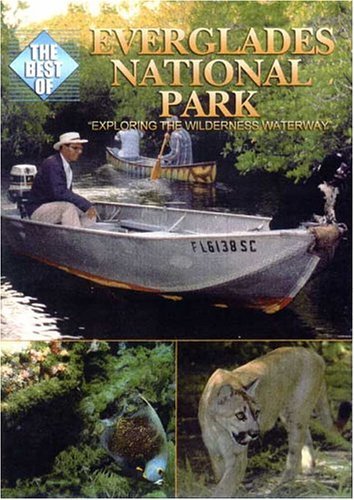 One of them is a DVD titled "The Best of: Everglades National Park" which features some scenes with Totch.
He lived a proper life in his final years, and didn't want to talk about some of the things he had to do to survive in that wild country. 
Other people, however, started writing about some of those adventures after Totch died.  Among them were hauling marijuana, making and hauling moonshine, gator poaching, and illegal fishing.
You can still buy these books and videos on Amazon.
---
I have always enjoyed watching this documentary by Randy Wayne White with Totch Brown.  
It features Totch talking about his life in the Everglades while he and Randy ride around in Totch's boat.
---
---

Our Facebook page has more than 128,577 followers who love off the beaten path Florida: towns, tourist attractions, maps, lodging, food, festivals, scenic road trips, day trips, history, culture, nostalgia, and more.  We post articles every day.  Please check it out and if you like it, we would appreciate a "like" from you.
---
By Mike Miller, Copyright 2009-2023
Florida-Back-Roads-Travel.com
Florida Back Roads Travel is not affiliated with or endorsed by Backroads, a California-based tour operator which arranges and conducts travel programs throughout the world.