CHOKOLOSKEE, FLORIDA
By  Mike Miller   Updated February 27, 2023

Chokoloskee, Florida is an unincorporated small community of about 359 permanent residents in Collier County located about 35 miles east of Naples and Marco Island.
It is a historic island, once isolated but now connected to Everglades City and the entrance to Everglades National Park by a causeway built in 1956. 
Most natives I've known pronounce it "Chuck a luskee" but the times are changing and as new people move in - who knows?
The watery landscape all around Chokoloskee Island is low lying, with mangrove islands just peeking above the water surface and sometimes disappearing when the wind and lunar tides are high.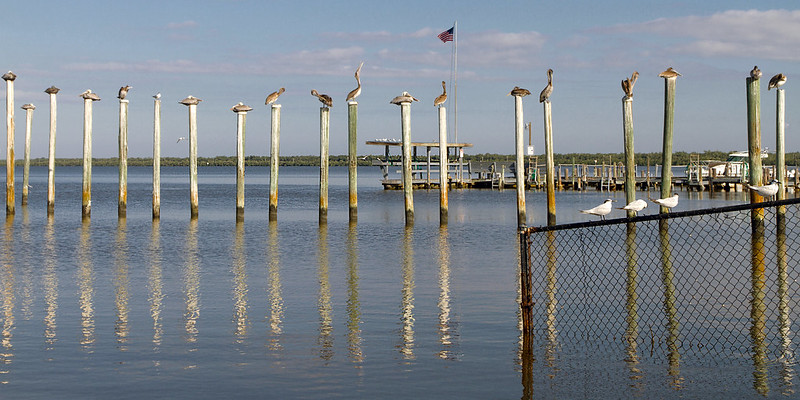 Pelicans in Chokoloskee
Flickr/Rey Perezoso
The island is among Florida's Ten Thousand Islands on the Southwest coast of the Gulf of Mexico, and is on the western edge of the Everglades.
CHOKOLOSKEE, FLORIDA HISTORY
Chokoloskee Island stands high and dry above the low lying neighboring land.  Its highest point is 20 feet above sea level. 
This is thanks to the early Native American tribes of the Glades Culture that lived on the island for two thousand years.
The island's height was caused by shell mounds created during those thousands of years by the people who lived there and ate plenty of shell fish.

THE PIONEER ERA OF CHOKOLOSKEE SETTLEMENT
John Weeks and his family were the first white settlers on Chokoloskee.  They came in 1874.  The community grew slowly and by 1897, five families lived on the island.
In that same year, Ted Smallwood came to town and bought most of the land on the island.  He opened a store in 1906 on the south side of the island serving pioneers and Seminoles.
His store was the site of the infamous shooting death of Edgar "Bloody" Watson in 1910.  Mr. Watson was a sugar cane and vegetable grower who had a farm on Chatham Key.
The circumstances of his killing are recounted in numerous articles and books, including one referenced at the end of this article.
CHOKOLOSKEE, FLORIDA TODAY
One of the first sights you will see on your way onto Chokoloskee Island is a large well maintained RV park and resort on your left. 
It is owned and managed by Outdoor Resorts of America, Inc.
Some of the RV lots in this park are for sale now and then and they are very popular with the fishing enthusiasts and their families.
The resort has a beautiful swimming pool at its recreation center and full laundry facilities.  It is not hard to visualize living here full time.
There are also other RV parks in Chokoloskee, and many of the permanent residents also live in small RV's or mobile homes.
The Road to Smallwood Store
Flickr/Rey Perezoso
The community of Chokoloskee is today a destination for people who love the laid back life style. 
Most of these folks also love fishing.  This is the right place for all of them.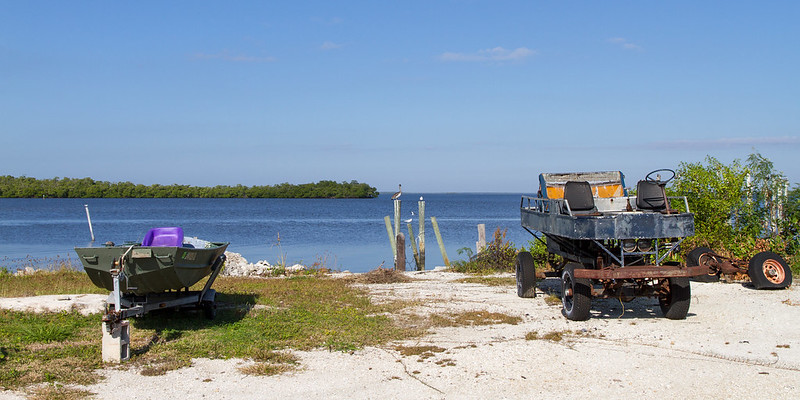 Chokoloskee Bay
Flickr/Rey Perezoso
THE HISTORIC SMALLWOOD STORE
Ted Smallwood's General Store is a must see for all who visit  Chokoloskee Island.  It is on the U.S. National Register of Historic Places.
The Smallwood store is a step back into the past and a reminder of the tough life our Florida pioneers had in this watery wilderness.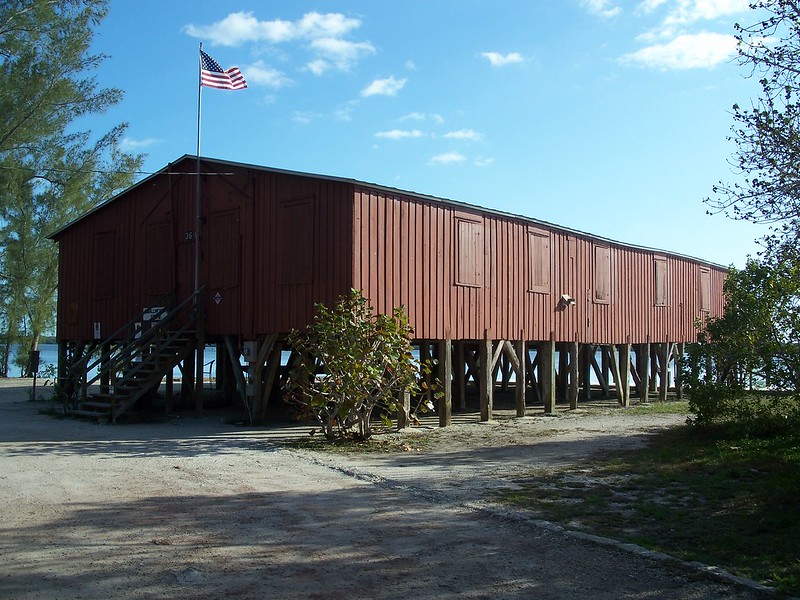 Smallwood Store
Flickr/Ebyabe
The store was established in 1906 and has now become a museum that is open every day.  You will learn about the early Calusa Indians whose shell mounds created the island.

You will see exhibits and archives about the early Miccosukee and Seminole Indians that made Smallwood's their main trading post.
There also books, DVD's, and other objects relating to the history of this remote part of Southwest Florida.  Some of these can be purchased in the museum's gift shop.
PLACES TO EAT ON CHOKOLOSKEE ISLAND
The most popular restaurant in Chokoloskee is the Havana Cafe of the Everglades.  It's menu fittingly includes some delicious seafood entrees as well as many Latin based dishes. 

My favorite when I visit is their blackened grouper with rice and beans.  A close second for me is their Cuban sandwich.

There is a beautiful outside dining area fringed by palm trees and bougainvillea.  The restaurant is open 7 days a week from 9am to 4pm.  Read our review here:
Havana Restaurant of the Everglades.
PLACES TO EAT IN NEARBY EVERGLADES CITY
Most of the restaurants if you visit this remote island town are four miles north across the causeway in Everglades City.  Check here for a list of those restaurants along with reviews by customers:  

Chokoloskee and Everglades City Restaurants
---
FISHING IS A WAY OF LIFE ON CHOKOLOSKEE ISLAND
Fishing is the main passion and pastime on Chokoloskee Island.  Both visitors and permanent residents are here because of the bounty of the surrounding waters.
Chokoloskee Parkway Motel and Marina
Flickr/lucico
There is also a commercial fishing industry and that makes it a sure thing to get fresh seafood for lunch and dinner.
There are also many charter fishing outfits on Chokoloskee that can take you on a trip to catch some fish.  There are also tours that will take you out into the Ten Thousand Islands and the Everglades.
Airboat tours are one of the most popular activities here, and kayak rentals are also available.
Tripadvisor's Best Fishing Charters

---
PLACES TO STAY ON CHOKOLOSKEE ISLAND
There are a few motels and inns on Chokoloskee Island and even more in Everglades City.  In addition to these, many people have cottages, homes, and even recreational vehicles available to rent.
A favorite spot for tourists is the Chokoloskee Island Park and Marina.
Chokoloskee Motels and Other Places to Stay
Although fishing is by far the favored activity here, there are some other interesting things to see and do.
Tripadvisor Things to do in Chokoloskee
---
BOOKS ABOUT CHOKOLOSKEE, FLORIDA
There are many wonderful books that will give you a taste of what Chokoloskee was like back in the day.  Here are three of my favorites.
INFORMATION ABOUT CHOKOLOSKEE,  FLORIDA
---
CHOKOLOSKEE, FLORIDA INTERACTIVE GOOGLE MAP
---
---

Our Facebook page has more than 128,577 followers who love off the beaten path Florida: towns, tourist attractions, maps, lodging, food, festivals, scenic road trips, day trips, history, culture, nostalgia, and more.  We post articles every day.  Please check it out and if you like it, we would appreciate a "like" from you.
---
By Mike Miller, Copyright 2009-2023
Florida-Back-Roads-Travel.com
Florida Back Roads Travel is not affiliated with or endorsed by Backroads, a California-based tour operator which arranges and conducts travel programs throughout the world.