Useppa Island and Cabbage Key
USEPPA ISLAND and CABBAGE KEY
Pine Island Sound is a shallow body of water lying west of the metropolitan area of Fort Myers and Cape Coral.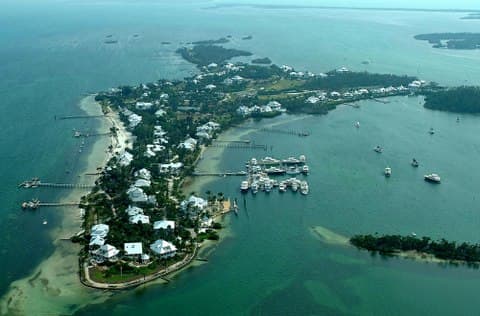 Useppa Island, View to the South
Several romantic islands front on the sound, including Gasparilla, Sanibel, Captiva, Useppa and Cabbage Key.
Useppa Island has been the location of luxury resorts for more than 100 years, and is currently the location of the private Useppa Island Club.
Cabbage Key is just across the sound, and is famous for the Cabbage Key Inn, the old Florida restaurant that some people think inspired Jimmy Buffett's "Cheeseburger In Paradise". 
Forget the fact that Jimmy himself has said this is not true.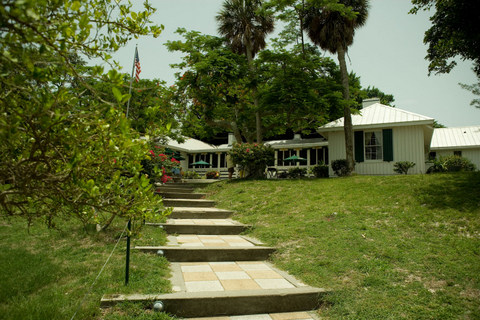 Cabbage Key Inn
Both Useppa Island and Cabbage Key are accessible only by boat, seaplane, or swimming (joke!). 
One way is to catch a boat that leaves routinely from a marina on nearby Pine Island.  Water taxis are located at Pineland Marina and can be contacted at 239-633-8142.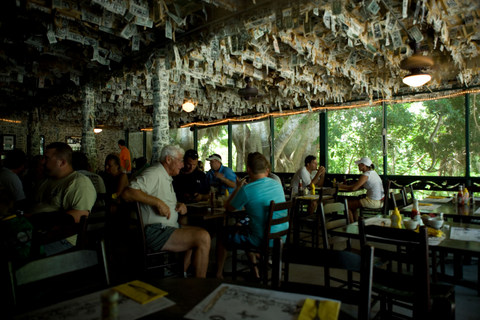 Cabbage Key Inn
HOW USEPPA ISLAND GOT ITS NAME
The origin of Useppa's name is shrouded in the mystery of this part of Florida that attaches to the pirate captain, Jose Gaspar, whose nickname was Gasparilla.
The legend is that Gaspar kidnapped a Spanish princess named Josefa. He fell in love with her, but she would have nothing to do with such a nasty old pirate.
So he imprisoned her on the island for the rest of her life. Or he killed her. History is vague on the subject, including whether or not Gaspar even existed.
In any event, Useppa is supposedly a variation of the princess's name.
Long before the legend of the pirates, Useppa was a stronghold of the powerful native American Calusa tribe.
Visitors today can still see evidence of the early settlements in the form of shell mounds and collections of various archaeological digs.
It is this archaeological significance that placed Useppa on the U.S. National Register of Historic Places.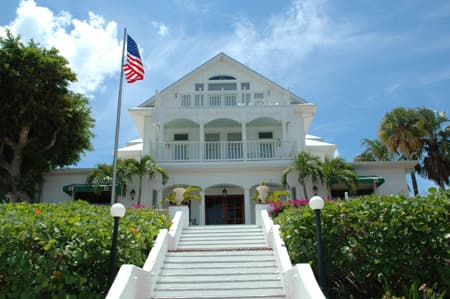 Collier Inn at Useppa Island Club
Useppa was purchased in 1894 by a Chicago streetcar millionaire named John Roach, who built a large winter home on the island.
One of his guests was a wealthy New York advertising tycoon named Barron Collier.
Collier bought the entire island from Roach and proceeded to develop much of southwest Florida, including completion of the famous Tamiami Trail from Naples to Miami.
He not only made Useppa Island his home, he turned it into a first class resort for the use of his friends and clients.
Among his famous guests were many Vanderbilts, Rockefellers and Rothchilds. He also hosted celebrities like Gloria Swanson, Shirley Temple, Herbert Hoover, and Zane Grey.
The inn had several names over the years, including Tarpon Inn, Useppa Inn and Collier Inn.
Time and hurricanes took their toll on the old resort, but the current owner has been steadily improving the club since buying it in 1976. It is now once again one of the most exclusive and elegant getaways in the United States.
All homes are owned by club members, but seven guest rooms are available in the renovated hotel.
Call 239-283-1061 for more information and reservations, or visit
---
There are many other places to visit near Useppa.
Boca Grande
Cape Coral
Captiva
Fort Myers
Pine Island
Punta Gorda
Sanibel
---
USEPPA ISLAND GOOGLE INTERACTIVE MAP
---
---
---

Our Facebook page has more than 129,275 followers who love off the beaten path Florida: towns, tourist attractions, maps, lodging, food, festivals, scenic road trips, day trips, history, culture, nostalgia, and more.  We post articles every day.  Please check it out and if you like it, we would appreciate a "like" from you.
---
By Mike Miller, Copyright 2009-2023
Florida-Back-Roads-Travel.com
Florida Back Roads Travel is not affiliated with or endorsed by Backroads, a California-based tour operator which arranges and conducts travel programs throughout the world.