BONE MIZELL
Bone Mizell is among those characters in Florida history whose reputations endure for years after the time in which they lived. 
He was born in Florida in 1863, and died in 1921. He was one of 12 children of Morgan Mizell and Mary Fletcher Tucker.
His real name was Morgan Bonaparte Mizell, and he was a legendary Florida cowboy, or as they called them back then, cowhunter.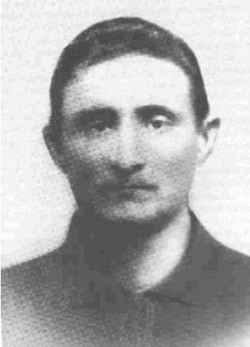 Bone Mizell
Bone's father was a great fan of the French Emperor, so he chose the little ruler's name for his son's middle name.
The name was ironic because Bone grew up to be 6 foot 5 inches tall.

The life of Bone Mizell has been written about in many books and articles.
Just Google his name or go to Amazon and you will see what I mean.

His likeness has also been captured in drawings and paintings by Frederick Remington and other artists.
Bone was famous for his riding skills. He and other cowhunters in those days rode small horses called "Marsh Tackies".
Not only was he a great rider, he was an expert with his long bull whip.

He worked for most of the cattle ranchers in south central Florida including Captain Hendry of LaBelle and Ziba King of Fort Ogden.

He was single all of his life, but was famous for visiting almost every house of ill repute in Florida at one time or another.
He never owned a home, so most folks said he never slept in a bed unless it was one of those bordellos.

Bone was not only tall, he could be mean and he was lean and muscular.
He was also very talkative and cracked people up with his jokes and wry observations.
This was even more noticeable when he had been drinking, and it seems like he drank often and a lot.
One famous story has a local sheriff arresting him and others for playing poker. Bone protested that they weren't playing for money, they were playing with poker chips.
"It's the same as money", the sheriff said, and hauled them off to jail.
In the morning Bone was ordered to pay a fine or stay in jail. He handed the judge some poker chips, and the judge protested that the fine had to paid in real money.

"The sheriff says poker chips is the same as money", said Bone.

The judge laughed and let him go.

Even the way he died is part of his legend. The year was 1921 and he was in the Fort Ogden train station waiting for some money.
He lay on a station bench to take a nap. When the station people tried to wake him up, they discovered he was dead.

The cause of death on his certificate read "Moonshine - went to sleep and didn't wake up."

Bone Mizell is buried at the Joshua Creek Cemetery southeast of Arcadia.  I don't know why his name is spelled "Mizelle" on the grave stone.
To visit the grave, take CR-31 south out of Arcadia until you come to CR-760.  Follow it east a bit more than a mile and you will come to the cemetery.
---
GOOGLE MAP TO BONE MIZELL'S GRAVE
---
---
---

Our Facebook page has more than 128,577 followers who love off the beaten path Florida: towns, tourist attractions, maps, lodging, food, festivals, scenic road trips, day trips, history, culture, nostalgia, and more.  We post articles every day.  Please check it out and if you like it, we would appreciate a "like" from you.
---
By Mike Miller, Copyright 2009-2023
Florida-Back-Roads-Travel.com
Florida Back Roads Travel is not affiliated with or endorsed by Backroads, a California-based tour operator which arranges and conducts travel programs throughout the world.