CLEARWATER, FLORIDA
Clearwater, Florida Things To Do, Lodging, Dining, & Real Estate At End Of Article
Clearwater and Clearwater Beach are on the Gulf of Mexico about 23 miles north of St. Petersburg.  The population of Clearwater, including Clearwater Beach, is almost 120,000.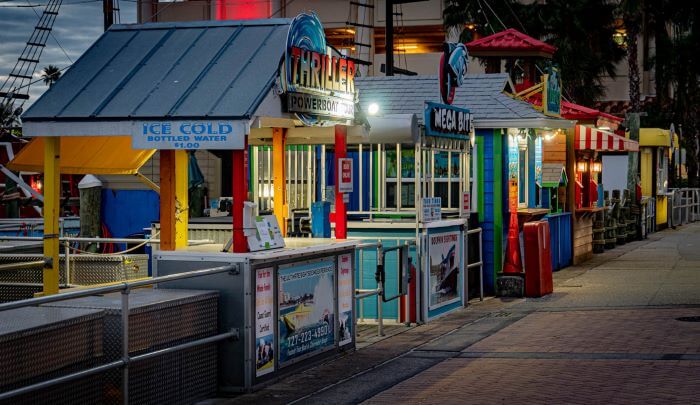 Clearwater Beach Pier 60
Photographic Destinations by Bob Kyle
Downtown Clearwater is separated from Clearwater Beach by the Intracoastal Waterway.  The city's next door neighbor to the north is Dunedin.

HISTORY OF CLEARWATER, FLORIDA
The town location was once the home of the ancient Tocobaga tribe of Native Americans.  The United States Army built Fort Harrison in this area as a fortified outpost during the Seminole Wars.  

In 1842, the federal government began offering 160 acre homesteads to any pioneer who agreed to arm themselves and cultivate the land. 
The earliest settlers included families whose names are still familiar around Clearwater to this day:  McMullen, Stevens, Sever, and Stevenson.
The first railroad came to Clearwater in 1888 on its way to St. Petersburg. 
Tourism began to boom when Henry Plant built a beautiful resort hotel on the south edge of town known as The Belleview Biltmore.
The building was an artistic and historic treasure until it finally closed in 2009.  It began to deteriorate badly and local groups tried to raise the funds to save it.
They were not able to pull it off, and it was almost completely demolished for a condominium development. 
The good news is that a portion of the original building was restored and is open today as a boutique hotel named the Belleview Inn.
CLEARWATER , FLORIDA HISTORIC RESTAURANTS
Siple's Garden Seat was an iconic Clearwater restaurant that operated for more than 70 years.  Learn more about this long gone but treasured restaurant:  SIPLE'S GARDEN SEAT
Kapok Tree Inn was another world famous restaurant in Clearwater that operated from 1958 until 1991.  Learn more about this long gone but memorable place:  KAPOK TREE
CLEARWATER, FLORIDA TODAY
Downtown Clearwater has been revitalized in recent years.  They have created a "Cleveland Street District" that has attracted many restaurants and shops.
The city has also created a mural program that has transformed many older Clearwater buildings into works of art.  An example is a downtown parking garage.
One of the historic downtown buildings is the Fort Harrison Hotel. 
It was opened in 1926 and for a time it was operated by Ransom E. Olds, inventor of the Oldsmobile.
The hotel had become badly run down by the 1970s and was purchased in 1975 by the Church of Scientology. 
They use the building to feed, train and provide lodging for visiting members of their church.
It also serves as the Church of Scientology's spiritual headquarters building. 
Controversy has surrounded the building in recent years.  You can learn about these incidents by reading Wikipedia's accounts of the Fort Harrison Hotel.
The beaches across the Intracoastal Waterway are on a three mile long barrier island.  There are dozens of small mom and pop motels here as well as larger more luxurious lodging choices.
These soft sand beaches are part of the spectacular area known collectively as the Pinellas County Beaches.
---
 ALL ABOUT CLEARWATER, FLORIDA
---
CLEARWATER FLORIDA INTERACTIVE MAP
---
---
---
---

Our Facebook page has more than 124,760 followers who love off the beaten path Florida: towns, tourist attractions, maps, lodging, food, festivals, scenic road trips, day trips, history, culture, nostalgia, and more.  We post articles every day.  Please check it out and if you like it, we would appreciate a "like" from you.
---
By Mike Miller, Copyright 2009-2023
Florida-Back-Roads-Travel.com
Florida Back Roads Travel is not affiliated with or endorsed by Backroads, a California-based tour operator which arranges and conducts travel programs throughout the world.