CRESCENT CITY,  FLORIDA

Crescent City, Florida Things To Do, Lodging, Dining, & Real Estate At End Of Article
Crescent City is a neat little town of about 1,600 people about halfway between St. Augustine and DeLand on US Highway 17.   
It is located on Crescent Lake, and some fishing experts have declared this town to be the "Bass Capital of the World".
It is noted as one of the best places to catch largemouth bass, a favorite fish of the artist Winslow Homer who loved to fish here in the winters.

One way to get to Crescent City is on US-17 north out of Deland.  It's a nice quiet scenic drive. 
You can also get there from St. Augustine on the backroads.  Go west out of the Ancient City until you reach Palatka, then go south on US-17.
Stop off at Welaka and enjoy the river views and the old buildings.
HISTORY OF CRESCENT CITY, FLORIDA
Like most Florida places, Native Americans were the first residents of the shores around today's Crescent City.  They began to disappear after Spain colonized Florida in 1565.
Charles R. Griffing came to the area in 1876 and purchased large acreage on what was then known as Dunn's Lake. 
Mr. Griffing's wife, Jennie, thought the lake was crescent shaped, and renamed it Lake Crescent.
The creek that joins Crescent Lake to the St. Johns River is still known as Dunn's Creek.
The plat and layout for what is now Crescent City were soon created on the west side of the lake.  Mr. Griffing had formed the Crescent City Real Estate Company.
Like most developers of Florida real estate then and now, he spent a lot of money advertising his lots in northern newspapers.
People began to buy lots and come down, some as tourists and some as permanent residents.
The main way people from up north came to Crescent City was by steamer along the St. Johns River, then up Dunn's Creek to the town.
The town grew and was incorporated in 1883.  The economy in the early days was based on farming, citrus growing, and tourism.
The "Great Freezes" of 1894 and 1895 destroyed most of the citrus and the local economy tanked. 
Many people moved away and Crescent City lost population and did not make a comeback for many years.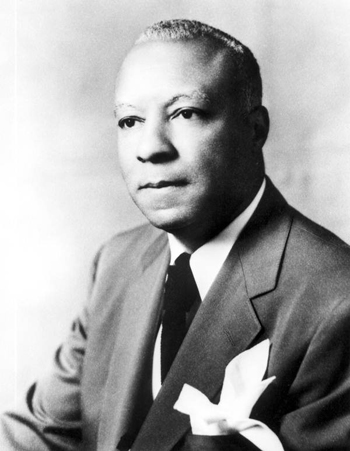 A famous person of historical note from Crescent City was A. Philip Randolph.  He was a leader in the civil rights movement and the American labor movement. 
He organized and was the leader of the Brotherhood Of Sleeping Car Porters for many years.  It was the first almost entirely black labor union.

Randolph was also active in the civil rights movement throughout his life, and in 1963 was the director of the march on Washington, D.C., the largest civil rights demonstration in American history.
CRESCENT CITY, FLORIDA TODAY
Many of the old buildings in Crescent City are pretty much the way they were 100 years ago.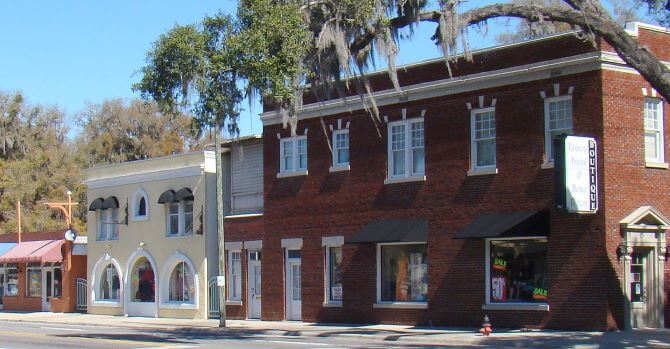 Crescent City Summit St at East Central Ave
By FloNight (Sydney Poore) and Russell Poore, CC BY-SA 4.0
The city fronts on beautiful Crescent Lake, which is a large appendage of the St. Johns River.  

Crescent City Florida Lodging and Dining
Sprague House is a nice bed and breakfast in Crescent City.  It was built in 1892 as the home of one of the local citrus growers. 

A block away is a little restaurant named 3 Bananas that overlooks the lake.  3 Bananas has nice fried fish, wings and a lot of other casual dining fare, along with a full bar.
3 Bananas has some nice vintage photos of the building dating back to when it was the old Masonic Hall.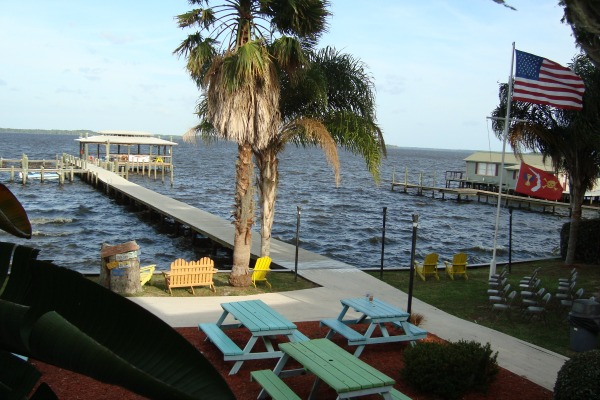 Outside Dining Area, 3 Bananas
An Old Time Florida Story About
Crescent City And The Masonic Hall
A friend of mine, the late Howard Hunter, told me a story about his father and uncle who lived across Crescent Lake near Espanola.  One night about a century ago when they were young bachelors they attended a dance at the Masonic Hall.  They had a few drinks and were feeling no pain, but it was two in the morning and time to go home back across the lake.
They got into their rowboat and began rowing east.  It was dark and foggy and visibility was near zero.  They realized they were lost on the large lake.  As the sun finally came up in the east and the fog began to lift, the sobered up boys discovered they had forgotten to untie their boat from the dock at the Masonic Hall.
You will enjoy looking at the old houses and buildings in Crescent City, Florida. 
It is a city of pleasant tree shaded neighborhoods.
---
 ALL ABOUT CRESCENT CITY, FLORIDA
---
INTERACIVE GOOGLE MAP CRESCENT CITY, FLORIDA
---
---
We post articles each day on our Facebook page which has more than 121,719 followers. 

 Please check it out and if you like it, we would appreciate a "like".

---
By Mike Miller, Copyright 2009-2022
Florida-Back-Roads-Travel.com
Florida Back Roads Travel is not affiliated with or endorsed by Backroads, a California-based tour operator which arranges and conducts travel programs throughout the world.