CRESCENT CITY,  FLORIDA

Crescent City is a neat little town about halfway between St. Augustine and Deland.  
One way to get there is on US-17 north out of Deland.  It's a nice quiet scenic drive.  You can also get there from St. Augustine on the backroads.  Go west out of the Ancient City until you reach Palatka, then go south on US-17.

Stop off at Welaka and enjoy the river views and the old buildings.  
Many of the old buildings in Crescent City Florida are pretty much the way they were 100 years ago.  The city fronts on beautiful Crescent Lake, which is a large appendage of the St. Johns River.
A famous person of historical note from Crescent City was A. Philip Randolph.
He was a leader in the civil rights movement and the American labor movement. 
He organized and was the leader of the Brotherhood Of Sleeping Car Porters for many years. 
It was the first almost entirely black labor union.
Randolph was also active in the civil rights movement throughout his life, and in 1963 was the director of the march on Washington, D.C., the largest civil rights demonstration in American history.
Crescent City Florida Lodging and Dining
Sprague House is a nice bed and breakfast in Crescent City.  It was built in 1892 as the home of one of the local citrus growers. 
A block away is a little restaurant named 3 Bananas that overlooks the lake.  3 Bananas has nice fried fish, wings and a lot of other casual dining fare, along with a full bar.
3 Bananas has some nice vintage photos of the building when it was the old Masonic Hall. 
A friend of mine, the late Howard Hunter, told me a story about his father and uncle who lived across Lake Crescent near Espanola.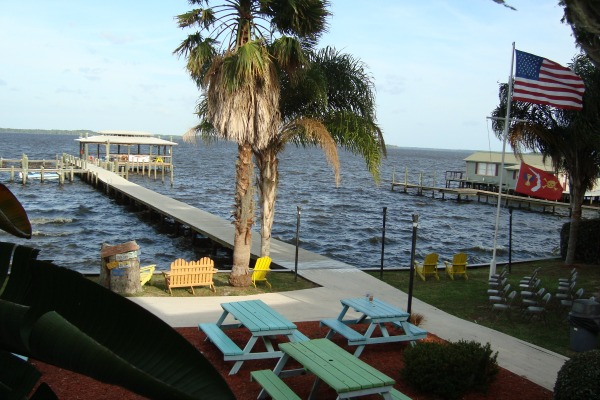 Outside Dining Area, 3 Bananas
One night about a century ago when they were young bachelors they attended a dance at the Masonic Hall. 
They had a few drinks and were feeling no pain, but it was 2 in the morning and time to go home back across the lake.

They got into their rowboat and began rowing east.  It was dark and foggy and visibility was near zero. 
As the sun finally came up in the east and the fog began to lift, the sobered up boys discovered they had forgotten to untie their boat from the dock at the Masonic Hall.

You will enjoy looking at the old houses and buildings in Crescent City, Florida. 
---
---
Our Facebook page has more than 73,000  followers who love off the beaten path Florida:  towns, lodging,  road maps, festivals, attractions, scenic road trips, day trips, history, and more.
Take a look and if you enjoy what you see, please give us a like.
---
---
---
SUBSCRIBE TO OUR FREE MONTHLY EZINE
The latest updates to our website and stories about people, places, and events.
20190112