BOCA RATON, FLORIDA
September 28, 2021
Boca Raton, Florida Things To Do, Lodging, Dining, & Real Estate At End Of Article
Boca Raton, Florida is located on the east coast of the state, about 20 miles north of Ft. Lauderdale and 27 miles south of West Palm Beach.
It has a population of nearly 100,000 people and is the second largest city in Palm Beach County.  Only West Palm Beach is larger.

---
BOCA RATON, FLORIDA HISTORY
---
The earliest residents of the Boca Raton area were the Tequesta, a tribe of Native Americans who lived along the ocean for thousands of years but disappeared in the 1700s during the years Spain owned Florida.

The first settlers came to this area of south Florida around 1895, about the same time the Florida East Coast Railway came to town.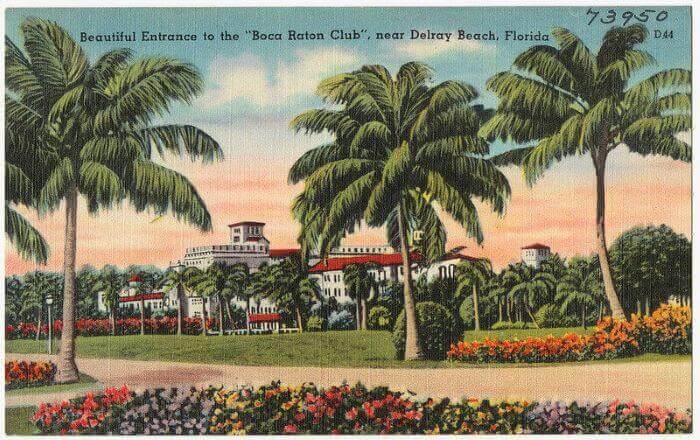 Boca Raton Club Postcard
Flickr/Boston Public Library
The name "Boca Raton" comes from the Spanish term boca de ratones, which some people think means "rat's mouth", but the literal translation is "mouse mouth". 
The English word rat translates to "rato" or "rata" in Spanish. Not everyone agrees with the name origin, but it makes a good story. 
The mouth term allegedly comes from the images of sharp rocks near the coast that appeared on early maps, to alert sailors of their presence. 
The early settlers of Boca Raton grew vegetables and pineapples.
In the early 1900s a community of Japanese farmers arrived and established the Yamato colony. 
Their history and legacy is presented today in nearby Morikami Gardens located in Delray Beach.
It wasn't until 1925 that Boca Raton was incorporated. Today it is a place where the past and future come together.
Early in the town's history it was learned that the Shriners would be having a big convention in Miami.  One of the Shriner's symbols was the camel.
So the town fathers built a camel sign and erected it across Dixie Highway.  They hoped the Shriners would drive through and notice their little town on the way to Miami.
The area was heavily influenced by Addison Mizner, a notable architect of the time. Mizner wanted to design a luxury resort city that used the Cloister Inn as its focal point. 
The Cloister Inn was a Spanish architectural gem that was successful but Mizner got caught by the Great Depression and went bankrupt.
The Mizner assets in Boca Raton were purchased in 1930 by financier Clarence H. Geis, who turned the club into an extravagant nightclub.
The property was purchased by Arthur Vining Davis in 1956, who turned it into the Boca Raton Hotel and Club.
The club prospered as a resort retirement community filled with luxurious homes and surrounded by sparkling waterways.
---
BOCA RATON, FLORIDA TODAY
---
Today, Boca Raton is a vibrant city full of art and culture.
There is always something to do – concerts to attend, museums to walk around, outdoor festivals to attend, and amazing restaurants to dine at.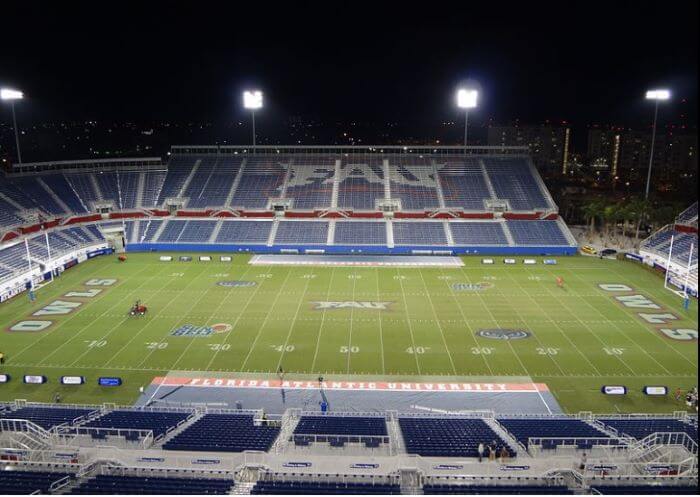 Howard Schnellenberger Stadium at Florida Atlantic University
By Jerseydem-Own work CC BY-SA 3.0 https://commons.wikimedia.org
The city is home to Florida Atlantic University, one of the state's 12 public universities, with a student population of more than 30,000 and a Division 1 athletic program.
Their stadium is nicknamed "The House That Howard Built" after revered football coach, the late Howard Schnellenberger.
The city of Boca Raton has five miles of Florida's beautiful eastern coastline with many beaches, 46 parks, and 1,650 acres of recreational space to enjoy.
The city limits extend west from the original downtown area to the Florida Turnpike, a distance of about six miles
Boca Raton was one of the first U.S. cities to adopt a tree protection ordinance, so tourists and city-dwellers alike can enjoy seemingly endless nature trails, plenty of greenery, and many ocean-front activities. 
Boca Raton has a diverse restaurant scene that is sure to please any pallet.
As a coastal city, Boca Raton has access to some of the freshest saltwater fish you can find.
The modern town center of Boca Raton is Mizner Square. The shopping district includes many upscale restaurants and shops.
The Centre for the Arts at Mizner Park is located at the north end, which includes the Boca Raton Museum of Art and an amphitheater.
Mizner Park was designed as a Mediterranean revival town center.  It fits in well with the original architecture of Boca Raton.
The Boca Raton Resort and Club still uses and maintains many of the original buildings. 
It is now owned and managed by MSD Partners L.P., a group heded by Michael Dell.  It's name is now The Boca Raton.
INFORMATION ABOUT BOCA RATON, FLORIDA
---
BOCA RATON, FLORIDA INTERACTIVE GOOGLE MAP
---

Our Facebook page has more than 114,695 followers who love off the beaten path Florida: towns, tourist attractions, maps, lodging, food, festivals, scenic road trips, day trips, history, culture, nostalgia, and more.  We post articles every day.  Please check it out and if you like it, we would appreciate a "like" from you.
---
SUBSCRIBE TO OUR FREE EZINE
---
Florida Back Roads Travel is not affiliated with or endorsed by Backroads, a California-based tour operator which arranges and conducts travel programs throughout the world.
By Mike Miller, Copyright 2009-2021 Florida-Back-Roads-Travel.com