DESTIN, FLORIDA
September 10, 2021
Destin, Florida Things To Do, Lodging, Dining, & Real Estate At End Of Article
Destin Florida is a resort community and historic fishing village on the Gulf of Mexico in Florida's Panhandle.  It is between Pensacola and Panama City and is 8 miles east of Fort Walton Beach.
Destin is loved by millions of tourists, but I love it the way it was in 1960 when I was in the Navy at Pensacola.  It was a quiet fishing village with a population of about 1,000.
Today it has 14,000 people who live there permanently and untold thousands who visit it on vacation every year.
HISTORY OF DESTIN FLORIDA
Destin is located on the east side of East Pass that connects the Gulf of Mexico to Choctawhatchee Bay.
The bay is a large estuary of the Gulf that is more than 30 miles long and 4 to 6 miles wide.  
The bay is loaded with fish and shell fish.  There are mullet, redfish, trout, shrimp, menhaden, blue crab, flounder and an abundance of dolphins who love seafood.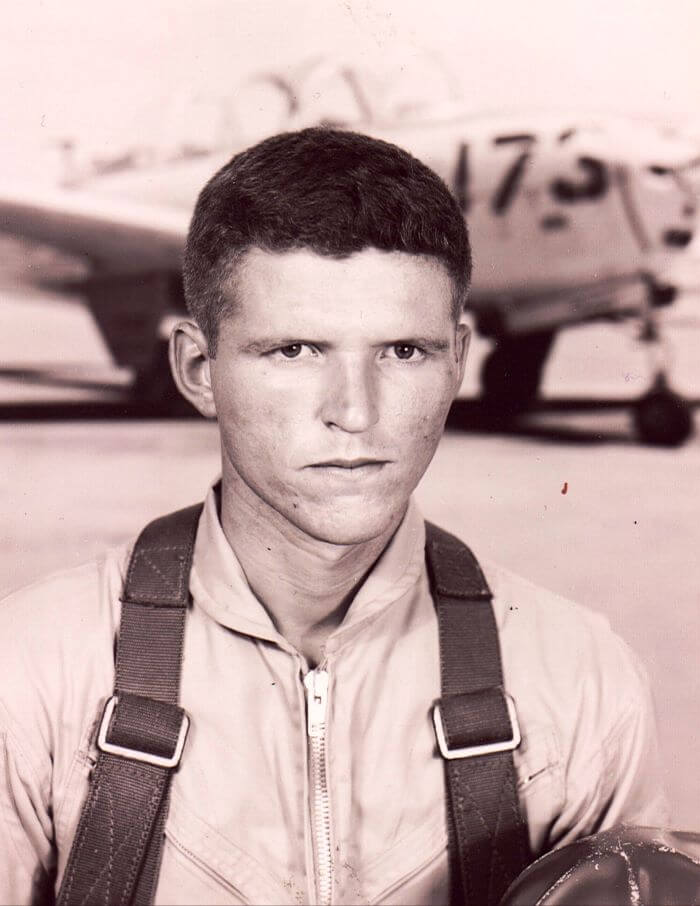 This history is special to me because of my memories of the way Destin was in 1960.  I was a naval aviation cadet in Pensacola and visited Destin often and flew over it many times. The population back then was 1,000, compared to almost 15,000 today.
I was brand new to Florida and loved the rural unspoiled nature of the Panhandle coast and its miles of undeveloped white sand beaches and green forests. Florida's population back then in 1960 was only 5,040,000.  Today it is 21,538,187.  It saddens me now to see how much the state has changed in my lifetime.
The bay is also the spawning ground of the giant gulf sturgeon that look a lot like an alligator but are thankfully not a threat to us.

Destin's location on the pass, bay, and Gulf made it an ideal location for early Native Americans who fished and lived in the area as long as 14,000 years ago.
Kelly's Boat Basin 1960
When the Spanish still ruled Florida in the late 1700s and early 1800s, the Destin area was known as Moreno Point named for Don Francisco Moreno.
Moreno was an early developer who had a lot of input into the establishment of Escambia County and bought and sold real estate along the Gulf coast.
Moreno Point became a federal military reservation in 1842, and in the 1850s settlers began to arrive. 
All the land was owned by the federal government, and the earliest settlers did not own the land but were "squatters."
The first settlers were the McCullom family followed soon after by a Connecticut Yankee named Leonard Destin. 
He was a fisherman who came to Florida so he could extend his northern fishing season through the winter.
He married Martha McCullom and spent the rest of his life in Florida.
Destin and other fishermen made a business of catching fish at East Pass and selling them to buyers in Pensacola.  All of these early settlers called their community East Pass.
In 1896 the town got a post office and officially named it Destin after the early pioneer who had died many years before.  
Most of the land was still owned by the government, but they began to auction it off to the settlers and others in 1926. 
Some of the settlers now officially owned the land they had lived on for almost fifty years.
US-98 was constructed west from Panama City into Destin in the mid 1930s, and a bridge was built in 1936 across East Pass from Fort Walton Beach to Destin.
The road and the bridge marked the beginning of the Destin we know today.  The improved access into the community spurred a lot of tourism, including sport fishermen.
The first "head boat", or passenger carrying fishing boat, started business in 1939.
Governor Leroy Collins
In 1956 the Governor of Florida was Leroy Collins. 
He was on his way to Pensacola when some Destin locals persuaded him to get on a fishing boat and pose for some publicity photos.

As luck would have it, the Governor caught a big fish after only a few minutes. 
A reporter teased him about it being hard to believe he could catch that big fish in such a short time.
The Governor reportedly replied "Not if you're fishing out of Destin....  Destin is the world's luckiest fishing village. 
The name has stuck to this day.
Some people say the Governor's visit was the beginning of the big boom in tourism and the charter fishing business.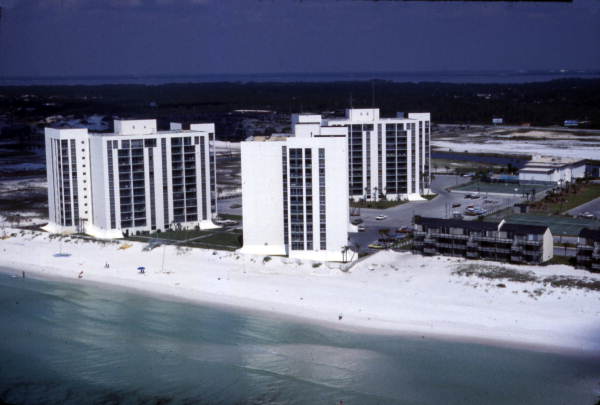 Shoreline Towers 1977
In the 1970s a few condos began to pop up in Destin, and even more began to rise in the 1980s.  Soon condos and hotels were everywhere.
Tourism began to outstrip fishing as the towns biggest economic driver but fishing is still an important industry as well.
The City of Destin was formally incorporated in 1984.
Leroy Collins finished his term as Governor in 1961 but Destin is still called the "World's Luckiest Fishing Village". 
Its harbor has more than 125 vessels that take tourists and locals out for deep sea fishing, the largest number of licensed charter boats in Florida.
But overshadowing even the fishing business, Destin has become a beach tourism destination known all over the world. 
Booking.com has listings for some 2,329 properties that have lodging available.  Many of these are on the Gulf with some of the most beautiful beaches anywhere.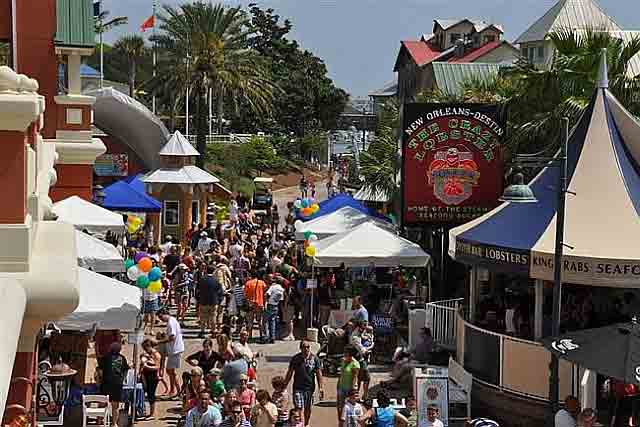 Destin Seafood Festival
Water activities are prominent in Destin, with charters available for pontoon boats, snorkeling trips, deep sea fishing, and sailing.

You can go on dolphin watching tours, sunset cruises, and just about any other water adventure you can imagine such as parasailing.

The Destin History & Fishing Museum has photos and other displays explaining the heritage and history of Destin.
HarborWalk Village at the foot of the Destin bridge has numerous restaurants, festivals, shows, concerts, and even ziplines - all with a great view of the Gulf.
Destin Commons is an outdoor shopping center with more than 95 shops, stores, and restaurants.  There is even an underwater themed bowling alley.
Sandestin is a huge 2,400 acre resort about 8 miles east of Destin.  It comprises golf courses, beautiful beaches, many hotels and restaurants. 
It includes the Village of Baytown Wharf entertainment district
Other places that are worth a visit in Destin include Henderson Beach State Park, the Destin Harbor Boardwalk, and Crystal Sands Beach.
Even though much of the waterfront in Destin is developed with condominiums, resort hotels, and other businesses, the town has nice single family residential neighborhoods with tree shaded streets and a quiet life style.
Realtor.com in August 2021 reported that the median single family home price in Destin was $550,000.
---
 ALL ABOUT DESTIN, FLORIDA
---
DESTIN FLORIDA INTERACTIVE GOOGLE MAP
---
---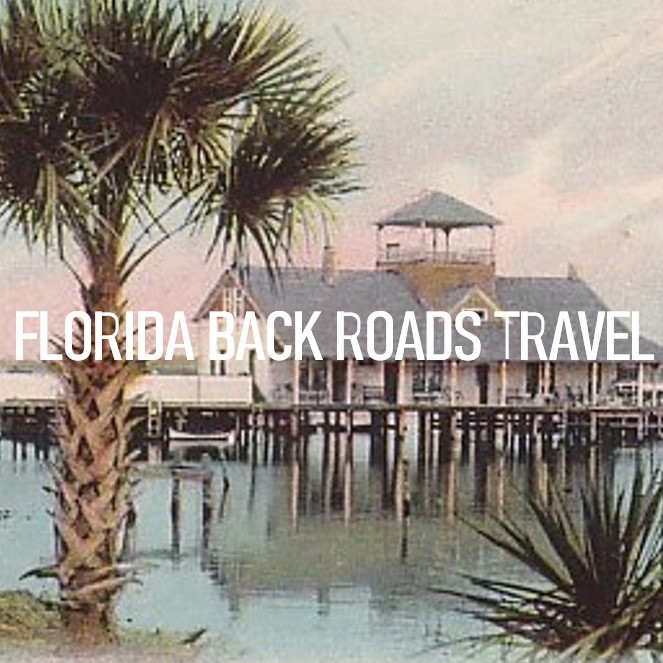 Our Facebook page has more than 113,548 followers who love off the beaten path Florida: towns, tourist attractions, maps, lodging, food, festivals, scenic road trips, day trips, history, culture, nostalgia, and more. 
Take a look. If you enjoy what you see, please give us a like.
---
---
Florida Back Roads Travel is not affiliated with or endorsed by Backroads, a California-based tour operator which arranges and conducts travel programs throughout the world.
By Mike Miller, Copyright 2009-2021 Florida-Back-Roads-Travel.com