PANAMA CITY FLORIDA

Panama City Florida and its host, Bay County, may be young compared to Pensacola and St Augustine, but the region has seen much throughout history.
St. Andrew's Bay was visited by the expeditions of DeSoto, Pineda, Navarez and other Spanish explorers in the 16th century.
The town was originally named Harrison City in honor of Tippecanoe tough guy and 9th US President William H. Harrison. 
The name was changed to Panama City since a line drawn on the map from Chicago to the Panama Canal runs through the city.
The name was probably changed from Harrison because poor William's presidency lasted about as long as a gnat's life cycle.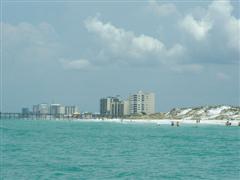 While "Panama City" may look better on travel brochures, the city does still honor the unfortunate President with Harrison Avenue.
St. Andrews, Panama City's "Old Town", was very important to the Confederacy during the Civil War.  The deep harbor and the bayous surrounding St. Andrew's Bay made good hideouts for Confederate blockade runners.
Many supplies that were desperately needed by the war effort were brought in through this part of Florida.
Several salt works in the area supplied the Confederacy, to such a degree that the Union had to send ironclads in to halt the operations.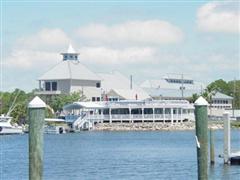 St. Andrews itself was almost completely destroyed by a blockading Union fleet.
Speaking of salt, the white sands of the Emerald Coast around Panama City Beach are of such a fine grade that in the 19th and 20th centuries many unscrupulous traders sold them as sugar or salt.
That would throw a wrench in anyone's recipe!

Like many spots in Florida, Panama City soon became popular with well-to-do snowbirds from the north.
During World War II, the city became an important center for shipping and ship building. Tyndall Air Force Base was opened in 1941 and is still a major employer in the area.
The city grew and eventually enveloped nearby townships like the aforementioned St. Andrews, which is now a restored historic district with many renovation projects under way.
With its history, colorful buildings and beautiful emerald waters, Panama City Florida and Panama City Beach have largely replaced Daytona as the destination of choice for Spring Breakers.
There's a reason sleazy Joe Francis of "Girls Gone Wild" fame has spent so much time in Panama City jails.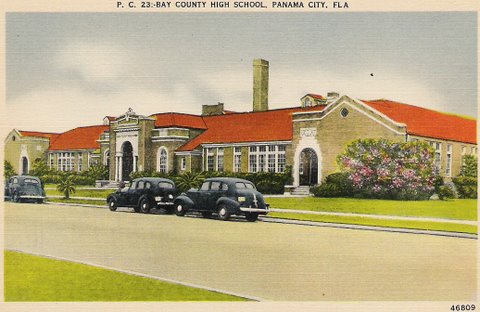 PANAMA CITY FLORIDA RESTAURANTS
Uncle Ernie's Bayfront Grill, 1151 Bayview Ave, Panama City Florida 32401. 850-763-8427. Located in the historic St. Andrews section of Panama City. Expensive, but that's to be expected in a tourist spot like Panama City. The portions are generous and the food is good. The lunch menu prices are more agreeable, so go for lunch if you're on a budget.


Hunt's Oyster Bar & Seafood, 1150 Beck Ave, Panama City Florida 32401. 850-763-9645. Not as nice a view as Uncle Ernie's, but the prices are much better for good seafood. Family owned and operated for 40 years. St. Andrews Bay oysters are as popular today as they were thousands of years ago when prehistoric indians fished them. Expect many locals and visitors alike at Hunt's. On our most recent trip to Panama City, we saw people lined out the door. Call ahead.
PANAMA CITY, FLORIDA ATTRACTIONS
St. Andrews State Park, 4607 State Park Ln, Panama City Florida. Gorgeous beaches, great camping and tons of wildlife.


Junior Museum of Bay County, 1731 Jenks Ave, Panama City Fla 32405. Great place for the young or young at heart. Many fun science exhibits, fishing trips, and some authentic cracker cabins from the 19th century.


Shipwreck Island Waterpark, 12201 Middle Beach Rd, Panama City Beach, Florida 32407. Huge waterpark with many thrill flumes. It's like a newer and better maintained Wet'N'Wild.
And of course, there are the beaches at Panama City Beach, the ultimate attraction.
PANAMA CITY, FLORIDA HOTELS
Holiday Inn Select, 2001 Martin Luther King Jr Blvd, Panama City, Florida 32405. 866-538-0187. Conveniently located, very clean, retro 70s vibe with updated interiors.


Suburban Extended Stay Hotel, 4432 W Highway 98, Panama City, Florida 32401. 850-215-6655. Low frills, but clean, comfortable and budget conscious. Close to the historic St. Andrews district.


Country Inn & Suites,2203 Harrison Ave, Panama City, Florida 32405. 850-913-0074. Country Inns are usually a pain to find without a laser guided military GPS, but this one's an exception. It's clearly visible from Harrison Ave. Affordable, comfortable rooms and suites with nice amenities like complimentary breakfast buffets, high speed internet, and more.


Nostalgic 1950 Beach Cottage, 127 Toledo Place, Panama City Beach, FL 32413. This is an authentic 1950 cottage restored and filled with antiques from the 1900's, 1950's, and 1970's. 3 bedrooms, sun porches, an artists room, antique parlor, claw bathtub, and the feeling of nature in the Magnolia filled back yard. Hot tub and other adventures.
PANAMA CITY HERITAGE SITES
Junior Museum of Bay County
Museum of Man in the Sea
Panama City Main Street
SS Tarpon Underwater Archaeological Preserve
St. Andrews State Park
HOW TO GET TO PANAMA CITY
Panama City, Florida is on the Gulf of Mexico about halfway between Pensacola and Tallahassee.
It is connected to the outside world by US-231, which terminates in the city, and is on US-98, the main highway along the Gulf Coast.
The brand new Beaches International Airport serves Panama City from cities all over the world.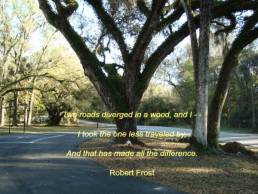 Over 65,000 followers can't be wrong. Learn about off the beaten path Old Florida, historic towns, attractions,  festivals, scenic drives and more.
Like Us On Facebook
Return to Florida Towns 

Return to Home Page