FLORAL CITY, FLORIDA
Floral City, about 70 miles north of Tampa, has been the home of Ferris Groves since 1931. L. G. "Doc" Ferris started out as a boom time land developer in the 1920s but like almost everybody else in Florida back then, he went bust after the major hurricanes came followed by the Great Depression.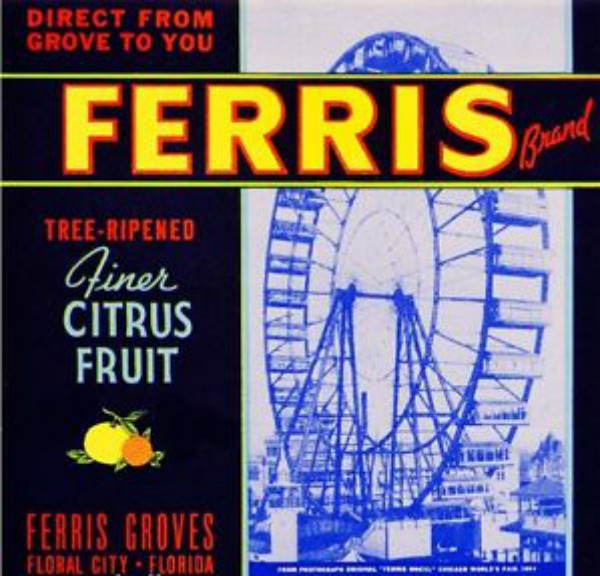 He owned a lot of land in Floral City, including Duval Island on Lake Tsala Apopka, and instead of developing a golf course he planted citrus trees on the rich soil of the island. At the peak of his operation he had 350 acres planted with 31,000 trees. Almost everyone in Flora City worked for Doc Ferris.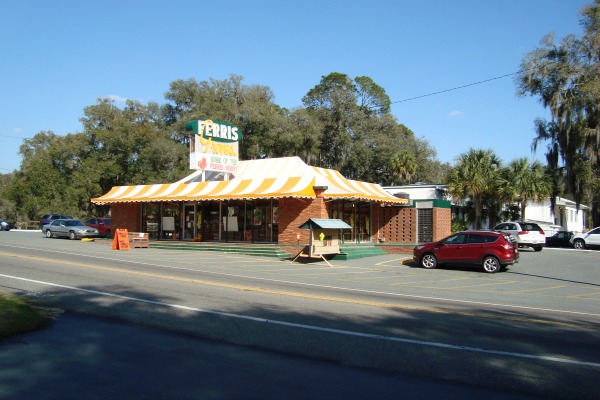 Ferris Groves, Floral City, Florida
Doc was reportedly the grand nephew of George Washington Gale Ferris, Jr., the inventor of the Ferris Wheel. Ever the promoter, Doc added a picture of the Ferris Wheel on some of his early citrus box posters. He also built fruit stands along many major Florida highways and even had fruit stands in some of the tourist hotels in Miami Beach. Among those early stores was the current one on U.S.-41 in Floral City that still does a great business. I bought some great tangerines there recently.
Even though most of Central Florida's citrus industry was wiped out in the freezes of 1983 and 1985, the fertile hammock soil of Duval Island still produces Valencia oranges, Ruby Red Grapefruit and Fall Glow tangerines in its 24 acre grove. In recent years they have added strawberries and blueberries. Their delicious strawberry is named the Ferris Berry.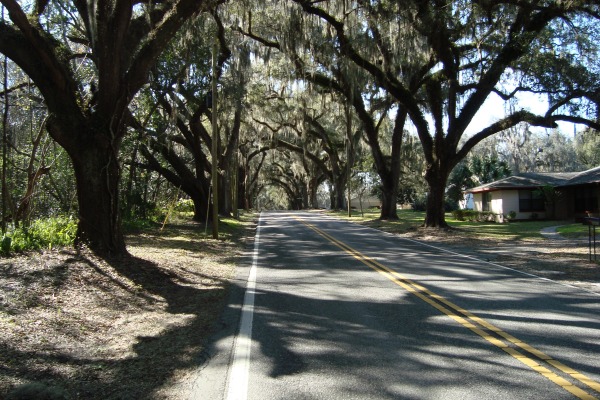 Orange Avenue, Floral City, Florida
Fruit bearing trees are not the only hallmark of Floral City. This small community of about 5,000 people has done a good job in preserving the old oaks and native palms that give the town so much of its current day charm. It's a good place to park your car and just walk or ride your bicycle.
There is a pioneer museum downtown and a couple of neat art galleries and antique shops along with a produce stand. The neighborhoods surrounding downtown are a treasure trove of authentic old Florida houses and other buildings.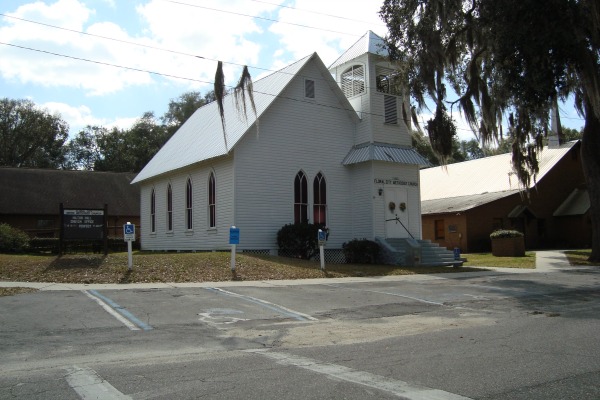 Methodist Church, Floral City, Florida
The Withlacoochee State Trail is a 46 mile long paved corridor that runs through Floral City. It's a "Rails To Trail" project that was formerly a historic train route that was sold to the state in 1989. Its northern end is in Dunnellon, and its southern terminus is the Trilby trailhead southeast of Brooksville.
It is for hikers and non-motorized vehicles only, and runs through small towns like Istachatta, Floral City and Inverness. Along the way it crosses several ranches, natural woodlands and wetlands and is close to Fort Cooper State Park and The Withlacoochee State Forest.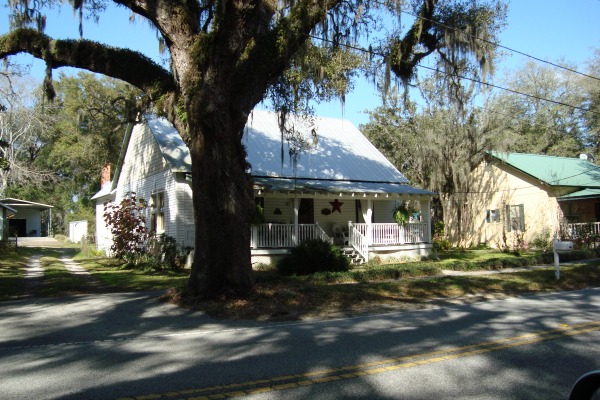 Old Home, Floral City, Florida
Floral City is set up to cater to hungry and thirsty cyclists with several restaurants and stores near the trail's crossing in downtown, and there is also a bike shop that provides not only bicycles but repairs and advice.
The community is built along the shorelines of Lake Tsala Apopka and Bradley Lake. There are many fish camps and authentic old Florida lodging places in the area along with some great fishing and canoeing. Some of the back country roads around these lakes and their many islands offer some of the best driving experiences in Florida.
FLORAL CITY RESTAURANTS
Robin's Country Kitchen, north of town on US-41
Shamrock Inn, downtown next to the trail.
Although not a restaurant, Aunt Martha's Produce is at the corner of Orange Avenue and US-41 and features not only fresh produce, but many other food items including steaks.  It is owned by Shannon Burns and her mother, Martha.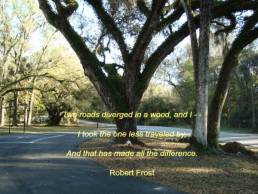 Over 65,000 followers can't be wrong. Learn about off the beaten path Old Florida, historic towns, attractions,  festivals, scenic drives and more.
Like Us On Facebook
---
Return to Florida Backroads Travel Home