KINGSLEY LAKE, FLORIDA
Camp Blanding and Strickland's Landing
Kingsley Lake is about halfway between Jacksonville and Gainesville in Northeast Florida.  It is about six miles east of Starke.
The 2,000 acre lake is about two miles across and is almost perfectly circular.  Many pilots flying over the lake named it Silver Dollar Lake because of this.
When I lived in Jacksonville and Gainesville in the 1960s, Kingsley Lake was famous for two things:  Strickland's Landing and Camp Blanding.
HISTORY OF STRICKLAND'S LANDING, KINGSLEY LAKE
The lake is named for Zephaniah Kingsley (1765-1843), a planter, slave trader, and merchant who owned a plantation east of the lake. 
It is apparently an ancient sinkhole, now spring fed, and 90 feet deep in the center.

Strickland's Landing was a large beach and enclosed swimming area with water slides and other fun attractions.  It occupied 20 acres on the north shore of the lake. 
Strickland's Landing was a great place for families from Gainesville, Starke, and Jacksonville to spend hot summer days.

Woodrow Strickland and his family owned and operated the Landing from 1946 to 2002. 
Mr. Strickland was an avid Florida Gator football fan, usually wore a Gator ball cap, and had season tickets for many years.
It was a family oriented place.  No alcohol was allowed and people were expected to be on their best behavior.

Strickland's Landing was on the very north shore of Kingsley Lake adjacent to Camp Blanding.  You can see the enclosed swimming area on the vintage aerial photograph below.
When Woodrow Strickland died in 2002 at the age of 90, his heirs found themselves on the hook for a large income tax liability. 
This is why some people call the inheritance tax the "death tax."
Like many other families forced into this situation when the founder of the family business dies, they had to sell the land because they couldn't pay the taxes.
Strickland's has been gone now since the family sold it.  Almost all of the privately owned shoreline around Kingsley Lake is developed now with single family homes. 
Almost every home has a dock, but there seems to be no beach access for the public.
---
Here is an interesting photo slide show about Kingsley Lake in the past.  It has been compiled by Douglas Combs and his friends and neighbors.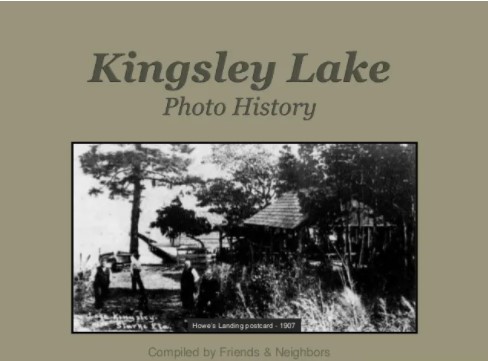 ---
HISTORY OF CAMP BLANDING ON KINGSLEY LAKE
Almost half of the shoreline of Kingsley Lake - the eastern half - is occupied by Camp Blanding. 
This is the main training base for the Florida National Guard and units of the Florida Air National Guard.

It also the base of other reserve units and some active training facilities for the other armed forces of the United States, ROTC units, and more. 
The camp is 73,000 acres in area including much of Kingsley Lake itself.

During World War Two the United States Army used Camp Blanding as an active duty training center. 
In addition to training American infantry, the base held German prisoners of war and Japanese, German and Italian immigrants.
From 1940 to 1945, more than 800,000 troops were trained here.  It was recognized during the war as the fourth largest city in Florida. 

It had 10,000 buildings, 125 miles of paved roads, and the largest hospital in the state.
After the war many of the buildings were sold and moved off base, including those that were repurposed as Flavet Villages, the married housing complexes at the University of Florida.
The affordable $28/month rent I paid while attending UF helped me get through school. 
Camp Blanding Museum and Memorial Park is open to the public. 
It has a history building with many exhibits and displays from World War Two, the Korean War, the Vietanam War, and Desert Storm.
---
KINGSLEY LAKE FLORIDA INTERACTIVE GOOGLE MAP
---
---

Our Facebook page has more than 128,577 followers who love off the beaten path Florida: towns, tourist attractions, maps, lodging, food, festivals, scenic road trips, day trips, history, culture, nostalgia, and more.  We post articles every day.  Please check it out and if you like it, we would appreciate a "like" from you.
---
By Mike Miller, Copyright 2009-2023
Florida-Back-Roads-Travel.com
Florida Back Roads Travel is not affiliated with or endorsed by Backroads, a California-based tour operator which arranges and conducts travel programs throughout the world.