MARCO ISLAND, FLORIDA
Updated April 7, 2021
Marco Island is the largest and northernmost of Florida's Ten Thousand Islands.  It is about 28 miles south of Naples.

For many years it was inhabited by the fierce Calusa Indians. The first white settlers were W. T. Collier, his wife and their 9 children.  They came to the island in 1870. 
In 1896, W. T. Collier's son, Captain Bill Collier, opened a 20 room hotel which still stands today, the Olde Marco Inn.
This is not the same Collier family as the one that developed Everglades City and much of southwest Florida. That was Barron G. Collier.
Marco's early history was very quiet, but from 1908 to 1947 the Doxsee Clam Company was the biggest industry on the island. The company harvested, steamed and canned clams from the waters around Marco Island until the clam beds were exhausted.
The trailer park shown in the picture above was owned by the Doxsee family.
After the clam cannery closed, Barron Collier bought most of the island from the other Collier family. There was almost no development on Marco Island.
This changed in 1964 when the Deltona Corporation, headed by the Mackle Brothers, began to develop the entire island as a beachfront resort and residential community laced with an network of dredged canals. 

The mangroves were removed from much of the island, and canals were dredged and the material used to create lots. 
Much of this work was done before people had developed a complete understanding of the environmental damage that would be caused by mangrove removal.
It was a very successful project, financially, in spite of some major permitting problems, and waterfront lots and homes were sold to eager buyers all over the world on the installment basis.
The 50 room Marco Island Hotel was one of the nicest in southwest Florida when it was built in 1965 at the same time the Marco Island community was officially opened.
Marco Island is now a modern place with some of the nicest condos and hotels in the state. From a quiet fishing village of 550 people in 1960, it has grown to a major town with a population of 16,000.
---
Recommended Marco Island Restaurant
SNOOK INN
1215 Bald Eagle Drive
Marco Island, Florida 34145
Tel: 239-394-3313
www.snookinn.com
Snook Inn is one of the oldest restaurants on Marco Island. It is located at the end of Bald Eagle Drive on the north side of the island in the Olde Marco neighborhood.

It is a laid back Old Florida waterfront place regionally famous its seafood.
Their menu includes a large variety of local fish, but no snook. Snook is illegal to buy or sell, so the only way to eat one is catch it for yourself.
Most Floridians swear that snook is the most delicious fish in the world, but at Snook Inn you'll have to be content with snapper, grouper, oysters, crabs and scallops.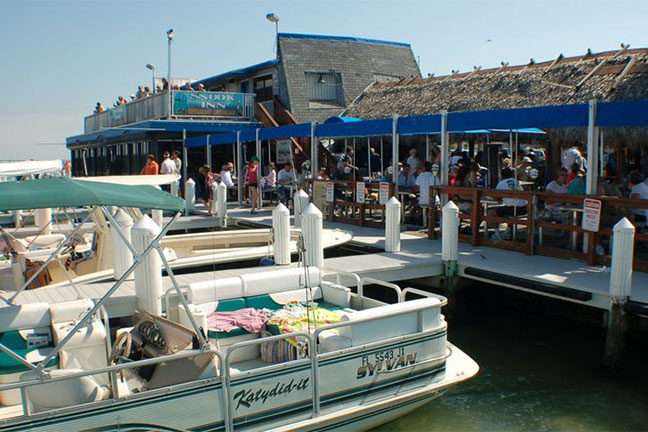 Snook Inn, Marco Island Florida
They have a lot of shrimp selections, with Gulf shrimp prepared in several different ways. One of the popular choices is Shrimp Denny, which is shrimp stuffed with scallops, wrapped with bacon and deep fried and finished off with Hollandaise sauce.
Another great choice is Shrimp Your Way. As the name implies, you can have them broiled, breaded, deep fried or any number of ways.
Landlubbers are not ignored, either, with a petite filet mignon on the menu along with prime rib, ribeye, pork chops and island chicken.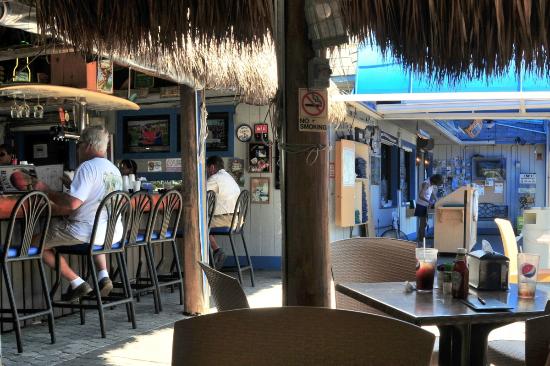 Snook Inn, Marco Island, Florida
All seats in Snook Inn have a great view, and the place is open 7 days a week from 1100am to 100pm. They also have entertainment every day of the week.
They have a full service liquor bar with a lot of specialty drinks including various frozen concoctions.
A nice gift shop in the restaurant offers a lot of Snook Inn and Marco Island souvenirs and other items.

---
---
---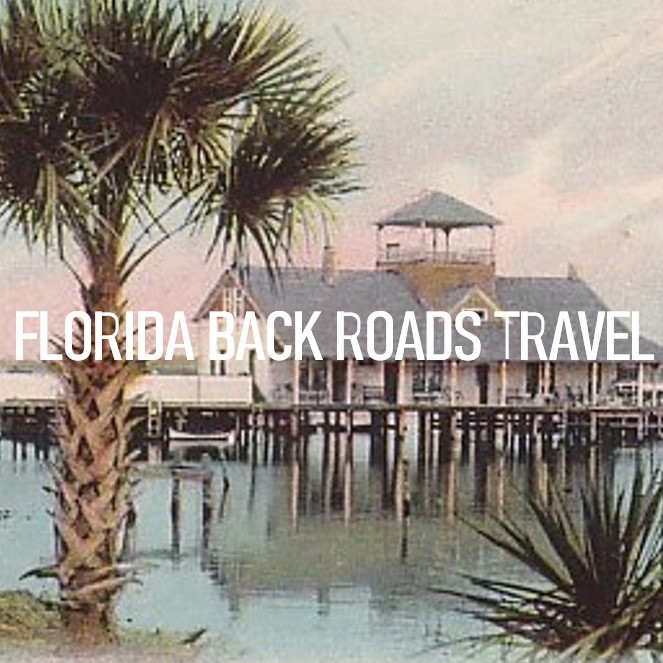 Our Facebook page has more than 107,251 followers who love off the beaten path Florida: towns, tourist attractions, maps, lodging, food, festivals, scenic road trips, day trips, history, culture, nostalgia, and more. 
Take a look. If you enjoy what you see, please give us a like.
---
---
Florida Back Roads Travel is not affiliated with or endorsed by Backroads, a California-based tour operator which arranges and conducts travel programs throughout the world.
By Mike Miller, Copyright 2009-2021 Florida-Back-Roads-Travel.com