MARCO ISLAND, FLORIDA
Marco Island, Florida Things To Do, Lodging, Dining, & Real Estate At End Of Article
Marco Island is the largest and northernmost of Florida's Ten Thousand Islands.  It is about 28 miles south of Naples and its population is about 15,760.
HISTORY OF MARCO ISLAND, FLORIDA
For many years it was inhabited by the fierce Calusa Indians. The first white settlers were W. T. Collier, his wife and their 9 children.  They came to the island in 1870. 
In 1896, W. T. Collier's son, Captain Bill Collier, opened a 20 room hotel which still stands today, the Olde Marco Inn.
This is not the same Collier family as the one that developed Everglades City and much of southwest Florida. That was Barron G. Collier.
Marco's early history was very quiet, but from 1908 to 1947 the Doxsee Clam Company was the biggest industry on the island.
The company harvested, steamed and canned clams from the waters around Marco Island until the clam beds were exhausted.
The trailer park shown in the picture above was owned by the Doxsee family.
After the clam cannery closed, Barron Collier bought most of the island from the other Collier family. There was almost no development on Marco Island.
MARCO ISLAND, FLORIDA IN MODERN TIMES
The quiet isolation of Marco Island changed in 1964 when the Deltona Corporation, headed by the Mackle Brothers, bought the island.
They began to develop the entire island as a beachfront resort and residential community laced with an network of dredged canals. 

The mangroves were removed from much of the island, and canals were dredged and the material used to create lots. 
Much of this work was done before people had developed a complete understanding of the environmental damage that would be caused by mangrove removal.
It was a very successful project, financially, in spite of some major permitting problems, and waterfront lots and homes were sold to eager buyers all over the world on the installment basis.
The 50 room Marco Island Hotel was one of the nicest in southwest Florida when it was built in 1965 at the same time the Marco Island community was officially opened.
Marco Island is now a modern place with some of the nicest condos, hotels, and restaurants in the state.
From a quiet fishing village of 550 people in 1960, it has grown to a major city with a population of almost 16,000.

---
THE CAPE ROMANO DOME HOUSE
Cape Romano is in the Ten Thousand Island a few miles south of Marco Island.  It was the site of some strange structures that until recently fascinated visitors to the area.
The 6 domed structures sitting on stilts about 300 feet from the shore were built in the late 1970s and early 1980s what was then dry land on Cape Romano.
Erosion of the land over the years resulted in these domes sitting isolated over the water.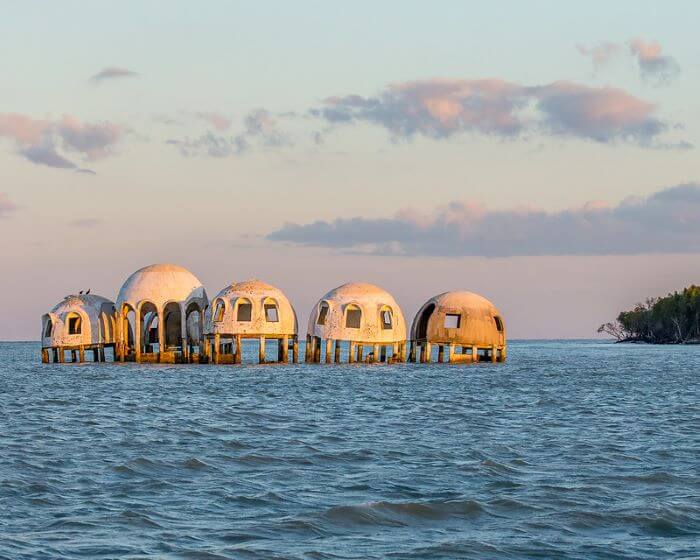 Cape Romano Dome House in 2016
Flickr/Andy Morffew
The domes were originally designed and built by Bob Lee to be his vacation home. The family finally abandoned the home in 1992 after it was damaged by Hurricane Andrew.
It was then bought by John Tosto from Naples who hoped to move it back to dry land and renovate it. 
He encountered the combined resistance of local, state, and federal regulatory agencies and had to give up the project. 
The State of Florida now owns the home.  Two of the domes collapsed during subsequent hurricanes.  
The final dome home was finally destroyed by Hurricane Ian in September 2022, but many people remember seeing the dome homes in their prime.
---
THINGS TO DO ON MARCO ISLAND FLORIDA
Relax on the pristine beaches: Marco Island is famous for its beautiful, white-sand beaches that stretch along the Gulf of Mexico. Visitors can spend their day sunbathing, swimming, or searching for seashells at popular spots like Tigertail Beach and South Marco Beach. For more information about Marco Island's beaches, visit the City of Marco Island website.


Explore the Rookery Bay National Estuarine Research Reserve: This 110,000-acre reserve features a unique ecosystem where freshwater from rivers and saltwater from the Gulf of Mexico mix. Visitors can take guided tours, kayak through mangrove forests, or learn about the area's wildlife at the Environmental Learning Center. For more information about the Rookery Bay Reserve, visit their website.


Take a dolphin and wildlife cruise: Marco Island is home to a diverse array of marine life, including dolphins, manatees, and various bird species. A wildlife cruise is an excellent way to experience the island's natural beauty and get up close with some of its most fascinating inhabitants. 


Discover the history at Marco Island Historical Museum: This museum provides a fascinating insight into the history of Marco Island and its early inhabitants, the Calusa Indians. The museum features engaging exhibits, including a recreated Calusa village, and displays of ancient artifacts. For more information about the Marco Island Historical Museum, visit their website.


Enjoy watersports and outdoor activities: Marco Island offers a variety of watersports and outdoor activities for adventure enthusiasts. Try your hand at paddleboarding, kayaking, jet skiing, or parasailing to make the most of the island's beautiful surroundings. For more information about watersports and outdoor activities, visit the Marco Island Water Sports website.


Go on a shelling tour: The beaches of Marco Island are known for their abundance of seashells, making shelling a popular activity for visitors. Guided shelling tours can take you to the best spots for finding unique and beautiful shells, while also teaching you about the island's marine life. For more information about shelling tours, visit the Marco Island Shelling Tours website.


Embark on a fishing adventure: The waters surrounding Marco Island are teeming with fish, making it an angler's paradise. Book a fishing charter to explore the backwaters, estuaries, or offshore fishing grounds, and reel in a memorable catch. 


Play a round of golf: Marco Island is home to several beautiful golf courses that cater to players of all skill levels. Enjoy a round of golf amid picturesque settings and well-maintained greens at courses like The Island Country Club or Eagle Lakes Golf Club. 
---
 ALL ABOUT MARCO ISLAND, FLORIDA
---
MARCO ISLAND FLORIDA GOOGLE INTERACTIVE MAP
---
---
---
---

Our Facebook page has more than 128,577 followers who love off the beaten path Florida: towns, tourist attractions, maps, lodging, food, festivals, scenic road trips, day trips, history, culture, nostalgia, and more.  We post articles every day.  Please check it out and if you like it, we would appreciate a "like" from you.
---
By Mike Miller, Copyright 2009-2023
Florida-Back-Roads-Travel.com
Florida Back Roads Travel is not affiliated with or endorsed by Backroads, a California-based tour operator which arranges and conducts travel programs throughout the world.