MARINELAND, FLORIDA
9600 Oceanshore Blvd.
St. Augustine, Florida 32080
Tel:  904-471-1111
Marineland is still a tourist attraction, but it is much more than that. It is a historical site, an incorporated town with a population of 8, and a landmark in Florida history.
It is located on Florida State Road A1A about 13 miles south of St. Augustine Beach and 15 miles north of Flagler Beach.
It did not start out as a place where you could go swimming with dolphins, but that's what it is today.
When I moved to Florida in 1960, this was one of the most popular Florida tourist attractions.
It had spectacular dolphin shows in a large marine stadium on the Atlantic ocean.
It was the world's first oceanarium, and people flocked to it to see the marine animals. They especially loved to see the dolphins perform.
The old postcard below shows "Pudgy the Porpoise" performing at Marine Studios.  The problem is, Pudgy is really a dolphin.
A little research, however, shows that Pudgy was a dolphin, not a porpoise. 
There is a perceptible difference although most people use the terms interchangeably.
Dolphins have pronounced beaks and triangular shaped teeth, and a dorsal fin that hooks to the rear of the animal.

Porpoises look more like whales, and have a dorsal fin that is more triangular shaped without the pronounced hook of their dolphin cousins.
MARINELAND BEGAN AS A MOVIE STUDIO
Marineland was first conceived by W. Douglas Burden, Cornelius Vanderbilt Whitney, Sherman Pratt and Count Ilya Tolstoy as an oceanarium that could be used to film marine life.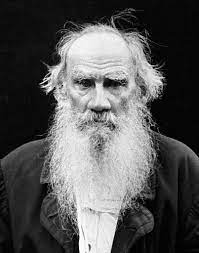 Count Leo Tolstoy
Count Ilya Andreyevich Tolstoy was born in 1903 in Russia and died in 1970 in New York City. 
He was the grandson of the great Russian writer Count Leo Tolstoy. 
Not only was he one of the founders of Marineland, he was also a U.S. Army Colonel in the OSS and President Franklin D. Roosevelt's envoy in Tibet.

The facility opened as Marine Studios in 1938, and was instantly the most popular of all Florida tourist attractions.
It was also an incorporated town with a couple of dozen residents.  One of its earliest council members was Florida writer Vernon Lamme.

Some estimates say that 900,000 visitors a year came to visit Marineland in its prime.
In 1940, Marineland was incorporated as a Florida town.
Not only did the tourists love the attraction, many movies were partially filmed there.
One of my favorite horror flicks, "Creature From The Black Lagoon", was filmed here.
There was a hotel and Moby Dick's Bar right next door on the ocean.
The bar attracted famous people from Florida such as Ernest Hemingway and Marjorie Kinnan Rawlings.  Mrs. Rawlings had a beach house not far north of Marineland.
Marjorie's husband, Norton Baskin, managed the Dolphin Restaurant and its Moby Dick's Bar for many years.
The marina provided a haven for cruising yachts on the adjacent Intracoastal Waterway. I stayed there once more than 20 years ago.
My son Lee and I spent two days enjoying the various exhibits and shows.
After Walt Disney World opened in 1971, Marineland's attendance increased even more as new tourists flocked to Florida. 
When SeaWorld opened in Orlando in the 1970s, however, Marineland was doomed.
Falling revenues, rising maintenance costs and competition from the newer Florida tourist attractions were hurting it.
A couple of hurricanes came along and finally killed the original attraction. The original tanks, buildings and marina docks were finally demolished in 2003.
MARINELAND, FLORIDA TODAY
In 2006, the new Marineland emerged from the ashes of the old.

The new attraction is worthy of a visit, although there are no more mind boggling shows with dolphin riders or tricks in a big marine stadium.
The new attraction has become an educational facility, and is still an experience in nostalgia.
One of the experiences now is the ability to participate in activities at the Dolphin Conservation Center.
This facility has a 1.3 million gallon tank that provides several dolphin habitats.  
You can see these creatures up close and even swim with them.   They are amazing and intelligent animals.
Marineland had three bottlenose dolphins born at the Dolphin Conservation center in July 2008.
Two of them were males and one was female. The calves were named in November 2008.
After your visit here, you will always appreciate the beauty and value of our dolphin neighbors.
Some of my dolphin friends have told me they are glad they don't have to jump through hoops anymore.
Their relatives are still doing it at other Florida tourist attractions.
General admission guests are able to view the dolphins through 6 by 10 foot acrylic windows as they swim, play, and interact with guests in programs.
Inquire at the office for details of other adventures such as swimming with dolphins.  Marineland has several programs with varying price levels.
MARINELAND HOURS
Hours of Operation: 9:00am – 4:30pm everyday, except Thanksgiving and Christmas.
For current information, visit the website of Marineland.
MARINELAND, FLORIDA INTERACTIVE GOOGLE MAP
---
DIRECTIONS TO MARINELAND, FLORIDA
From The North
Travelers on I-95 South: Take Exit 305 to State Road 206. Turn left off the exit, follow to SR-A1A. Turn right onto A1A heading south. Marineland is 7 miles ahead on your left.
From The South
Travelers on I-95 North: Take exit 289 into Palm Coast. Turn right off the exit onto Palm Coast Parkway. Follow and cross over toll bridge ($2 for 2 axle vehicles). Turn left at bottom of bridge, following sign to A1A. Turn right onto A1A heading north. Marineland is 8 miles ahead on your right.
---

Our Facebook page has more than 128,577 followers who love off the beaten path Florida: towns, tourist attractions, maps, lodging, food, festivals, scenic road trips, day trips, history, culture, nostalgia, and more.  We post articles every day.  Please check it out and if you like it, we would appreciate a "like" from you.
---
By Mike Miller, Copyright 2009-2023
Florida-Back-Roads-Travel.com
Florida Back Roads Travel is not affiliated with or endorsed by Backroads, a California-based tour operator which arranges and conducts travel programs throughout the world.