Mayport, Florida
Mayport is located at the mouth of the St. Johns River about 25 miles east of Jacksonville, Florida. It is a small working fishing village in the shadow of Naval Station Mayport, one of the largest naval ports on the Atlantic coast.

The easiest way to get to Mayport is to take State Road A1A north from Atlantic Boulevard in Jacksonville Beach until it dead ends at the river. You will be in Mayport, and can take the car ferry across the St Johns River to a continuation of A1A that will take you up to Amelia Island and Fernandina Beach. The historic lighthouse in Mayport was built in 1858, and there are several other historic buildings remaining in town.

Nobody knows for sure when Mayport was first settled. Guesses range from 1562 when the French first settled in the area to 1828 when the area started to grow. The original settlers were fishermen.
Mayport developed a tourist industry in the late 1800s and sported several hotels and taverns. The railroads used to go through Mayport, but they were abandoned in 1919. There wasn't much going on in Mayport until World War Two.
The sleepy village of Mayport was awakened in 1942 when the government dredged a harbor, built a runway and created Naval Station Mayport. When I was in the Navy years ago, I was stationed at Naval Station Mayport aboard the destroyer U.S.S. Myles C. Fox (DDR-829).
Many other ships were in the harbor at the same time including the aircraft carrier Franklin D. Roosevelt. Main road traffic to and from the village of Mayport does not go through the Naval base; base traffic largely heads south to the Jacksonville Beach area on a separate road.
The view above is of Naval Station Mayport looking west up the St Johns River. You can see the village of Mayport along the river on the right hand side of the photo. The village is clustered along the single airstrip that serves the base.
A favorite Mayport restaurant is Singleton's Seafood Shack.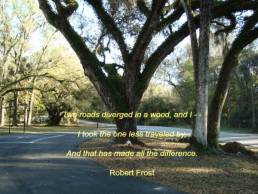 Over 65,000 followers can't be wrong. Learn about off the beaten path Old Florida, historic towns, attractions,  festivals, scenic drives and more.
Like Us On Facebook
---
Return to Florida Backroads Travel Home