Paynes Prairie Preserve State Park
PAYNES PRAIRIE PRESERVE STATE PARK
100 Savannah Blvd, Micanopy, FL 32667
Tel: 352-466-3397
September 7, 2021
Paynes Prairie Preserve State Park is a 22,000 acre ecosystem with a mix of marshes and wooded areas. It is located between Gainesville and Micanopy in North Central Florida.
It is crossed by I-75 and US-441, and is a U.S. National Natural Landmark.  The visitor center is near Micanopy.
HISTORY OF PAYNES PRAIRIE
When Spain owned Florida they established the La Chua ranch in this area.  By the end of the century it became the largest cattle ranch in Spanish Florida at more than 55,000 acres.
The Spanish abandoned the ranch and in the mid 1700s the prairie land came under the control of the Alachua band of the Seminole tribe under their chief, Ahaya the Cowkeeper.  
Their headquarters was located near the present day town of Micanopy.  The prairie takes its name from Ahaya's son, King Payne.
The naturalist William Bartram visited the prairie in 1774, visited with Ahaya, and called it the Great Alachua Savannah.

The Paynes Prairie drainage basin (land surrounding the prairie) drains naturally into a sinkhole near the center of the prairie.
During periods of heavy rain or blockage of the sinkhole, the prairie fills up with water.
One long period was from 1871 to 1891 when the sinkhole was temporarily blocked and the prairie became known as Alachua Lake.  Steamboats were a common site on the lake during this period.
The most recent flooding happened after Hurricane Irma brought with it large amounts of rain in 2017.  The prairie was flooded for several months.
This state park is very popular with outdoor adventurers, naturalists, hikers, birdwatchers and cyclists.
The prairie became the state's first preserve in 1971.  It has a large variety of ecological areas that furnish abundant habitats for wildlife and even domestic livestock.
You are likely to see many of the almost 300 species of birds, along with alligators, turtles, and snakes. 
Unlike most preserves, you are also likely to see bison and wild horses.
The preserve has more than 30 miles of trails for hikers, cyclists, and horseback riders.
The Gainesville-Hawthorne Trail makes up 15 of those miles.  It is a paved rails to trails route.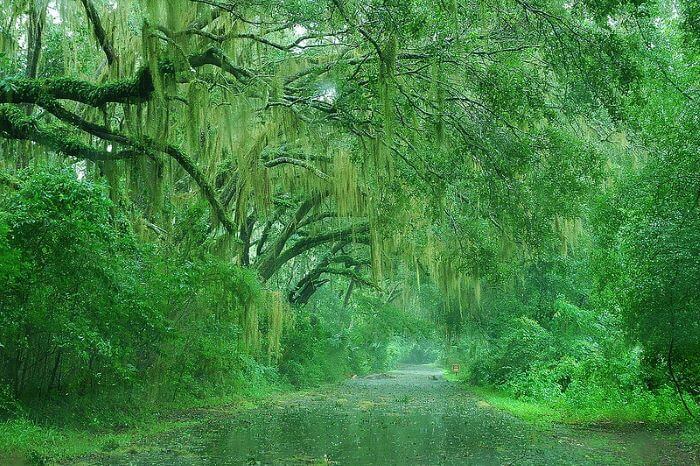 Paynes Prairie La Chua Trail Camp Ranch Road
Flickr/gatorgalpics
The preserve has four observation platforms that get you up high enough to see for miles around.  One of these is a 50 foot tall tower near the Visitor Center.
The Visitor Center is open from 9am tp 4pm daily and has numerous interpretative exhibits.

More information about current conditions and events: 
PAYNES PRAIRIE PRESERVE STATE PARK WEBSITE
---
INTERACTIVE GOOGLE MAP PAYNES PRAIRIE
---
---
---

Our Facebook page has more than 114,695 followers who love off the beaten path Florida: towns, tourist attractions, maps, lodging, food, festivals, scenic road trips, day trips, history, culture, nostalgia, and more.  We post articles every day.  Please check it out and if you like it, we would appreciate a "like" from you.
---
SUBSCRIBE TO OUR FREE EZINE
---
Florida Back Roads Travel is not affiliated with or endorsed by Backroads, a California-based tour operator which arranges and conducts travel programs throughout the world.
By Mike Miller, Copyright 2009-2021 Florida-Back-Roads-Travel.com