PORT ST. JOE, FLORIDA
Port St. Joe, Florida Things To Do, Lodging, Dining, & Real Estate At End Of Article
Port St. Joe is on Florida's "Forgotten Coast" at the intersection of US-98 and State Road 71 about 23 miles west of Apalachicola in Gulf County. Its population is about 3,400.
Cape San Blas Lighthouse and Buildings
Photographic Destinations by Bob Kyle
The Forgotten Coast is the stretch along the Gulf Coast in the Florida panhandle along US-98 between Mexico Beach and Shell Point and St. Marks.
---
PORT ST. JOE, FLORIDA HISTORY
---
The town of St. Joseph was founded in 1835. As a deepwater seaport, shipping through the bay was abundant, followed by the railroad coming in, and the small town became a bustling port.
It quickly grew into the largest city in the state of Florida at the time, with 12,000 residents by 1837.
In 1838 delegates arrived to draw up the first State Constitution here, in preparation for Florida becoming the 27th state in 1845.
The town's prosperity did not last however. There was a large fire in 1841, and it was one of the early victims of several coastal yellow fever epidemics, causing many of those who survived to leave.
By 1842 residents were numbered to be only 400-500.
T. H. Stone Memorial St. Joseph Peninsula State Park
This was followed by destructive hurricanes in 1843 and 1851. The storms destroyed railroad equipment on top of a decline in cotton prices, and the railroad went bankrupt. By this point the town was largely abandoned.
A new town was founded nearby when the railroad returned to the area in 1909. Town founders decided on the more casual name of "Port St. Joe" and that's what it's been named ever since.
The Town of Port St. Joe is on the shore of St. Joseph Bay, an arm of the Gulf of Mexico that is about 15 miles long in the north-south direction and 6 miles wide.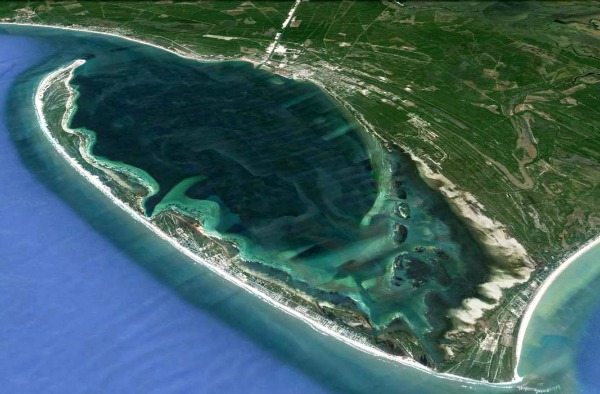 St. Joseph Bay and Port St Joe, Florida
For most of the twentieth century, Port St. Joe was known to tourists and Floridians as a smelly paper mill town.  
The St. Joe Company opened a large paper mill in 1938 and the town prospered with good jobs in the mill and surrounding forests.

Tourists, however, usually sped through the town to get away from the stinky paper mill smell. 
Locals, however, said it smelled like "bread and butter" to them.
The mill closed in 1999 and along with it went most of the area's good paying jobs.  Unemployment soared to 20%.  The town lost half its population. 
The buildings on the mill site have since been demolished, leaving a large open site on St. Joseph Bay that will no doubt be developed. 

---
PORT ST. JOE, FLORIDA TODAY
---
That's the bad news, especially if you worked at the paper mill.
The good news is that tourists rediscovered Port St. Joe and started coming to stay again on their weekends and vacations, finding it a great place to build vacation homes and permanent residences.
The Port St. Joe area became known as the lost city, and visitors were (and still are) drawn to its natural beauty, finding a restful respite from the rush of life in busier areas.
The Forgotten Coast is a name created by local chambers of commerce after the paper mill closed to describe this area of the Gulf coast and generate some enthusiasm for tourism.
Many of the permanent residents of this coast say it's one of the best things about it, and want to remain forgotten, and send me emails asking me to stop writing about their quiet area of the state. 
Sorry, too late!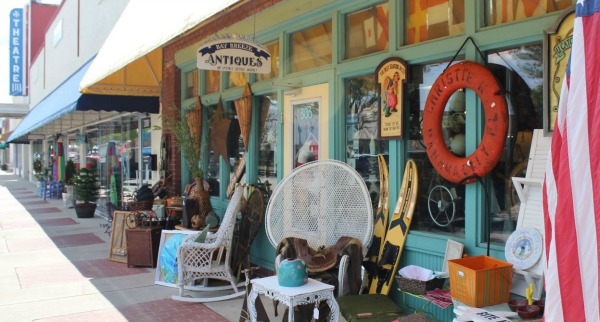 Shops on Reid Avenue, Port St. Joe
St. Joseph Peninsula is the barrier island that protects the waters of the bay.  
Most of the peninsula is taken up by the nine mile long St. Joseph Peninsula State Park with some of the finest beaches in the world.
This brings visitors from around the world coming to have a great time in the water, from fishing and boating to snorkeling and shelling.
The peninsula also has the largest number of Loggerhead Sea Turtles in northwest Florida, and they nest from May to October.
Several years ago Dr. Beach pronounced it the best beach in the United States.
The bay has a narrow opening to the Gulf on its north end and is connected to the mainland on the south through Cape San Blas.
The bay is known for its abundant scallop population and many people flock to the area for scallop season between July 1 and September 24.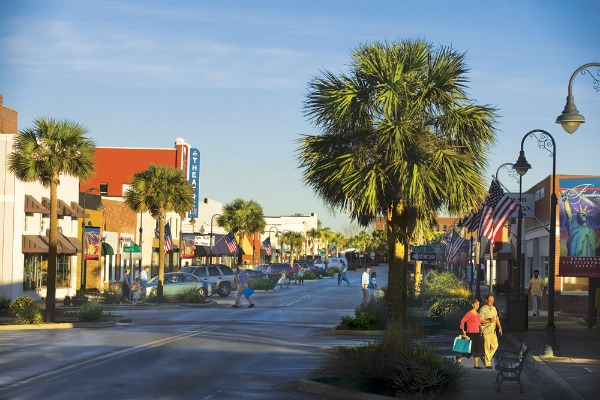 Downtown Port St Joe, Florida
These physical advantages made Port St. Joe an important early port in this part of the state, and the port still has an active operation.  
Even when the Gulf of Mexico is rough and stormy, the bay stays nice and calm and perfect for boating and fishing.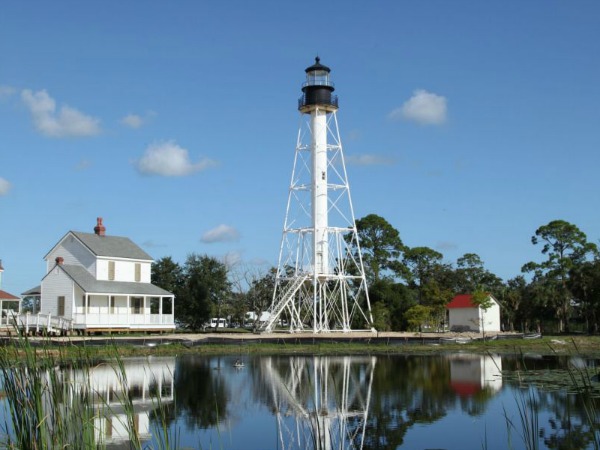 Cape San Blas Lighthouse Relocated to Port St Joe
A popular spot to visit in town is the Cape San Blas Lighthouse that was relocated some years ago from the cape into Port St. Joe.
Modern Port St. Joe has nice marinas, motels and inns, many restaurants and shops, and is emerging as a laid back tourist destination.
Local governments have so far done a good job of preventing the proliferation of high rise hotel and condos that soar above the not so forgotten coast to the west.
---
RECOMMENDED RESTAURANT
Krazyfish Grille
113 Monument Avenue
Port St. Joe, Florida 32456
Tel: 850-229-7878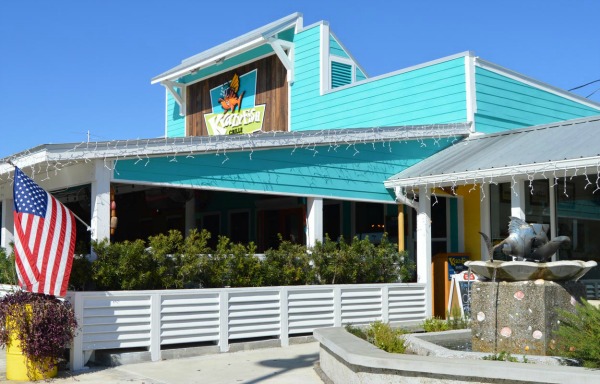 Locals and visitors to the Forgotten Coast have an easy time remembering Krazy Fish.  They come on a regular basis not only from Port St. Joe but  from the beach towns in either direction.
Krazyfish uses locally sourced fresh food and their most popular items are made daily.  For a restaurant with such an extensive seafood menu, the owner, Mark Haddock, has an especially appropriate name.
Read more about Krazyfish Grille.
---
ALL ABOUT PORT ST. JOE FLORIDA
---
PORT ST. JOE INTERACTIVE GOOGLE MAP
---
---
---

Our Facebook page has more than 127,538 followers who love off the beaten path Florida: towns, tourist attractions, maps, lodging, food, festivals, scenic road trips, day trips, history, culture, nostalgia, and more.  We post articles every day.  Please check it out and if you like it, we would appreciate a "like" from you.
---
By Mike Miller, Copyright 2009-2023
Florida-Back-Roads-Travel.com
Florida Back Roads Travel is not affiliated with or endorsed by Backroads, a California-based tour operator which arranges and conducts travel programs throughout the world.