BRANCH RANCH DINING ROOM

1956-2006
When I lived in Tampa many years ago, a trip to the Branch Ranch Dining Room for dinner was a world class treat.
It was located in Plant City on Thonotosassa Road just east of Branch Forbes Road, and was only 3/4 mile north of the I-4 Branch Forbes Road exit.
A large part of its charm was its rural location.  In fast growing Florida, it gave you a feeling of visiting a friendly farmhouse frozen in time.
The beginnings of the Branch Ranch story go back to 1880 when Calfrey Leroy Branch homesteaded a 120 acre property.  The property was split up into 3 separate parcels of 40 acres, one for each of Branch's sons.
Mary Branch began cooking Sunday dinner for neighbors after spending her weeks working as a school teacher.  She needed the extra money because her husband was disabled with multiple sclerosis.
She charged $2.50 for her dinner.  Her food was so popular that the family home couldn't handle the crowd.
That's when the family decided to start a restaurant. They started by enclosing the back porch, and that porch was still there years later as a reminder of the restaurant's beginnings.
The Branch Ranch Dining Room opened for business in 1956 and was an instant success and a popular dining destination for the next 50 years. It expanded to a seating capacity of 400 people.
One of the walls in the Branch Ranch Dining Room had a portrait of founder Mary Branch and a large photo collection of her family and loyal staff.  
Many of the Branch Ranch staff worked there most of their adult lives and were like part of the family.  You could feel the good vibes when you ate at Branch Ranch.
She and her family ran the operation until it finally closed in 2006.  At the time it closed, it was owned and operated by her grandson and his family.

The menu was a treasure chest of comfort food.
Fried catfish, fried chicken, ham, pork roast, chicken pot pie and plenty of fresh vegetables.  They also featured a 16 ounce Porterhouse steak.
Each dinner began with a relish tray that included fresh veggies, small pickled beets, and crispy pickles. 
Their biscuits were fantastic, flaky and buttery, and were served with strawberry preserves, orange marmalade, and grape jelly.
Some favorite vegetables included green beans, squash, yams, and sweet potatoes.
Branch Ranch was also famous for its desserts, especially their homemade cakes.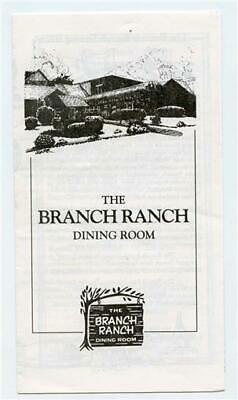 For many years they served only dinner, but in  more recent years they opened for lunch with a lighter menu.
In the earliest years of the restaurant, they had no liquor available. 
In the early 1980s they got a liquor license and you could have a drink or two with your meal.
The restaurant was popular both with tourists and locals.  Most of the Detroit Tigers baseball team ate there, driving in from their training camp in Lakeland.  
Other big name celebrities stopped by back in the day including Elvis Presley and Ken Curtis, the actor who played Festus on the popular Gunsmoke television series.
Today when you drive by on Thonotosassa Road you can see the old restaurant and the skeleton of the walkway canopy.
I wish someone would open an identical version of the old Branch Ranch.  Something tells me it would be a success.
If you are in the area, you will enjoy the nearby Keel Farms winery and brewery that specializes in blueberry wine.
---

Our Facebook page has more than 129,275 followers who love off the beaten path Florida: towns, tourist attractions, maps, lodging, food, festivals, scenic road trips, day trips, history, culture, nostalgia, and more.  We post articles every day.  Please check it out and if you like it, we would appreciate a "like" from you.
---
By Mike Miller, Copyright 2009-2023
Florida-Back-Roads-Travel.com
Florida Back Roads Travel is not affiliated with or endorsed by Backroads, a California-based tour operator which arranges and conducts travel programs throughout the world.