GLEN ST. MARY,  FLORIDA
Glen St. Mary, Florida Things To Do, Lodging, Dining, & Real Estate At End Of Article
Glen St. Mary, Florida is on U.S. Highway 90 just west of Macclenny and about 33 miles west of Jacksonville.   It is a tiny incorporated town of less than 500 people. 
The town is separated from Macclenny by the marshy flood plain of the south prong of the St. Marys River.
The town's website says that in 2004 Glen St. Mary was designated Florida's Outstanding Rural Community of the Year.  The website provides no further information.
We are assuming that the award was given by the U.S. Department of Agriculture Rural Development in Florida.
This agency presents the award each year to one rural community that "has engaged in significant efforts" to improve the quality of life for its citizens.
GLEN ST. MARY, FLORIDA HISTORY
The first non-Native American settlers in Glen St. Mary were Daniel John Mann and his wife LeVicy.  They arrived in 1829 and began a small farm.
The area grew slowly and was known as the "Cotton Field."
After the Civil War, with the cotton operations abandoned, settlers began to come down from the war devastated Southern States such as Georgia and South Carolina.
There was also an influx of Northerners who bought land for back taxes that Southerners were unable to pay.

These Northerners were known by locals and other Floridians as "Carpetbaggers," a derogatory term for Yankees who took advantage of Southerners after the war.

Another Northerner from Chicago purchased  abandoned cotton fields near the St. Marys River and planted an orchard.  This grew into the 1,600 acre Glen St. Mary Nursery Company.

The Great Freezes of 1894 and 1895 did tremendous damage to the nursery plants. 
The North Florida operation barely survived, and expanded its operation into South Florida and supplied plants to buyers throughout the world.
Among their products were the Satsuma Orange, Temple Orange, Kumquat, and Magnolia St. Mary.   Much of this production was from original Glen St. Mary Nursery Company stock.
Big things happened in this little community near the end of the 1800s.  A developer from Ohio named Alverdo Geitgey bought 12,700 acres in Baker County.
He platted out the town and named the streets after U.S. Presidents and some of the plants grown by the nursery.
GLEN ST. MARY, FLORIDA TODAY
This small town has many of the businesses you see in little communities all over Florida. 
There are hardware stores, several churches, a few convenience stores and a Dollar General.
Baker County High School is also located in Glen St. Mary.  The school's athletic teams are known as the "Wildcats." 
The school has grades 9 through 12 and an enrollment of about 1,400 students.
U.S. 90 is known locally as Mt. Vernon Street as it passes through town. There a few restaurants in the downtown area.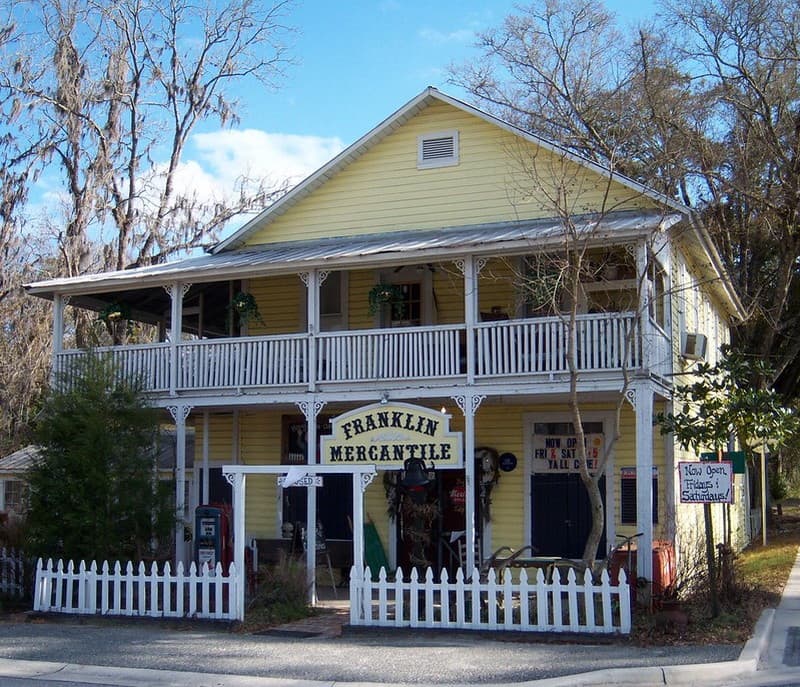 Franklin Mercantile, Glen St. Mary
Flickr/Brenda
Franklin Mercantile is an antique store in downtown Glen St. Mary at 7184 East Franklin Street. 
It's at the corner of S. Glen and Franklin. The store is noted for its art gallery and a nice selection of antiques.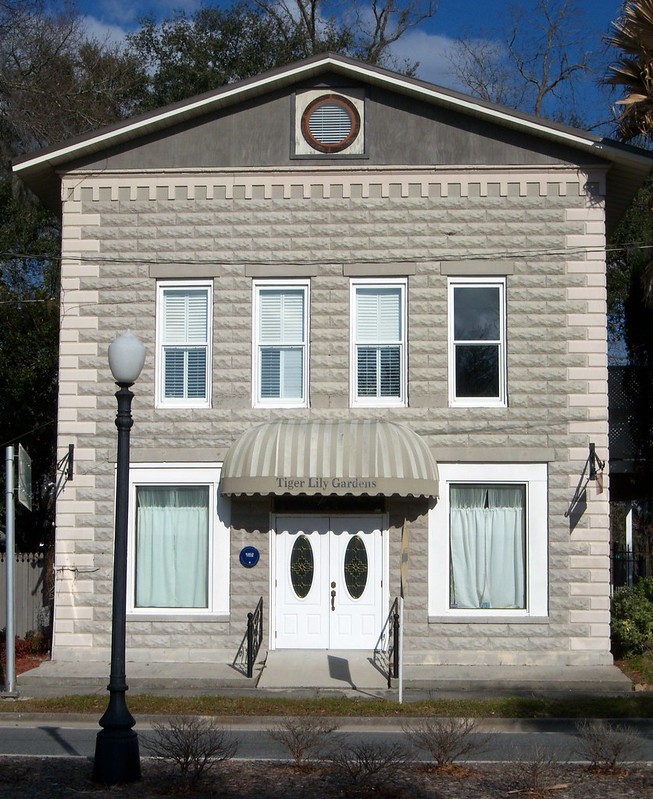 Victorian Era Home, Glen St. Mary
Flickr/Brenda
The residential neighborhoods in Glen St. Mary are a mix of mobile homes, newer modern homes and old wooden houses that have been around for a long time.
The town is not fancy, it is a real town with real people who live and work here or in nearby Macclenny. 
Although the town is old, it appears to be neat and well maintained.

Glen St Mary is one of the historic towns featured on:
OLD FLORIDA TOWNS ON U.S. HWY 90

---
GLEN ST. MARY,  FLORIDA INTERACTIVE GOOGLE MAP
---
---

Our Facebook page has more than 129,275 followers who love off the beaten path Florida: towns, tourist attractions, maps, lodging, food, festivals, scenic road trips, day trips, history, culture, nostalgia, and more.  We post articles every day.  Please check it out and if you like it, we would appreciate a "like" from you.
---
By Mike Miller, Copyright 2009-2023
Florida-Back-Roads-Travel.com
Florida Back Roads Travel is not affiliated with or endorsed by Backroads, a California-based tour operator which arranges and conducts travel programs throughout the world.