Green Cove Springs, Florida
Green Cove Springs is a small town on the west bank of the St. Johns River about 28 miles south of Jacksonville. It's a nice little town of shaded streets and fine old homes in quiet neighborhoods on either side of busy U.S. 17, the main north-south highway through town. 

This quiet little place of about 7,000 people seems like an unlikely place to have located one of the U.S. Navy's largest mothball fleets at the end of World War Two. By 1947, about 600 destroyers, destroyer escorts and fleet auxiliaries were the most prominent sight in this riverfront town.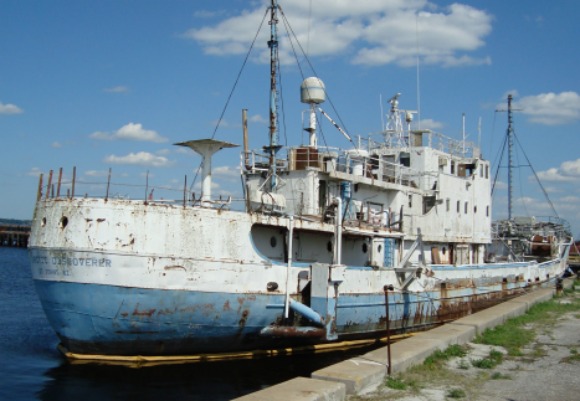 Green Cove Springs, Florida 2014 - Arctic Discoverer
The Navy built huge concrete docks projecting out into the river to dock the ships. By 1962, the fleet was largely gone, parceled out to other U.S. Navy locations and foreign countries for their navies. The docks remain, but with only a few modern yachts in a small marina setting along with older ships waiting to be purchased or scrapped.

 Only a few old timers like me remember when the huge fleet dominated the town and was the first sight you saw when coming from the east on the Shands Bridge over the St. Johns River on State Road 16.

I like to ride my bike in Green Cove Springs. The neighborhoods between U.S. 17 and the river are very quiet and have plenty of sidewalks and safe streets for riding. I park my car downtown in a riverside park, take my bike off the rack and ride all over the place, including to the old Navy base for a look at what ships are currently there. There is a sidewalk along the busy highways that allows you to ride safely to the docking area on the river.

The view above is of one of the many beautiful well maintained homes in the neighborhood along the St. Johns River.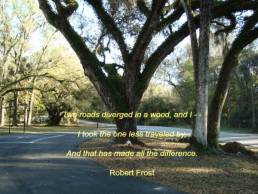 Over 65,000 followers can't be wrong. Learn about off the beaten path Old Florida, historic towns, attractions,  festivals, scenic drives and more.
Like Us On Facebook
---
Return to Florida Backroads Travel Home