HARRIET BEECHER STOWE
Harriet Beecher Stowe was born on June 14, 1811 and died on July 1, 1896.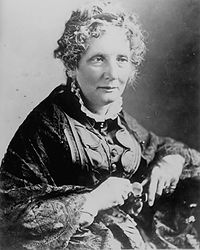 She was one of Florida's first "snow birds", wintering at her home on the St Johns River near Jacksonville.

Her most famous novel, "Uncle Tom's Cabin", depicted life for African-Americans under slavery.

The book reached millions as a novel and play, and became influential in the U.S. and Britain and made the political issues of the 1850s regarding slavery seem real and horrible to millions of people.
The novel energized anti-slavery forces in the American North, while provoking widespread anger in the South.
Upon meeting Stowe, Abraham Lincoln allegedly remarked, "So you're the little woman that started this Great War!"
Born in Litchfield, Connecticut, Beecher Stowe was the daughter of an outspoken religious leader, Lyman Beecher.  She was the sister of the educator and author, Catherine Beecher, clergymen Henry Ward Beecher and Charles Beecher.
Harriet Beacher Stowe:  One of Florida's First Snowbirds
In the 1870s and 1880s, Stowe and her family wintered in Mandarin, south of Jacksonville on the St. Johns River.  Mandarin can be reached by following State Road 13 south out of Jacksonville along the eastern bank of the St. Johns River.
Stowe wrote "Palmetto Leaves" while living in Mandarin, an early promotional book directed at Florida's potential Northern investors at the time.
The book was published in 1873 and describes Northeast Florida and its residents. Stowe shows an ideal life of picnicking, sailing and river touring expeditions.
In 1870, Stowe created an integrated school in Mandarin for children and adults. This was an early step toward providing equal education in the area and predated the national movement toward integration by more than a half century.
The marker commemorating the Stowe family is located across the street from the former site of their cottage.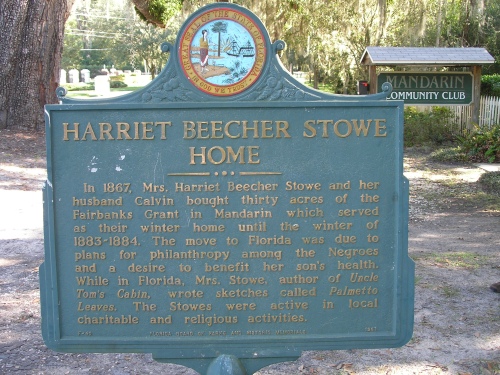 It is on the property of the Community Club, at the site of a church where Stowe's husband once served as a minister.
The Harriet Beecher Stowe Garden is a nice place to visit at the Mandarin Museum. The three raised beds feature crops grown in Mandarin in the 19th Century.
Some of the crops were mentioned in "Palmetto Leaves" in the chapter entitled "Our Experience in Crops."
Some of Stowe's books include:
(1834) Mayflower
(1852) Uncle Tom's Cabin
(1853) A Key To Uncle Tom's Cabin
(1856) Dred, A Tale of the Great Dismal Swamp
(1859) The Minister's Wooing
(1862) The Pearl of Orr's Island
(1868) Men of Our Times
(1869) Old Town Folks
(1870) Little Pussy Willow
(1870) Lady Byron Vindicated
(1871) My Wife and I
(1871) Pink and White Tyranny
(1873) Woman in Sacred History
(1873) Palmetto Leaves
(1875) We and Our Neighbors
(1878) Poganuc People
(1890) The Poor Life
Some of her books are still available at Amazon.
Enjoy a podcast by Erin Thursby:  Harriet Beecher Stowe &Mandarin
---
Our Facebook page has more than 88,112 followers who love off the beaten path Florida: towns, tourist attractions, back road maps, lodging, festivals, highway maps, scenic road trips, day trips, history, culture, nostalgia, and more.
Take a look. If you enjoy what you see, please give us a like.
---
Subscribe to our Free Ezine, Florida Heritage Travel