MELROSE, FLORIDA
Melrose, Florida is a quiet little Victorian village about halfway between Gainesville and Jacksonville at the intersection of State Roads 26 and 21.
Indian Princess on Lake Santa Fe, State Archives, Florida Memory, https://floridamemory.com/items/show/39664
State Road 26 is a historic road.  It was the first federal highway built in Florida and it was completed while Florida was still a territory in 1824.  It was known then as Bellamy Road and connected St. Augustine to Pensacola.
When I was a student at the University of Florida, some of the staff and faculty lived in Melrose and made the drive each work day.  They valued the laid back quiet ambiance of the place.  That hasn't changed in the many years since I graduated.
The town takes its name from Melrose Abbey in Scotland.  The town originally existed to serve the booming citrus industry that was becoming quickly dominant in this region of north Florida.

Melrose is at the southern end of Lake Santa Fe, and a canal was dug from the lake to Lake Alto and then to Waldo, the nearest point on the railroad at the time.  From Waldo, citrus from Melrose and the surrounding region made it's way to northern markets on the railroad.

The giant freezes of 1894 and 1895 wiped out the citrus industry.  Local groves were destroyed, and most of the citrus growers relocated further south in Florida.  Melrose has survived in the years that followed as a quiet unincorporated residential community of about 3500 people. 
Many artists and writers are attracted to the town because of its quiet beauty.  The rustic streets, many of them unpaved, are canopied by ancient oaks draped with Spanish moss.  It is a quiet inviting atmosphere.

One of my favorite writers, the late Al Burt, retired here many years ago.  He wrote such Florida classics as "Becalmed In The Mullet Latitudes",  "Al Burt's Florida" and "The Tropic of Cracker".  
The famous rock and roll pioneer Bo Diddley lived for many years on a farm near Hawthorne, south of Melrose.  The musical legend is buried in Bronson, Florida, and has a major downtown square in Gainesville named after him.

There are 72 structures listed in the Melrose Historic District. The District is on the National Register of Historic Places.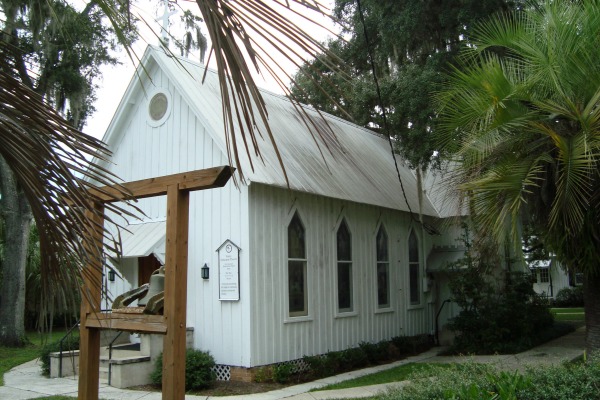 Among the structures is Trinity Episcopal Church, an example of Carpenter Gothic architecture.  The church is at 204 State Road 26.  Trinity was completed in 1886, and built completely using local materials.
Melrose, Florida Restaurant
Blue Water Bay, 319 State Road 26, Melrose, FL 32666.            Tel:  352-475-1928

---
---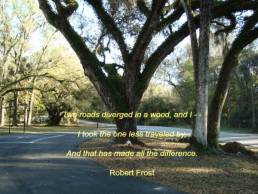 Over 65,000 followers can't be wrong. Learn about off the beaten path Old Florida, historic towns, attractions,  festivals, scenic drives and more.
Like Us On Facebook
Return From Melrose Florida To Florida Towns
Return To Florida Backroads Travel Home