MIKE MILLER


Mike Miller is the author of numerous books about Florida, including several travel guides.  He lives in Mount Dora, Florida.
Miller was an engineering project manager during the construction of Walt Disney World Florida in Orlando.  His first book - "What Would Walt Do?" - was written in 2000 and is an account of his experiences on that major project.
It discussed the influence that Walt Disney had on the quality of the project, even though he died before construction began.  In addition to "What Would Walt Do?", Miller has written numerous other books with Florida themes, including eight regional travel guides.
Some of the other books Miller has written are available as Kindle and paperback versions on Amazon.com and include:
What Would Walt Do?
How To Manage Diversity
Living Aboard A Boat
Florida Backroads Travel
Northwest Florida Backroads Travel
North Central Florida Backroads Travel
Northeast Florida Backroads Travel
Central East Florida Backroads Travel
Central Florida Backroads Travel
Central West Florida Backroads Travel
Southwest Florida Backroads Travel
Southeast Florida Backroads Travel
Florida Festivals
Florida Everglades
Florida Wineries
Florida Carpenter Gothic Churches
Florida Heritage Travel Volume 1
Florida Heritage Travel Volume 2
Florida Heritage Travel Volume 3
Florida One Tank Trips Volume 1

These books are available at Mike Miller's Amazon Author Page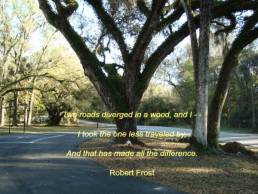 Over 60,000 followers can't be wrong. Learn about off the beaten path Old Florida, historic towns, attractions,  festivals, scenic drives and more.
Like Us On Facebook
Return To Florida Authors

Return To Florida Backroads Travel Home