NICEVILLE, FLORIDA
Niceville, Florida Things To Do, Lodging, Dining, & Real Estate At End Of Article
Niceville is actually a nice little city in the Florida Panhandle, along Choctawhatchee Bay. The bay is an inlet to the Gulf of Mexico connected to it through East Pass.
Although the area has a very old history, today it is a modern city in Okaloosa County with a population of about 16,000.
It is part of the Fort Walton Beach - Crestview - Destin Metropolitan Area, and located just northwest of Eglin Air Force Base. It is also home to Northwest Florida State College.
NICEVILLE FLORIDA HISTORY
The town of Niceville started its days being called Boggy, for the Boggy Bayou it sits on. The first homesteader settled in Boggy in the 1840s.
Being forest land, the location of the land along the opening of the bay, which made its way to the Gulf of Mexico, made it a perfect place to build the saw mill.
Milling and naval stores were a large part of the economy through the years.
The town did not escape the Civil War, and some of those early families were divided too, having members that served on both sides.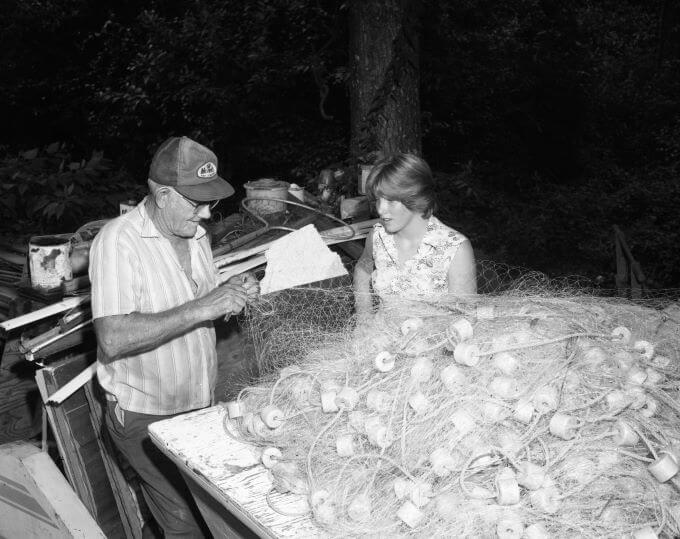 Niceville Man Mending Fishing Net
Florida Memory
After the war the US Government enacted the Homestead Act of 1862. This proved to be one of the popular options for many families looking to resettle in a new area, and was instrumental in establishing many towns across the country, including Boggy.

This Act allowed for any adult who had never borne arms against the US Government could claim 160 acres of surveyed land. After living on it for 5 years and improving it, the land became theirs.
Originally the town of Boggy included what is now known as Niceville's twin city of Valparaiso, which was split off.
The town of Boggy was renamed Niceville in 1910. The forested land was being cleared, the saw mill erected, also allowing for turpentine manufacturing, and shipbuilding along with commercial fishing all helped in establishing the town.
Railroad companies, who had bought land from the State, sold to lumber companies to help speed land clearing.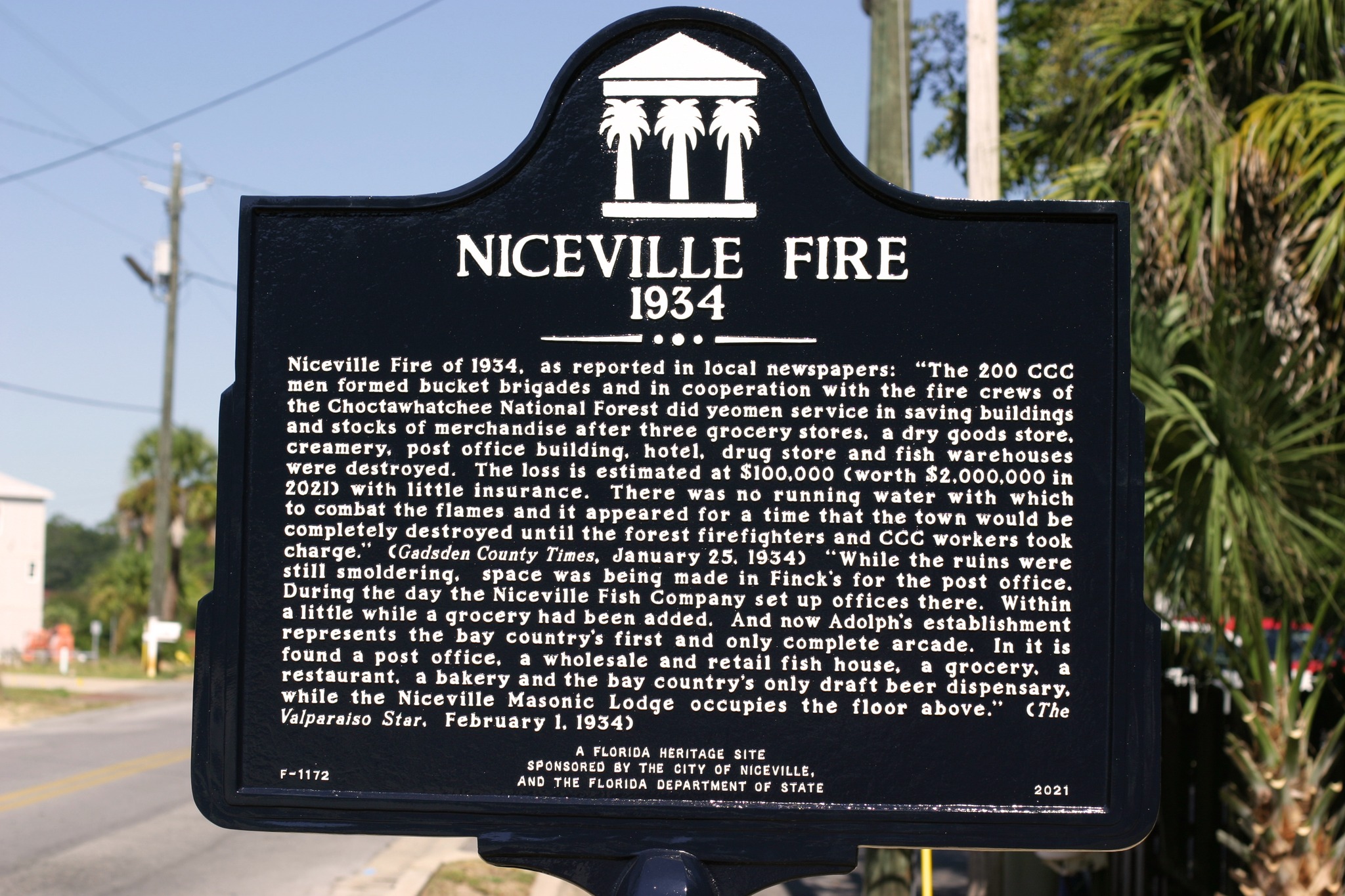 In 1934, a local fire destroyed most of the business section of the town, all built along Boggy Bayou.  It was reported to be around 2 million dollars in damages, with the Choctawhatchee National Forest fire crews ultimately stopping the spread of flames.
The townspeople helped each other rebuild, and one storeowner who was not affected allowed the others to set up shop in his building, leading to what is thought might have been the first arcade of shops in the country.
The area has the majority of bayous in Florida, and these are fed by the Choctawhatchee River. These slow-moving pools of water have been an important part of the ecosystem, the area's history and its culture.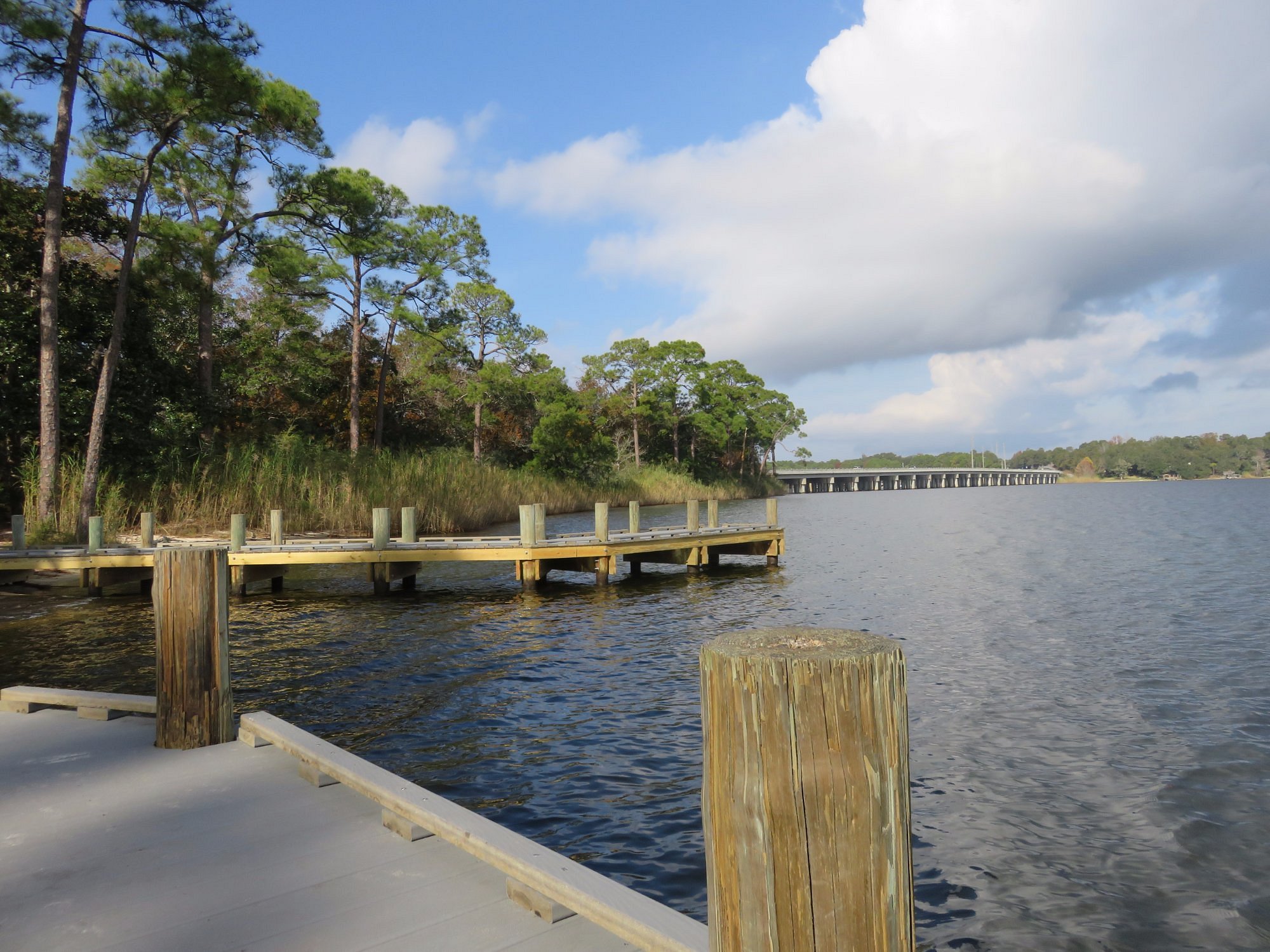 Niceville Rocky Bayou
Some of the most well known of these are the Boggy Bayou, LaGrange Bayou, and the Alaqua Bayou.

The county name, Okaloosa, was voted on and aptly named. It is a Muskogee Indian word for "black water", as the beautiful area lakes and and bayous are darkened from the tannin released from the many trees that line the water.
A Niceville Waterfront
This still-natural landscape is a highlight of the area. Visitors can enjoy two of Florida's popular State Parks.
The Tarkiln Bayou Preserve State Park, which has hiking trails and a boardwalk, as well as a more adventurous hike to Perdido Bay, is a great spot for birding and wildlife viewing.

The Fred Gannon Rocky Bayou State Park adds boating and fishing to its highlights.
Niceville is in the section of the Florida Pandhandle known as the Emerald Coast, known for its pristine beaches and blue-green water.
The best place to see this is to visit nearby Fort Walton Beach or further south, Destin Beach.
Niceville City Hall
Skye Marthaler, CC BY-SA 4.0 , via Wikimedia Commons
The town and surrounding area has plenty of shops and restaurants, and the best restaurants are often found overlooking the water. The Matty Kelly Arts Center at Florida State offers Broadway and theater shows, symphony performances and art exhibits.
There is also a nice golf course in Niceville, the Rocky Bayou Country Club, which is open to the public.
For many years, since 1977, Niceville hosted the popular annual Boggy Bayou Mullet Festival, but this was ended in 2019, due to declining enrollment and the Pandemic.
It was renamed Boggy Fest and taken over by a private party, and it may continue in some form in the future but this is unknown at this time.
Many of the current residents feel this friendly and quiet town is one of the best places in the US to live.
It has received several accolades in various publications, including one of the safest cities in Florida, one of the 50 safest college towns, and one of the best places to raise a family.
---
BLUEWATER BAY
Although not within the Niceville city limits, Bluewater Bay is considered an important part of the city's ambience.
Bluewater Bay Marina
Shutterstock
It is a well planned family oriented development on the shore of Choctawhatchee Bay a few minutes southeast of Niceville.
Established in the late 1960s, the community has many parks and walking paths, swimming pools, a tennis center, golf course, marina and more.  There are restaurants nearby and other shopping venues.
THINGS TO DO IN NICEVILLE
Turkey Creek Nature Trail - 340 John Sims Pkwy E - Enjoy a scenic walk through the woods and along the creek at this beautiful trail.
Fred Gannon Rocky Bayou State Park - 4281 SR 20 - Camp, hike, and fish at this stunning state park featuring bayous, sand pine scrub, and longleaf pine forests.
Mattie Kelly Arts Center - 100 College Blvd E - Catch a concert, play, or art exhibition at this performing arts center located on the Northwest Florida State College campus.

Niceville Children's Park - 200 Campbell Dr - Let your kids have a blast at this playground, which features swings, slides, and a splash pad.
Twin Oaks Park - 100 Partin Dr S - Play a game of soccer, have a picnic, or take a leisurely stroll at this spacious park, which also includes a playground.
Bluewater Bay Golf Club - 2000 Bluewater Blvd - Hit the links at this golf club, which offers two 18-hole championship courses and spectacular views of Choctawhatchee Bay.
Niceville Farmers Market - 1021 Palm Blvd - Shop for fresh produce, crafts, and more at this weekly farmers market held on Saturdays.
AJ's Oyster Shanty - Savor delicious seafood, burgers, and cocktails at this casual restaurant, which has been a local favorite for over 30 years.
Niceville Dog Park - 208 Partin Dr N - Let your furry friend run free at this off-leash dog park, which features separate areas for small and large dogs.
 ALL ABOUT NICEVILLE FLORIDA
---
NICEVILLE FLORIDA INTERACTIVE GOOGLE MAP
---
---
---

Our Facebook page has more than 128,577 followers who love off the beaten path Florida: towns, tourist attractions, maps, lodging, food, festivals, scenic road trips, day trips, history, culture, nostalgia, and more.  We post articles every day.  Please check it out and if you like it, we would appreciate a "like" from you.
---
By Mike Miller, Copyright 2009-2023
Florida-Back-Roads-Travel.com
Florida Back Roads Travel is not affiliated with or endorsed by Backroads, a California-based tour operator which arranges and conducts travel programs throughout the world.