CRESTVIEW, FLORIDA
Crestview, Florida Things To Do, Lodging, Dining, & Real Estate At End Of Article
Crestview, Florida is a city of about 25,000 people in the Florida panhandle about 50 miles east-northeast of Pensacola. It is the county seat of Okaloosa County.
The city of Crestview is known as the "Hub City" because of the intersection of I-10, US-90, State Road 85, and the Florida Gulf & Atlantic Railroad.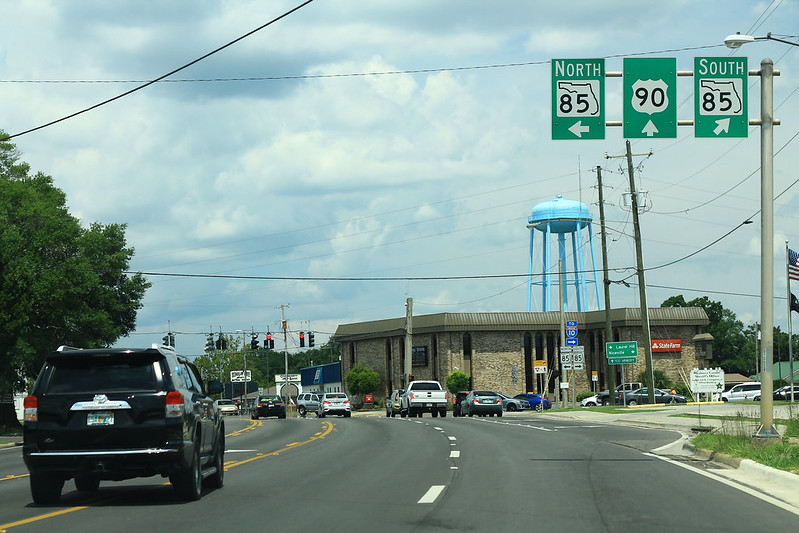 Crestview Intersection US-90 and SR-85
Flickr/formulanone
In olden days its nickname was the "Icebox of Florida" as it had the coldest winters in the state due to its elevation.
Florida is very flat, and Crestview is one of the highest points in the state with an elevation of 235 feet above sea level. 
In this case, the nearest sea is the Gulf of Mexico about 27 miles south near the gulf coast city of Fort Walton Beach.

CRESTVIEW, FLORIDA HISTORY
The history of Crestview has everything to do with the creation of the first railroad that came to this area of the Florida panhandle. 
The Pensacola and Atlantic Railroad Company opened a line in 1883 between Pensacola and Chattahoochee. 
Crestview was apparently the highest track elevation along this approximately 160 mile long route.
The railroad followed the route of the Old Spanish Trail that extended thousands of miles from Jacksonville west across the state of Florida and beyond to California.

Progress followed the railroad.  A large local sawmill built another railroad from Crestview north to Florala, Alabama.  It became easier for passengers and freight to reach Crestview.
The city incorporated in 1916.  Crestview grew slowly in the first half of the twentieth century. 

In 1935, the Valparaiso Bombing and Gunnery Base was built.  Its name was changed soon after to Eglin Air Force Base, named in honor of Lt. Col. Frederick Eglin.
World War Two saw a tremendous expansion of Eglin AFB and Crestview began to grow quickly as well.
The entire panhandle region of Florida benefited from the efforts of long-time Congressman Bob Sikes. 

He began his Florida business career in Crestview, and became active in politics at a young age. 

His efforts were successful in helping to build 14 military installations in the region.
Crestview's past tracks closely with the history of northwest Florida.

Crestview is the county seat of Okaloosa County.  There are quite a few government offices in the city as well as businesses that cater to government and public employees.
Many people also work at one of the numerous military bases and other installations in this part of the state.
Crestview's location in the center of the county makes it a great place to live in this part of the state.
It is in an area with many institutions of higher learning. 
Northwest Florida State College offers two year and four year degrees.  The University of West Florida, Florida A&M, and Troy State University all have learning facilities in the area.

There is also a vocational school, Okaloosa Technical College, where students can learn a practical trade. 
Crestview High School was founded in 1926 and is the largest high school in Okaloosa County. 
The boy's basketball teams won the Florida state titles in 1985  and 2019.  The cheerleading team won the 2010 state title.
In recent years downtown Crestview has grown, with a good selection of shops, banks, fine dining and fast food restaurants, and boutiques. 
You will find a mix of historical buildings and new businesses.
Twin Hills Park is a 24 acre delight located on US Highway 90E.  It is a big hit with its beautiful lake, barbecue spots, playground, stadium and sports fields.
Also nearby is Shoal River, and tributary of the Yellow River.  Its many shoals and sandbars provide miles of slow moving shallow water great for water activities including paddling.
Crestview is one of the many historic Florida towns on US Highway 90 between Pensacola and Jacksonville Beach.
---
THINGS TO DO IN CRESTVIEW
Twin Hills Park: 100 S Hathaway St, Crestview, FL 32536 - Explore this expansive park offering walking trails, sports fields, playgrounds, and a splash pad for outdoor recreation.
Heritage Museum of Northwest Florida: 115 Westview Ave, Valparaiso, FL 32580 - Discover the rich history of the region through exhibits, artifacts, and interactive displays at this nearby museum.

Crestview Public Library: 1445 Commerce Dr, Crestview, FL 32539 - Immerse yourself in books, engage in community events, or utilize the library's resources for education and research.
Twin Hills Park Disc Golf Course: 100 N Hathaway St, Crestview, FL 32536 - Challenge your disc golf skills at this scenic course with multiple fairways and challenging obstacles.

Air Force Armament Museum: 100 Museum Dr, Eglin AFB, FL 32542 - Explore a vast collection of aircraft and weaponry used by the United States Air Force throughout history.
Blackwater River State Park: 7720 Deaton Bridge Rd, Holt, FL 32564 - Embark on outdoor adventures such as canoeing, kayaking, fishing, and hiking in the pristine natural surroundings.
Crestview Marquis Cinema 10: 2828 Richbourg Ln, Crestview, FL 32536 - Enjoy the latest blockbuster movies on the big screen in a comfortable and modern theater setting.

---
INFORMATION ABOUT CRESTVIEW, FLORIDA
---
CRESTVIEW, FLORIDA INTERACTIVE GOOGLE MAP
---
---
---

Our Facebook page has more than 128,577 followers who love off the beaten path Florida: towns, tourist attractions, maps, lodging, food, festivals, scenic road trips, day trips, history, culture, nostalgia, and more.  We post articles every day.  Please check it out and if you like it, we would appreciate a "like" from you.
---
By Mike Miller, Copyright 2009-2023
Florida-Back-Roads-Travel.com
Florida Back Roads Travel is not affiliated with or endorsed by Backroads, a California-based tour operator which arranges and conducts travel programs throughout the world.