CROSS CREEK, FLORIDA
Quiet little towns like Cross Creek are getting harder to find in the fast growing state of Florida. 

Cross Creek is on SR-325 between Gainesville and Ocala.  It rests quietly between US-301 and US-441, major north-south Florida Highways.
You'll enjoy the rustic drive through old canopied oaks draped with Spanish Moss. You will come to the community of Cross Creek, nestled on the creek between Orange Lake and Lockloosa Lake.

You will be in the heart of Old Florida and among some of the neatest country Florida back roads in the entire state.

Most Florida tourists don't get off the major highways to poke around in Cross Creek or other small Florida towns. They are missing a treasure.
Cross Creek is famous because author Marjorie Kinnan Rawlings lived there for many years. She wrote many of her stories while living there, including the Pulitzer Prize winning novel "The Yearling".
Marjorie Kinnan Rawlings immortalized Cross Creek and its people.
She moved to Cross Creek in 1928. She was a graduate of the University of Wisconsin, and had been living in New York.  
She immediately fell in love with the isolation of Cross Creek. She felt like she was home for the first time in her life.
The Florida Crackers who lived in the area became not just her friends, but the subjects of her books.
Her personal memoir, "Cross Creek", was made into the 1983 film of the same name starring Mary Steenburgen and Rip Torn.  
Her Pulitzer Prize winning novel, "The Yearling" was made into the 1946 film of the same name. It starred Gregory Peck, Jane Wyman and Claude Jarman, Jr.
Marjorie liked visiting nearby Gainesville and St. Augustine, and had a cottage on the ocean in Crescent Beach south of St. Augustine Beach.
She married Norton Baskin and they owned a hotel in the Ancient City.
Ripley's Believe or Not is now in the building. Believe it or not.
My Personal Cross Creek Story
I have been to Cross Creek many times, but the trip I remember most clearly was on July 20, 1969. That was when the Crew of Apollo 11 made their historic landing on the moon.
I had been returning to Tampa from Jacksonville on a business trip, and parked my car by the side of the road among huge old oaks draped with Spanish moss.  
The historic moon landing was being broadcast from my car radio.  I stood next to my car and listened to the voices on the radio.
The full moon was in the eastern sky. The darkness of this Florida place made the lunar surface seem eerily bright and close.  
The moonlight bathed the old Florida cracker house across the road, the house where Marjorie Kinnan Rawlings lived when she wrote South Moon Under, The Yearling and Cross Creek.
As I looked at the moon and heard the crackling words of Neil Armstrong, I imagined I could hear the faint clicking of Marjorie's typewriter coming from the front porch of her house.
The throaty croaking of frogs and the squawking of fishing night birds drifted in the sultry night air.
The contrast between the modern accomplishments of the space program and the unchanged old natural feeling of Cross Creek has remained in my mind as the turning point in Florida's headlong rush into development and over population.
These beautiful little old Florida towns and places are a vanishing species.  Cross Creek remains Old Florida. A place of fish camps and cypress trees, oaks and Spanish Moss.
Marjories's house is still the big attraction in Cross Creek. It is lovingly preserved by dedicated people and looks much like it did in Marjorie's time. It has been preserved forever as Marjorie Kinnan Rawlings Historic State Park.
CROSS CREEK FLORIDA MOTELS
If you intend to stay overnight in the immediate area, I recommend the Herlong Mansion Bed and Breakfast in nearby Micanopy. It is a beautiful old restored mansion in a lovely little town west of Cross Creek.
Micanopy is a Florida town with an interesting history. That history includes Chief Micanopy who was the chief of the Seminole Nation during the 2nd Seminole War from 1835-1842.
If you plan to stay in nearby Gainesville, I recommend that you stay at Magnolia Plantation, 309 SE 7th St, Gainesville, FL 32601. Tel: 352-375-6653.
Longtime friends of mine, Joe and Cindy Montalto own this lovely Victorian bed and breakfast with 14 guest rooms each with private bath.
It is in the heart of my favorite university town with plenty to see and do.
Marjorie Kinnan Rawlings Grave
Mrs. Rawlings and her husband, Norton Baskin, are buried in the old Antioch Cemetery just northeast of Island Grove.  Her fans keep putting deer statues on her grave to memorialize "The Yearling."
Some of her Florida Cracker neighbors are also there, including ones mentioned in her books. These include Zelma Cason, Tom Morrison, Chet Crosby and Berney Bass.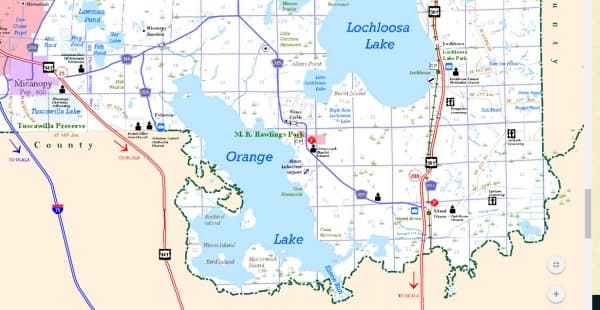 Micanopy, Evinston, Cross Creek, Antioch Cemetery
To get to the cemetery leave Cross Creek and go east to US-301 and cross over to SE 219 Avenue.  Continue east on SE 219 Avenue for about 2 miles to SE 225 Drive, an unpaved road that can be pretty rough sometimes.  Keep following this road until you reach SE 189 Avenue.  The cemetery is just to your right.

CROSS CREEK, FLORIDA ATTRACTIONS
Marjorie Kinnan Rawlings Historic State Park 18700 S. CR 325 Cross Creek, FL 32640. Tel: 352-466-3672.
Visit the old Wood & Swink General Store in nearby Evinston.
Recommended Restaurant
THE YEARLING RESTAURANT
14501 East County Road 325
Hawthorne, Florida 32640
Tel: 352-466-3999

The Yearling is the best place to eat in Cross Creek. There may be other places, but I haven't tried them. 

This rustic old place has been a Florida dining legend since 1952.
For many years, with some interruptions, this quaint dining place served thousands of hungry Florida Gator fans, including me. 
It was a tradition for many of us Gator faithful who would stop in after a University of Florida football game in Gainesville on our separate ways back to Orlando, Tampa, and other Florida towns south of Gainesville.

The Yearling Restaurant has a Hawthorne mailing address, but the physical location of this place is in Cross Creek.

If you love Old Florida and the Pulitzer Prize winning work of Marjorie Kinnan Rawlings, you should really visit this Old Florida restaurant.
Although The Yearling is noted for its authentic Florida cracker cuisine, it is it's proximity to Cross Creek and Marjorie Kinnan Rawlings State Park that makes it a special treat for lovers of Old Florida.
Just don't be expecting a fancy literary boutique style cafe; this is a southern restaurant, and it's in the middle of rural cracker country.
The weathered old restaurant building is not impressive from the outside, but don't let that stop you from going inside. And once inside, don't be expecting gourmet food with fancy trappings and trimmings.
This is the place for good ole Florida vittles.
The Yearling Is An Old Florida Treasure
I first discovered this Old Florida treasure in 1963 while a student at the University of Florida in nearby Gainesville.  I still was Yankee wet behind the years in those days, and was quite dubious about the food.
I knew nothing about gator tail, cooter (freshwater turtle), grits and greens (turnip greens).
The restaurant was a favorite for Gator football fans travelling home from Gainesville after Gator home games. It closed a couple of times over the years, but has been reopened now since 2002.
The atmosphere inside the old building is rustic, warm and friendly and relaxing. It is family friendly, but the bar and lounge is still a place one wouldn't mind taking a date for relaxation and music.
The food and service and music have usually been good the several times I have visited.
My advice is to stick with simple favorites, especially the local dishes such as catfish, frog legs, cheese grits, greens and coleslaw.
Cooter is no longer on the menu, but there is still plenty of other good stuff you will enjoy.  I like fried food, and The Yearling is good at it and keeps it from getting too greasy.
They also serve venison (if you loved Bambi and the deer in the movie The Yearling, pass this one up), along with more conventional food animals like shrimp, grouper, prime rib and even a few fancier items like escargot and filet mignon.
Being a southern restaurant, you'd better ask for "unsweetened" ice tea if that's your preference, because "sweet tea" is automatically served.
The full bar can also provide you anything else you'd like to drink. I'm not normally a dessert person, but love to have their sour orange pie when I am there.
Willie "Big Toe" Green has been the entertainer on a few of my recent visits. He specializes in blues music on the guitar and harmonica, and he is very good.
I don't know the story of his nickname, but his music makes you want to stay around for a few more drinks than you normally would. You might be wise to bring along a sober friend to drive you home. 

Another option is to spend the night in one of the rustic cabins adjacent to the property or stay at the Herlong Mansion bed and breakfast in nearby Micanopy.
The Yearling is in the middle of Old Florida fish camp country, and well worth a visit. It is where I learned there are two kinds of Yankees: those that love southern food and culture, and those that don't.
Speaking for myself, I am one of the former.
Operating hours as of July 17, 2014 are Thursday: Noon-8:00, Friday:  Noon-9:00, Saturday:  Noon-9:00 and Sunday: Noon-8:00.   Make sure to call them before you go just to make sure.
HOW TO FIND CROSS CREEK, FLORIDA
From US-301, drive west from the little town of Island Grove. From US-441, drive east from the crossroads of SR-346 and US-441 near Micanopy. Drive east on SR-346 until you come to SR-325, then go south to Cross Creek.
The Google map below will help you find the way.
---
---
---
Our Facebook page has more than 88,112 followers who love off the beaten path Florida: towns, tourist attractions, back road maps, lodging, festivals, highway maps, scenic road trips, day trips, history, culture, nostalgia, and more.
Take a look. If you enjoy what you see, please give us a like.
---
Subscribe to our Free Ezine, Florida Heritage Travel
20200309-3-317-GI6.6